The Lifetime Income Report pulls one heck of a over-hyped marketing stunt. You will see ads for this with statements like "How to Get as Much as $17,200 Thanks to a Little-Known Social Security Contract" and all sorts of very luring lines. But is this really what it claims to be? Are people really making easy money from "special situations"? Or is this all a bunch of hoopla? Is Lifetime Income Report a scam that is just going to leave you frustrated after buying in?
In this short review I'll be going over what you need to know. The truth is that after listening to the sales pitches for Lifetime Income Report that are out there you probably have no idea what it really is. They are very misleading and they make it seem better than it really is. Most of it is a bunch of misleading hype.
Lifetime Income Report Review
You are lead to believe that it will be giving you some "secret" that has something to do with collecting social security or something of this nature. But it has nothing to do with government social security. The people marketing this product are playing on retirees fears of not having a well funded retirement. They know they can lure people in with the words used so that is what they do.
They claim that the Government Services Administration (GSA), which funds the regional social security offices, also partners with the private sector. And they have somehow found a way for investors to participate in this arrangement and capitalize on it.
They make it seem as if you just somehow add your name to some list and receive cash payouts like clockwork…. legally.
Well what the hell does that mean?
I was doing some research and came across another article online that was trying to also figure out what the hell they were talking about here. The writer found a match to what this Lifetime Income Report sales pitch is describing… and it makes sense.
What they are talking about is the Government Properties Income Trust (GOV). The GOV is Real Estate Investment Trust that distributes 90% of its income to shareholders. And the partnership that they talk about with the Social Security Administration is actually nothing more than property rental. The GOV leases space to the Social Security Admin.
So this entire sales pitch is extremely misleading. This "little known social security contract" has nothing to do with anything. Its just a marketing stunt. All they are trying to get you to do is invest in GOV shares.
You don't just add your name to a list. What you really have to do is invest in stock and then you will be added the list for dividend payouts.
What Is Lifetime Income Report?
Lifetime Income Report is an over-marketed and over-hyped newsletter, very similar to Freedom Checks and True Momentum, that is edited by Zachary Scheidt and Jody Chudley. Basically its a financial newsletter that is focused around stock market investing. There are other bonuses including but at the core of this product is the monthly newsletter, which is available by a paid subscription.
This is nothing more than an information product. It isn't some system that is going to make you rich. It doesn't do anything for you. Its just information advice that can help guide you in the right direction and hopefully lead to you picking up some good stocks in your portfolio that make you money.
The goal here is to collect dividends from stocks you invest in and earn a passive lifetime income. The GOV stock that I just mentioned above isn't the only one. That is just the one they are using for the sales pitch. In the newsletter there will be advice on other stocks you can invest in and so on.
What It Includes
12 Full Issues of the Advisory Newsletter
This is the meat of the Lifetime Income Report. From what I've read there is a hefty amount of research done by Zach and the team. Plenty of detail here and
Email Updates
You will get email updates about what is going on in the market. If there is a good time to buy or sell a stock, you will be alerted.
Support 
You will have access to get support from the support team.
Tax Reduction Strategies
Here you get strategies that might be able to help you reduce paying taxes.
Market Forecast
Zach and the rest of the team will give brief forecasts and updates on the market. This will not go into depth on anything but will give a basic overview of what is going on and what might come of it.
The Cost
The cost really isn't too bad for the product itself. A subscription to the newsletter will cost you anywhere from $49 – $89/yr depending on what level of membership you buy, Silver, Gold or Platinum.
However, you are also going to need money to invest of course. After all, this is an investment newsletter. So not having any money available is a problem and would make this pretty much worthless to you.
Does The Advice Actually Work?
Well… lets take a look at some real results from people who have actually subscribed to it. There is an ongoing survey where customers can review this product and as I'm writing this there are 63 votes and the overall rating is 1/5, which is pretty darn awful…

The breakdown of this overall rating comes from the investment performance, quality of writing/analysis, value for price and customer service. The investment performance is probably what most people are interested in here and as you can see below it got a 2/5 with 20 votes…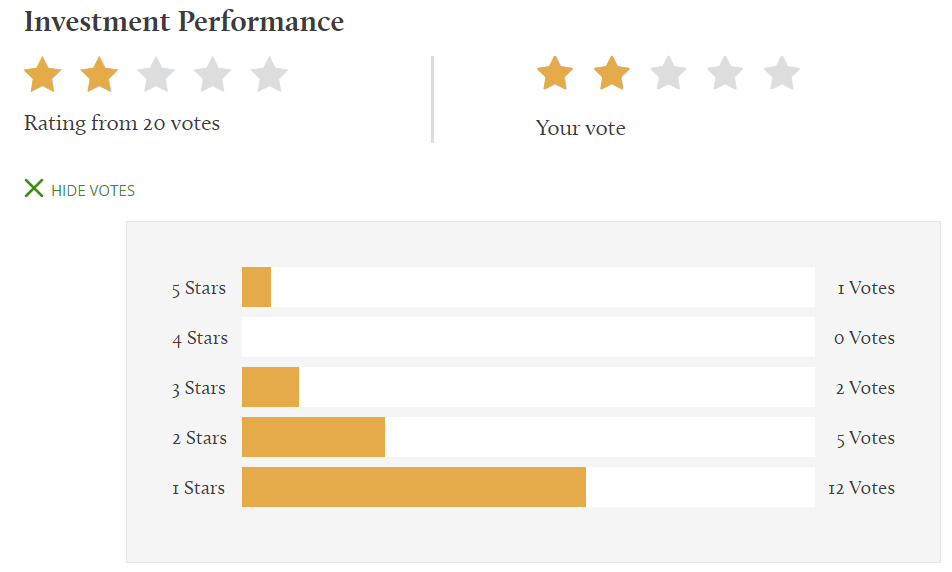 Based on what I gathered from this source and other sources the stock picks that they advise you on in the newsletter are nothing special. Don't get me wrong here, there are people who are profiting from the advice given but overall there is a lot of distaste for the product.
Is Lifetime Income Report a Scam?
If you search around online you will find reviews like the ones I took a screenshot of below that claim this is all a scam…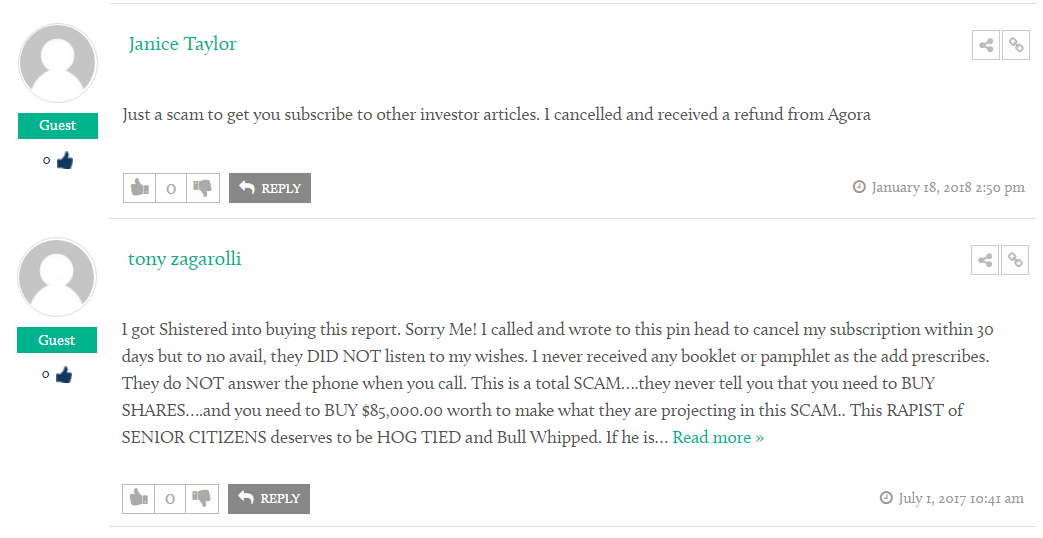 But is it really?
In my opinion it isn't a scam. HOWEVER… this depends on what your definition of a scam is. Its true that the way they market this product is extremely misleading, but there is value in the product itself.
So it just depends. If you are expecting some secret way to put your name on some list and receive tons of money from something that has to do with social security….. then yes, you will think this is a scam.
The marketing for this product is unethical without a doubt. Its so misleading and a lot of people are going to get ripped off from buying in with higher expectations than they should have.
By the way…
The 53 year old guy that you might have heard them mention in one of their various sales pitches who made over $18,000 last year from this "little known social security contract" would have had to purchase around 43,000 shares of GOV to make that much. So don't get the misconception that this is actually possible like they make you believe.
Conclusion on Lifetime Income Report
There are people that like the information provided from this newsletter but the majority of people seem to feel ripped off and scammed. And rightly so… after all.. many are buying in with no idea of what they are really buying into. And its not their fault. Its the fault of the extremely unethical marketing that is going on pushing this product out.
But this is not surprising to me at all. This newsletter is published by Agora Financial which is well known for pulling this crap.
On a different note: Since you are looking to make money I also want to throw out there this program which I recommend. I've been a member since 2015 and make a living working online with it. You can read more about this here.
If you have any comments or questions be sure to leave them in the comment section below here ?