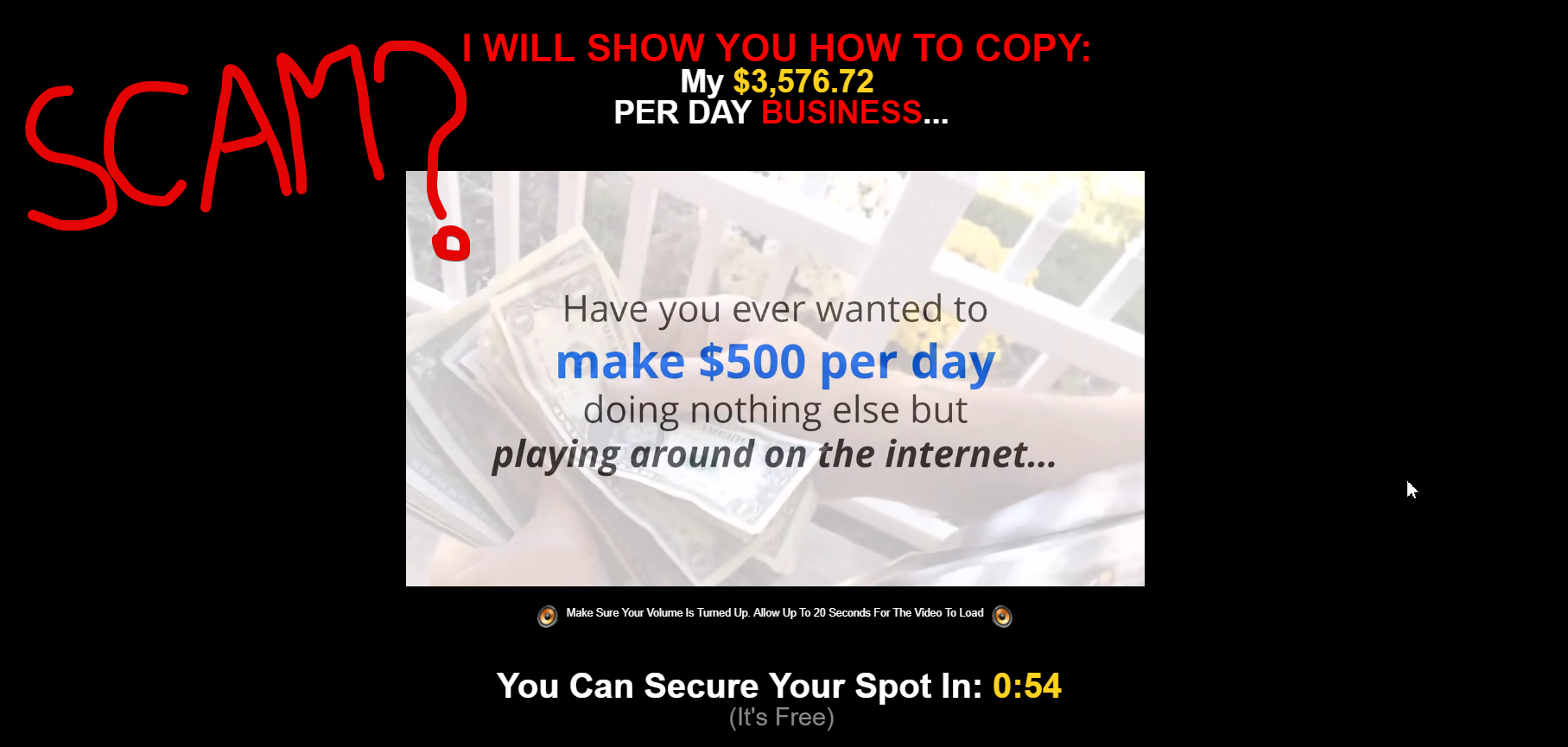 Johnathon Crisper claims that anyone can easily make $500 per day "messing around on the internet" with his Link Cash System. But is this really true or is this just another bogus scam that is either going to be a waste of time or money?
The second I came across the sales page for this system I knew I had to write a review on it. Why? Well because there is A LOT of very misleading information being given that I'm going to clear up. If you are wondering is Link Cash System a scam then you are going to want to read this.
Link Cash System Review
Johnathon Crisper claims that he developed this automated system that leverages a "weakness" that is untouched and unchecked. He claims that it exploits some secret loophole that has to do with Facebook, Apple, Twitter, etc.
And of course he claims that his automated system that he made does just about everything for you. All you have to do is about 30 minutes of work per day which consists of sharing a link he gives you.
But is any of this true? Are people really making $500-$1000 per day with this system? Lets find out.
Who is Johnathon Crisper?
He claims to be from Orange County, CA but I can't find any information on this guy. I found other people with this name out there but can't find anything about him and this Link Cash System other than what is said in the sales video.
This is a red-flag right off the bat. When looking into programs like this in an industry that is filled with scams, you have to be careful.
How did he create this system?
Of course he gives you a fairy-tale story about how he overheard a secret meeting between Mark Zuckerberg, Bill Gates, and other billionaires where they shared secrets for making money online. He claims they talked about some new system for affiliates that was "push button" and can't fail.
When he got home after overhearing the meeting he implemented what they talked about and made over $300 by the next day.
*Note: This Link Cash System is actually a re-hashed version of Facebook Cash System, which I reviewed in the past. It has the same sales video and everything. Now wonder why this all looked familiar to me!
How You Make Money…. BS
The way he makes you believe you will be making money is very misleading. Why? Well because if you do what he says… which basically consists of posting links on Facebook, forums, emailing people links, etc, you will make little to no money. There is no way you will make $500 – $1000 per day doing that… not even close.
Spamming emails links just doesn't work. No one is going to click on spam links and eventually all your emails will start ending up in spam folders where no on will even see them. And on Facebook they don't allow people to spam affiliate links. This is prohibited and will not work out. Same goes for forums… you will likely be banned if you do this.
Not only will you find this very difficult to make money with but it is also not even close to being sustainable. Its a BS system that he is promoting to make money. He isn't trying to help other people make money he is just suckering people into this so that he can make a quick buck.
I could go on and on about why this system will not work because I've been an active affiliate marketer since 2015 and know a thing or two, but I think you probably already know its a scam.
Oh… and by the way, the testimonial videos he showed are fake as can be. These are paid actors from Fiver who are simply saying what they got paid to say…
Affiliate Marketing The Right Way
Affiliate marketing, which is when you promote products/services online with affiliate links, is a legit way to make money. As I said, I've been doing this since 2015 and actually make a living doing it. So don't let a scam like this leave a bad taste in your mouth. The business model itself is legit its just that the approach Link Cash System takes will never make you the money it claims it will.
Affiliate marketing isn't quite as easy as just posting some links around online and then watching the money roll in. If it were that easy then I'd have everyone I know doing it to make money online. But of course its a bit more complicated if you want to do things right.
If you are interested in making money with affiliate marketing then I suggest reading my review of Wealthy Affiliate here. Wealthy Affiliate is a training program that provides both tools and training to make money doing this. They are actually where I got started and I'm still a member to this day, which tells you how much I like what they bring to the table.
Conclusion on Link Cash System – Scam?
I guess maybe its not a complete scam because you can make some money with it… however.. the way they mislead people and try to sucker you into buying this is a scam. There is just no way it will work out like they tell you. If you do buy and and follow the system you are just going to be wasting your time learning the wrong way to do things, similar to other link posting scams like Internet Income Online & Home Online Profits Club.
I'm guessing you probably already knew this was a scam judging from how you clicked to read my review and all. But at least now you have confirmation of it. Scam without a doubt.
Anyways… that's all I have for you hear. Avoid this Link Cash System at all costs and if you want to learn how to make money with affiliate marketing legitimately then there is no better place than Wealthy Affiliate.
Be sure to leave any comments or questions you have in the comment section below. I'll get back to you 🙂