Ok.. so if you are wondering is the Ibotta app a scam, the answer is no. I like the app and you really can earn some decent cashback on normal purchases at times. Making money with Ibotta is simple. Overall Ibotta is one of my top picks when it comes to cashback apps and programs.
In this review I'll be going over how the app works, the cashback possibilities, bonuses that can give you some decent money, some downsides and more.
* Read My Updated Ibotta Review Here
Ibotta App Review
The Ibotta App pays people to shop. You can go about your normal online or in-store shopping and potentially earn cashback on your purchases. There are lots of cashback programs out there like Extrabux & Coupon Cabin, but Ibotta ranks at the top of my list.
If you are unfamiliar with how these programs work and a little suspicious of it all then here you go: Brands want more people shopping their products. So they pay places like Ibotta to refer people to buy their products so they can sell more. When Ibotta does refer buyers to a certain store for a certain product, they receive a commission for doing so. And as an incentive to get people to buy the products they promote in the first place they offer cashback.
So brands pay Ibotta to get you to shop and Ibotta pays you a portion of that money. And this is all done without raising prices. You still pay the same price you just get some cashback on top of it.
How It Works
To get cashback with Ibotta you can download the app or just access their site on your computer. Its best to get the app because it makes it a lot easier for in-store cashback. The app is free to download and use. (You can sign up here and enter my referral code heqkmpy to get $10 free in your account)
After signing up and getting the app you will be able to start receiving cashback on your purchases. There are 2 main ways that you can do this. You can receive in-store cash back or online cashback. I'll go over each.
Online Cashback
This is something that Ibotta has really improved upon. They used to be mainly for in-store shopping but they have really come around and now offer lots for both in-store and online.
To get online cashback its pretty simple. Ibotta will show you all the available online stores that they offer cashback for. You can search for a particular store or browse by different categories if you want to. There are all sorts of places you can shop at in all categories.
Below I took a screenshot of some of the offers available right now to me as I write this. These are their "featured offers" which means they are the best deals at this moment. And as you can see some of the cashback percentages are pretty darn high. You can get as much as 21% cashback here…
When you click to shop at these online stores you will be directed to their sites where you will be able to shop as normal. After that nothing has to be done and your account will be credited with cashback after the purchase is verified.
In-Store Cashback
Shopping in the actual physical stores is what some people like and so do I. Particularly, I like this app for grocery shopping since this is something I always go to the store to do and there are a good number of offers available for grocery items.
To shop in-store you first need to select the store you are looking to shop at. In the example I'll be showing you I'll choose Sam's Club. After selecting the store you will be able to go through all the available offers. You can view all of them, search for certain ones, or browse by section.
Just to give you an example of what you are looking at here, here is a screenshot of some of the "Meat & Seafood" offers at Sam's Club right now…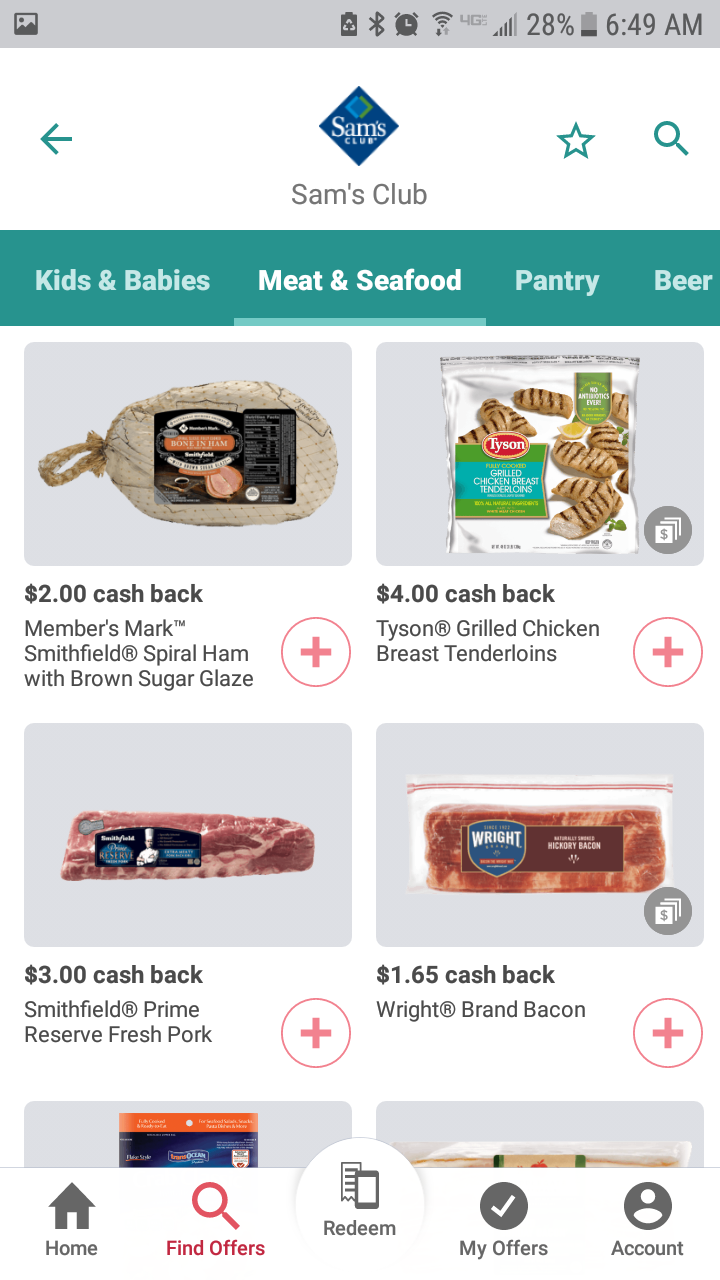 As you can see above these cashback offers are for specific brand items, as most are. However, there are also offers that are general. Such as ones where you will get $1 of any brand of milk. This seems to be common for milk and eggs, which is nice because everyone buys these.
The amount of offers there are depends on how big the store is. With a massive store like Sam's Club there are all sorts of product offers in the Personal Care, Household, Kids & Babies, Pets, etc categories.
When you find an offer that you like you will click the + button next to it and it will claim it for you. Then after you do your shopping you can do two things to get credit for it.
You can upload your reciept through the app which is really simple. Just snap a picture and that is it.
You can link a loyalty card to Ibotta and every time you shop at the store with your loyalty card you get credit
Getting Your Cashback
You will be able to withdrawal your money through PayPal or Venmo, or you can choose to get a gift card with your earnings. They offer gift cards for Amazon, Walmart, Kohls, iTunes, Bed Bath & Beyond, Best Buy, Buffalo Wild Wings, and a lot more.
There is a $20 minimum for most of the different ways to cash out.
Earning Extra With Bonuses
They offer some nice bonuses that can help you earn some extra. These usually include things like "earn an extra $2 when you redeem an offer for (this brand)" and things like that. Sometimes they are nice bonuses. The best bonuses however come from referring other people to join Ibotta.
You can earn some decent money referring friends to join and as you can see I always make sure to complete these bonuses…
If you add all those bonuses up that is $135 just for referring friends to Ibotta. On top of this you also get $5 for referring friends when they redeem their first offer.
Downsides to Using Ibotta
There aren't really any major downsides to it. Overall its one of the best cashback program out there in my opinion and for good reason.
Some people will complain about there not being enough offers and things like this but if you look at other cashback programs Ibotta is pretty darn good. You aren't going to be able to get cashback on everything but you can still get cashback on a heck of a lot.
Another complaint that you will hear is not getting credit for online purchases. This can potentially happen and has to do with the tracking code that tracks your purchase getting messed up. This is a complaint you will see for every cashback program out there and unfortunately just happens at times. I personally wouldn't worry about it though.
Conclusion on Ibotta – Should You Use It?
Well if you do shopping and you would like to earn a little bit of cash back on your shopping then ya I would use it. I don't see how you can go wrong with getting cashback on something like shopping which we all do already. Using a cashback app is out of the question… if you aren't using one you should be and Ibotta is my top choice.
The reason I like Ibotta so much is because they are trusted, they have good support if you ever have problems, and they offer good cashback amounts compared to others.
You can go to Ibotta.com here to sign up. Remember to enter my referral code heqkmpy (if its not automatically entered) if you want a $10 bonus in your account.
Questions or comments? Leave them below in the comment section and I'll get back to you soon 🙂