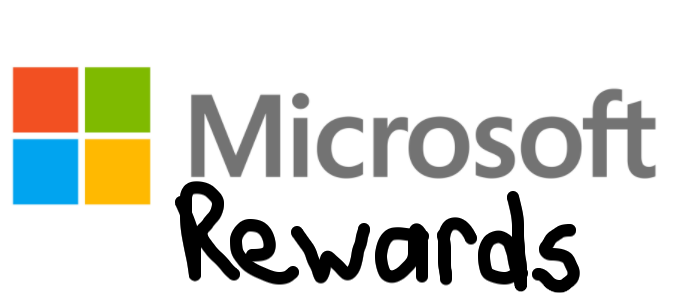 Is Microsoft Rewards worth it? Should try it out? Is this place legit… or possibly a scam? These are all questions that need answered before you go ahead and start with Microsoft Rewards. It seems to be an easy and good way to make some extra cash.. but just because it seems that way doesn't mean it is that way.
I decided to write this review because I know there are a lot of people questioning this program and wondering if they should sign up or not. In this post I'll be going over how it works & how you make money, the downsides, and more.
Microsoft Rewards Overview
Microsoft Rewards is a program that was created by Microsoft (obviously) to reward people for using their services. Its basically a way for them to promote their services and a way for you to get paid in the process.
This program is free to join and all you have to do is create a Microsoft account. When you start using their services and earning, you will get points. These points can later be redeemed for gift cards, sweepstakes entries and more.
This program used to be called Bing Rewards by the way. They changed the name because now you can get rewarded for using other services other than just Bing.
How You Earn
The main ways to earn points are by using the Bing search engine and by using the Microsoft Edge internet browser. You can also earn points when you shop at the Microsoft store but I'm not going to get into that.
When you search the web using Bing you will earn 5 points per search. But you won't be able to just search like crazy and earn 5 pts over and over again. There are different earning levels and when you just start out there is a daily limit of 50 points. But when you earn over 500 points in a month you move up to level 2 and you can then earn up to 250 points per day.
If you want to also earn money by using the Microsoft Edge internet browser then this is easy as well. You will be able to earn 150 points per month just for using it. Sometimes they will also have special offers where you can earn more than this.
You Can't Cheat The System
I know many people are probably thinking about just opening up Microsoft Edge and leaving it running without even being on it. Unfortunately this won't work and in order to receive points for this you must have it open and active on your computer.
The Rewards
As I mentioned you can redeem your points for rewards such as entries into sweepstakes for chances to win prizes like computers, tablets, and more or you can redeem them for gift cards, which seems to be the popular choice.
There are gift cards for all the big retailers that you can get… Walmart, Target, etc. as well as to a bunch of popular restaurants.
Unfortunately there is not option to redeem your points for Paypal cash, which is a letdown. But the gift cards will do.
The Downsides
There aren't really any downsides to this. I mean its free to sign up for and you are earning points for doing things that you are going to do regardless. You are already going to search the internet with a search engine, so why not use Bing? And you are already going to use an internet browser to access the internet, so why not use Microsoft Edge.
I guess the only downsides I can think of are that Bing is not quite as good of a search engine as Google, which is why Google is by far the most popular. And also Microsoft Edge is a slower and more "clunky" internet browser than Google Chrome. But they are making updates and it is getting better.
Using Bing is definitely better than using Swagbucks' and Inbox Dollars' search engine though, which are 2 other rewards sites that pay you to search.
And also another downside you could say is that they do not have Paypal as an available way to redeem your points as I said above.
Conclusion – Is It Worth Your Time?
I would say that yes it is worth the time for most people, but ultimately it depends on you and your situation. If you don't mind using Bing and Microsoft Edge instead of the search engine and browser that you are currently using, then go for it. Its not like its going to be costing you extra time to use these. Its just all abut personal preference.
Overall I like what Microsoft Rewards brings to the table and this is a program that I recommend. Just don't think you are going to make much with it. Its best treated as an extremely easy way to make a few extra bucks every month, but nothing substantial by any means.
If you are looking for a way to make good money online then I would suggest checking out this program. This is the same program I got started with back in 2015 and I am still a member today…. which is a testament to how good I think it is.
I'm making a living online right now and I owe pretty much everything to what I learned here.
==> My No. 1 Recommended Program Here
Questions, comments, concerns? Leave them below in the comment section and I'll get back to you soon ?