MindsPay claims to be another paid survey site where you can make money taking free surveys online as well as by reviewing products and things of this nature. But is this site any good compared to the many other survey sites out there? Is it worth your time to take MindsPay surveys? Or is this just a scam that is going to give you little reward for your work?
In this review I'll be going over a few things that you should definitely know about this place. I joined and I was quite surprised with what I found out after. You should know this…
MindsPay Review
So this review is going to be based on my personal experience with MindsPay just to let you know. I'm sure there are some people out there that like this place but I didn't and I'll go over why. But first let me give a brief overview of what this place is and how you make money…. or at least how they tell you that you will make money.
They tell you that you will get paid for completing surveys, reviewing products, completing offers etc. But in reality it seems that its more about completing offers than anything else. Most of the offers include signing up for something that you probably don't really want to sign up for.
How It Works
The first step is to create a free account which is pretty straightforward.
After creating your account you are bombarded with a bunch of offers to sign up for. These include everything from business opportunities, to saving money on food items, to getting coupons for toilet paper. They are just a bunch of random offers that you can either choose to accept or decline. Its pretty annoying getting hit with all of these when you just want to sign up to the darn site.
After you get passed all of that you will be able to view all the offers that are available for you to make money with. Below is a screenshot of what is available to me right now… As you can see you never really know what to expect. There can be offers on just about anything… I circled two of the offers below and I'll go over why next…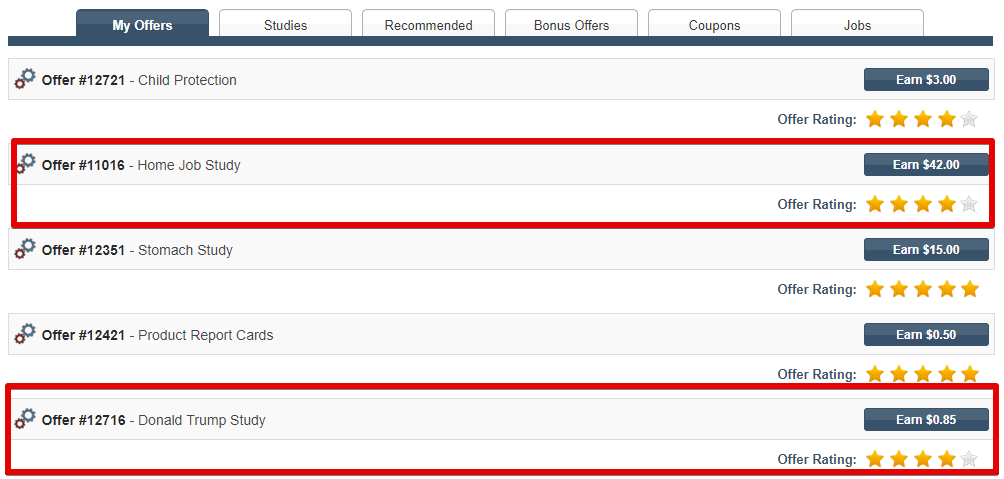 Beware Of The Scams
I have a major problem with this site because they are promoting scams. I don't know if they just don't know what offers they are even promoting or what, but two of those offers that I circled above are complete scams.
The first one that I circled, called "Home Job Study", claims to pay you $42 and only takes 1 minute of time to complete…
The catch is that it isn't a study at all. I clicked to complete this and they just redirect you over to  a scam program called Countdown to Profits. This is a money making scam that suckers people into buying a program that will supposedly teach you how to make tons of money from home but its all a bunch of BS.
And the second offer that I circled is also a scam. It claims to be a survey about Donald Trump, and it is…. But its only 1 question long and they claim that they enter you to win a free $1,000 giftcard. However, the domain of the website doesn't match the title and it looks like someone through it together in about 30 minutes.
How It Really Works
There are some legit offers that you can complete but there are too many scams that this place promotes for me to trust it. Its ridiculous that they can't screen the offers they are putting up on their site to make sure they are legitimate.
They are literally making money by promoting scams to people. So I don't know if MindsPay itself is a scam or they just don't know what the heck is going on.
Conclusion on MindsPay
From my own experience here at MindsPay I would not recommend this place to other people. If you are looking to make money taking surveys online then I would recommend Swagbucks or PaidViewPoint. They are 2 of the best places out there.
However, with any paid survey site you have to realize that you will make extremely little money considering the time you put into it. This is just the reality of sites like this.
If you are looking for a better opportunity to make money in your spare time then I would suggest taking a look at this program. I joined it in 2015 and make a steady monthly income with it. It also has a heck of a lot more potential.
==> Program I'm talking about here
Questions or comments? Just leave them below and I'll get back to you 🙂