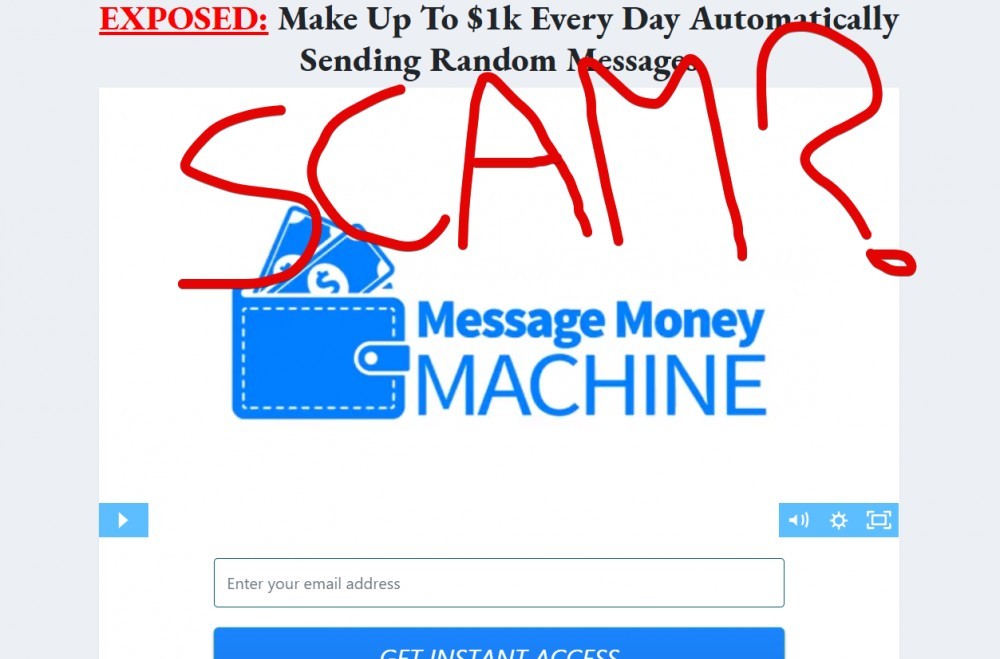 Money Message Machine is supposedly some new amazing app that you can make $1000 per day with… Or at least that is what they tell you. But unfortunately what they tell you is far from the reality here. Is Money Message Machine a scam? The answer is YES.
This opportunity is definitely a scam and in this review I will be going over why. If you are thinking about possibly purchasing this you are definitely going to want to reconsider.
Money Message Machine Review
I'm guessing you already have your suspicions about Money Message Machine. After all… You are reading my review right now which means you decided to do a bit of extra research about it.
The video presentation for Money Message Machine is absolutely filled with signs that is a scam, which I will be going over before I get into how this app actually works, and why it will not work out like you are told.
Scam Signs
Lets start out with the testimonials. At the beginning of the video presentation there are multiple video testimonials from people who have supposedly been using this app and have been making tons of money with it.
The guy below claims to have been making money with this app for the past year and has made over half $1 million total. However… It is unfortunate but this testimonial is completely fake. This guy is actually a paid actor that is just saying what he is getting paid to say. He has never used this app a day in his life. Below you can see a screenshot from the video presentation along with his profile on Fiverr, which is where anyone can hire him to create fake videos like this…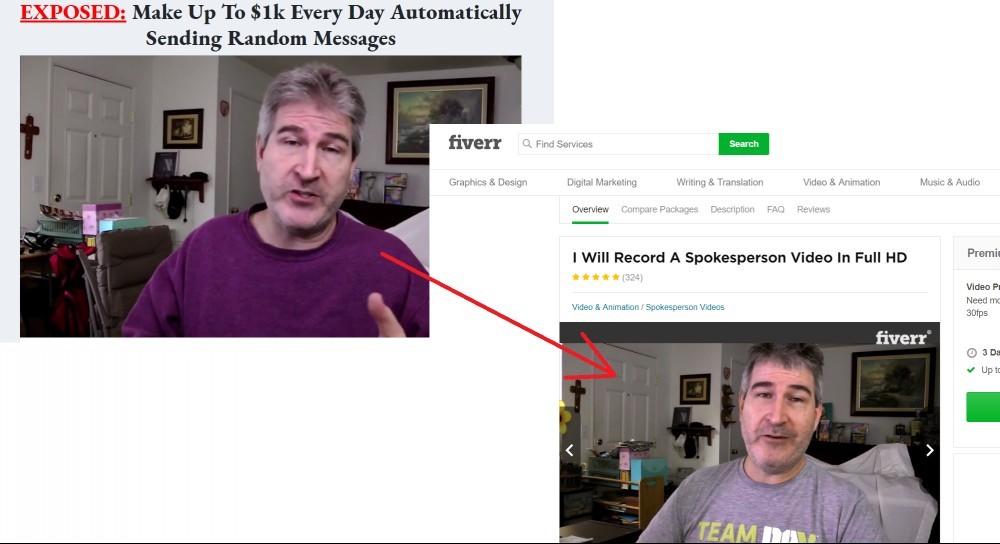 And all the other testimonials are completely fake as well. What it is even more funny is that the same exact testimonials have been used in another scam that I recently reviewed, called Easy Insta Profits. It it is common for video testimonials to get recycled around different scams like this..
Moving on…
You are told that you could be making around $1000 a day is just a few minutes of time. That's incredible right? But then again… It sounds way too good to be true doesn't not?

The spokesperson, who was a guy named "Len Case" by the way, claims that you only need about five minutes per day and will see results in four minutes or less.
He talks about these "message money links" and how you will be sending them out to make this money. And of course the earnings potential is limitless…

You are also told that this app is university funded, but of course Len doesn't give you any information on this and it is likely completely made up.
And then, just like pretty much every scam ever, you are told that you are lucky and this is only available in certain areas, which you happen to be in one of them. Apparently he is looking for some beta testers and you lucked out. Yay.
Like every scam ever, again… You are told that the opportunity could go away at any time. This is just some false scarcity for you that is intended to get people to buy in as fast as possible. This way they don't take the time to do the extra research and read reviews like mine here.

How This App Makes You Money
So he tells you that you will be sharing these "message money links" and that this has nothing to do with trading currencies, paid advertising, using Google to get traffic, mlm, etc.
He then goes on to tell you that you don't need to know how it works… You just need to know that it does work. Basically what he is telling you is that you have to trust him although half of the video presentation has been a complete lie so far.
This guy's explanation of how it works is this: there are millions of transactions happening every second. Money is moving and what you have to do is get in the middle of it. This app places you in a payment network where you profit-share into your bank account.
Makes perfect sense right?
How It Really Works
What this app will do for you is create a very crappy website and then you will be able to add affiliate links into it.
What you will do is join affiliate networks like ClickBank so that you have affiliate links you can promote. You will be able to promote these on your website and when someone clicks on them, and then proceeds to purchase the product you're promoting, you get paid.
How will you be getting people to visit your website and click these links?
What you will be doing is sharing viral videos from YouTube on Instagram, Facebook, etc. and BOOM… Tons of money.
A Horrible Method That Does NOT Work
I have seen this kind of thing before. Two other very similar products that I reviewed, which rely on viral traffic, include The Viral Money Method and Viral Cash App. What these all have in common is that they all rely on viral traffic in the all don't work.
Two main reasons why this is a horrible idea and why you will more than likely make a little to no money with this include…
Traffic Doesn't Convert
Okay… So what you are doing is sharing viral videos on social media and hopefully getting people to come to your website where they will be able to click on your affiliate links.
The problem is that no one is ever going to click on your affiliate links, or at least very few people. The reason for this is because the traffic is completely untargeted. You're just going to be getting a bunch of random people coming to your website to view the videos, you have no interest in what you are promoting.
Traffic is the lifeblood of all online business. Whether it is e-commerce, affiliate marketing, PPC marketing, etc.… You need traffic. But not all traffic is the same. It makes all the difference in the world the quality of traffic that you have. What you want is targeted traffic that is interested in what you have to promote, and with sharing viral videos like this you are not even getting close to this.
Getting viral traffic like this is pretty much the absolute worst way to make money affiliate marketing. But of course you are led to believe that it will only take a couple minutes each day and you will be making boatloads of money with this.
Going Viral Isn't Easy
Not only will your traffic not convert if you do get it… You likely won't get in the first place. Getting something to go viral is much easier said than done. It seems that most of the time it is somewhat of a hit or miss. It is not like there is a step-by-step guide for getting something to go viral. Some things go viral and some things don't.
What is strange is that you can have multiple of the same videos on YouTube, some will get tons of views from going viral while others will get hardly anything, even if they are the original videos. You see things like this happen all the time and this is why viral traffic is definitely not reliable.
I have been making money online since 2015 and I have never seen a veteran online marketer that relies on viral traffic. Viral traffic can be great… I mean after all, you don't really even have to work for it. Once you get something to go viral there is a snowball effect where the traffic just keeps coming in on its own. However… This just isn't a reliable traffic source because you never know when something might go viral and when it won't.
Scam or Legit? Final Thoughts
Money Message Machine is definitely a scam. They lure you and by talking all about how you are going to be making tons of money with only a couple minutes of work each day and then push you to buy into this crappy system that will never work.
Just think about it… If it were really this easy to make thousand dollars per day online then why aren't more people doing it? If this were real I would be all over it and I would have all of my friends and family members doing it as well. But I am not and that is because it is a scam.
My Recommendation
If you are a beginner looking for a legitimate way to make money online then I would suggest checking out the Wealthy Affiliate training program. I got started with Wealthy Affiliate back in 2015 when I first started looking for ways to make money online. To make a long story short… I now make a living working online which goes to show that it does work.
This program is particularly good for beginners because it provides step-by-step training and is kind of like an all-in-one type of deal where you not only get the training, but also get the tools needed. But anyways… You can click the button below to read my review and learn more:
Questions or comments? Please leave them below and I'll get back to you as soon as I can 🙂