Mr Rebates is a cash back shopping program that anyone can use to earn money back when doing normal shopping online. But is it really worth your time? Or is Mr Rebates a scam that isn't going to do what it claims?
I'll jump straight to the point here and tell you that no Mr Rebates is not a scam. It is a legitimate cashback program that has been around for a while now and that many people use to earn a little money on their shopping. In this review I will be going over how this place works, how much cashback you can actually make, complaints and more.
Mr Rebates Review
Mr Rebates (at MrRebates.com) offers cashback if you shop at over 2500 stores. Additionally, they also offer coupons for certain stores which can save you money.
The reason that they pay you is because they make money for getting people to shop at the stores. They get paid commissions when you shop at the different stores they are promoting the end of a share  of these commissions with you in the form of cashback. So cashback is the incentive they give for you to shop at all of these different stores which makes both you and Mr Rebates money.
Overall Mr Rebates is a decent cashback program but it is not my favorite, and you will see why in this review.
The Process of Getting Cashback
The process of getting cashback is pretty simple. First of course you have to sign up for an account, which is free by the way, and then you simply search for stores that you are planning to shop at.
You can choose from a list of different categories for stores that fall into these categories, you can search for specific stores or products in the search bar, you can look at their featured stores, newly added stores, etc. There are a lot of ways that you can go about finding stores that you want to shop at here and all in all its pretty simple and straightforward.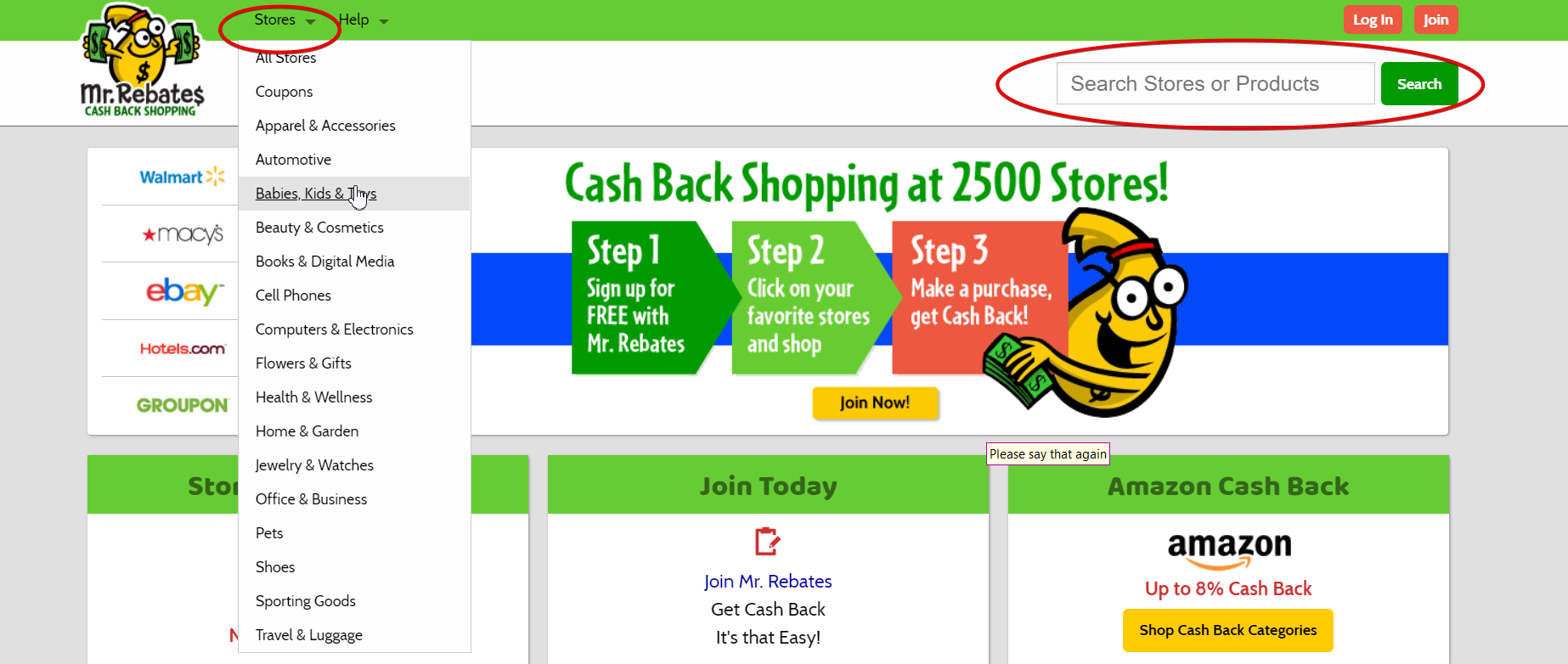 So just as an example I clicked on babies, kids, and toys. And as you can see there are quite a large of stores available to shop at here. In this category alone there are well over 100 different stores.
As you can see things are laid out pretty simply. It tells you the store name, the amount of cashback you will earn, the number of coupons they have if any, and then to the very right there is the shop now button. When you click the shop now button you will automatically be directed to the online store to shop.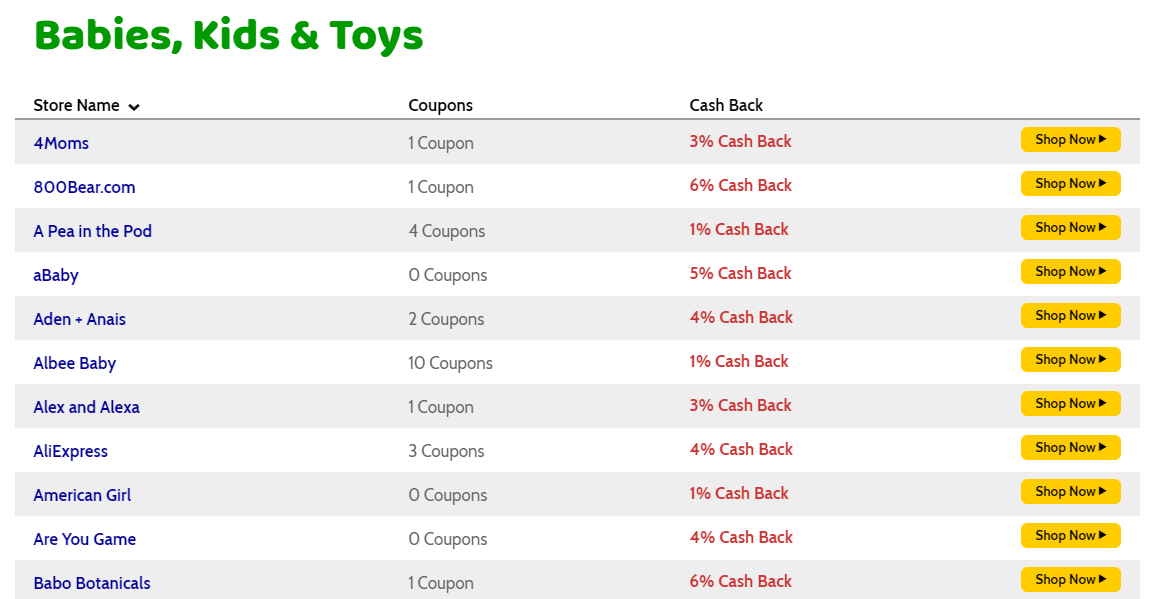 And that is pretty much all there is to it. You search for the store you want to shop at, you click their shop now button, and you show up just as you normally would shop online. The cashback that you earn will automatically be deposited to your account once your purchase has been confirmed. There is no need to do anything else. Once you click on the shop now button and go to the store that you were going to buy something at there is no need to return back to Mr Rebates.
How Much Can You Make In Cashback?
Mr Rebates' cashback percentages are pretty typical compared to other programs. I have reviewed probably about a dozen of these cashback programs and Mr Rebates is good but nothing great. One thing that I always do when looking into these programs is look at the cashback percentage offered for big name stores like Walmart, Target, Best Buy, etc. And right now as I'm writing this both Walmart and Target are offering 2% cashback… Which is pretty normal.
Usually what you see on sites like this is the bigger more popular stores offering cashback percentages between 1 to 3% and the lesser-known stores varying a lot more. It's not uncommon to see some stores offering over 10% cashback but don't expect this for major retailers.
BeFrugal is another cashback program which is very similar to this one but from what I have seen offers slightly better cashback percentages.
One Thing That I Really Like About Mr Rebates
One thing that I really like about this program is that they make it really easy for you to earn the cashback you're trying to get. They have a Google Chrome extension that will automatically alert you when you are on a website you can earn cashback on. And when it does alert you of such an opportunity all you have to do is click a button to activate it.
This makes things very easy for you and you will be able to earn cashback stores that you otherwise wouldn't even know offered cashback.
They also have apps available for both android and IOS devices which make things more convenient at times.
Complaints
Overall the general opinion of Mr Rebates is pretty good. But you will find complaints which are typical of cashback programs. Some include…
Not Getting Credited With Cashback
Your purchases will be tracked so that you get credited for them. This will happen automatically but there are times where the tracking code will get "messed up" for one reason or another. And this means you won't get credited with your cashback. Most of the complaints you find are about this.
Its doesn't happen often but it does still happen. If you do run into problems like this you can manually submit a cashback claim to Mr Rebates and they will sort things out. However, this can get very frustrating and annoying.
No In-Store Shopping
It would be nice if they had in-store shopping offers but they do not. This is just a little complaint of my own worth mentioning.
Conclusion on Mr Rebates – Good Opportunity or Not?
Like I mentioned earlier, Mr Rebates is good but not great. This place definitely isn't a scam but at the same time I think there are better choices out there. If you are looking for a program that is very similar but better, in my opinion, than I would take a look at BeFrugal. They have better cashback percentages and a lot more offers available.
And if you are interested in some good cashback apps that are out there then I would suggest DOSH and/or Ibotta.
As always, leave any questions or comments below and I'll get back to you as soon as I can 🙂