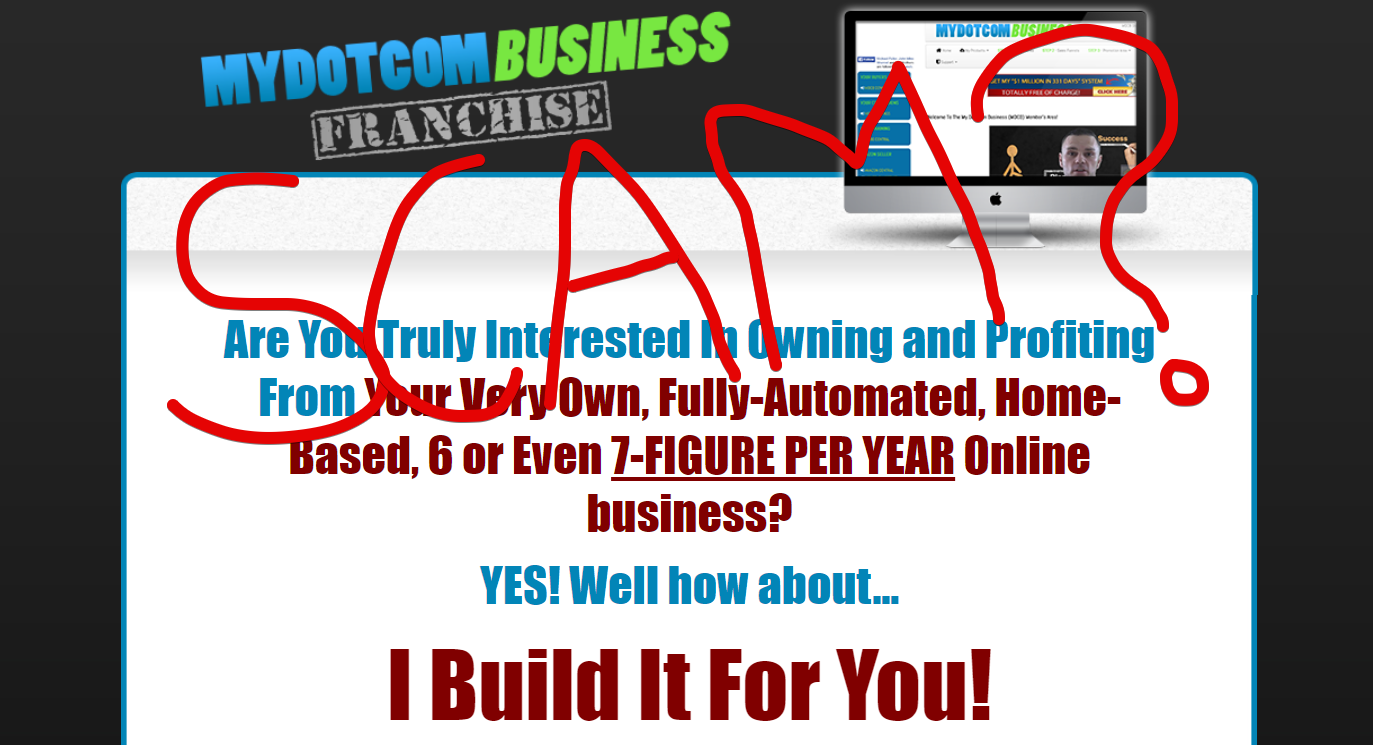 Paul Lynch claims that his My Dot Com Business Franchise can have ordinary people with no experience easily generating 6-7 figures per year. But are these insane and quite unbelievable claims really true? Or is My Dot Com Business Franchise a scam that you need to avoid?
I know there are going to be a lot of people asking this question which is the reason I decided to write this review. The truth is that you can make money with the program that Paul is promoting here…. BUT…. the sales pitch he is giving you is VERY misleading. Just about anyone that buys in is going to be disappointed due to the misleading nature of the sales page. The bottom line is that its nowhere near as easy as he leads you to believe.
My Dot Com Business Franchise Review
Since you are reading my review here I'm guessing you came across the sales page for this and are suspicious of the claims made. This is a good thing. Usually when you hear something that sounds way too good to be true it is a scam. That is the mindset you need to have when it comes to make money online programs due to the amount of scams that are out there.
In this review I'll be going over some of the claims made, the real program being promoted here, the reality of it and more.
First I want to go over some of the insane claims that are made on the My Dot Com Business Franchise sales page.
Bold Claims…. Misleading at The Very Least
Below I took a screenshot of some of the things said on the sales page. I'll be going over the truth about it all.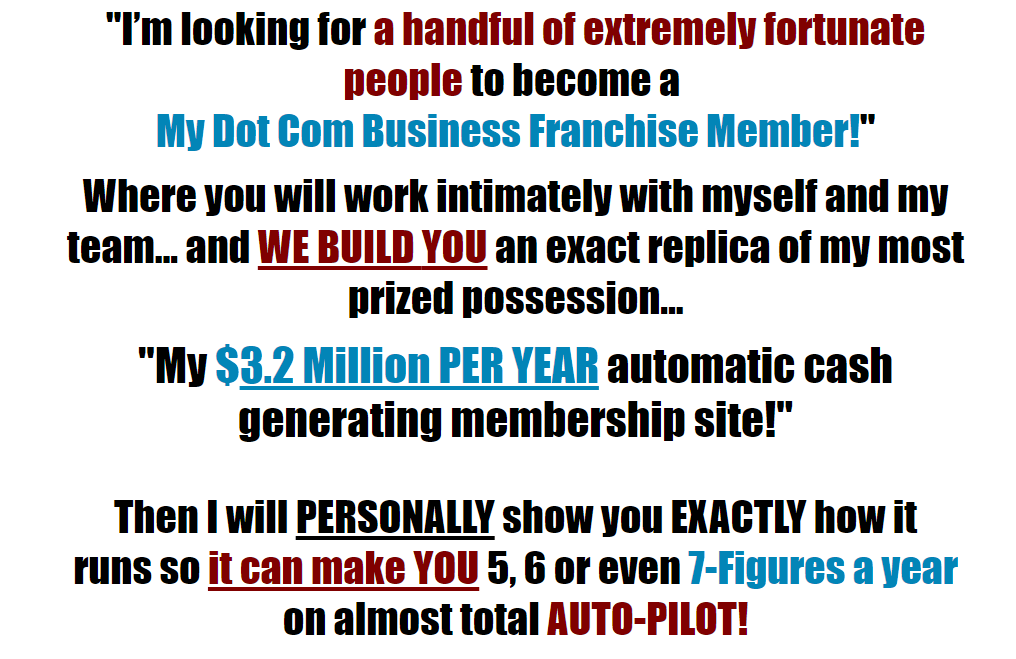 First off you should know that he isn't "looking for a handful of extremely fortunate people". He is looking for every and anyone to buy into this. He is in the business of making money online and this is just a trick to make you think that you need to buy in right away before someone takes your spot. There are no limited positions.
Second… while you will get a "replica" or copy of his website with this program its not and "automatic cash generating membership site". You won't make a dime with it on its own. There is a lot of work that you will have to do to make money with this which I'll go over soon.
Third… while there are a lot of automated features with this system, and just about any online business for that matter, as I said there is work that you need to put in. This is something that isn't really mentioned.

Now this claim here isn't just misleading… its a lie. I can pretty much guarantee you that you WON'T make money from day one. While it is possible, it is highly unlikely.
How It Works
If you have ever heard of MOBE then you already know how this all works. Basically My Dot Com Business Franchise is a program created by Paul Lynch on the MOBE (My Online Business Empire) platform.
My Dot Com Business Franchise is what you call a "high ticket" digital marketing program. It provides tools and training and even a pre-made site for you to make money online. But its much more than just that… and much more unethical.
Remember how he said you will get an exact "replica" of his business? This is because when you join you will get a copy of his My Dot Com Business Franchise site and then what you will be doing to make money online is selling this same darn program to other people.
In a nutshell you buy into this to make money online and then you sell this to other people looking to make money online in order for you to make money online.
There are different levels of membership within this program and the reason its called a high ticket program is because it gets extremely expensive. The cost ranges from $997 to $19,997. Usually people buy in on the cheapest level and then are pushed to upgrade in order to make more money.
These membership costs are extremely expensive but this means that you can earn big commissions selling them. However you will also have to buy them in order to make money selling them. The licensing rights system that they use requires the purchase of the product before you can sell.
The MOBE Side of It
It might be all a bit confusing so let me summarize: My Dot Com Business Franchise uses the MOBE platform. Its basically a version of MOBE that Paul Lynch set up to make money with. He makes a ton of money with this because when people join the way the system works it gets them to then go out and get more people to join. There are a lot of other sites like this including Rookie Profit System and Cash Relief Now.
But buying into My Dot Com Business Franchise isn't the end. The core product here is MOBE. He will also be trying to get you to buy in here which then contains a bunch more extremely expensive high ticket products.
Basically everything you are getting here is built around selling people on extremely expensive high ticket products and then getting them to do the same. These products are way overvalued and the purpose of them being so expensive is so that people can make large commissions.
Is It Really Worth The Money?
No doubt you can make a ton of money with this by suckering others to buying in just like many people out there are doing. But is it really worth the money?
If you look at what you are actually getting with the money, which is a done for you site, autoresponder, hosting, email templates, etc… there is no way in heck its worth the price. Don't get me wrong, what they provide is well made and professional but its just not worth the price. As I said, the price is so high for the reason of being able to make big commissions.
Conclusion & What I Recommend
My Dot Com Business Franchise might not be a scam but it is VERY misleading and I know a lot of people that buy in are going to feel ripped of and used. Its not some completely done-for-you system and you will have to put in a great deal of effort doing the marketing. Sure you get the site and everything but its up to you to market it and get traffic to the site. This is the hard part.
You can buy into this if you'd like but its not something I am going to. I find this business model very unethical especially with the sales tactics that are commonly used, which consist of information that makes it sound way better than it is.
A program I would suggest taking a look at is Wealthy Affiliate (review here). I've been a member since 2015 and vouch for it 100%. They have a much more honest, and way more affordable approach to it all. You won't have to fork over large sums of cash to make money. Overall its much more beginner friendly.
You can read my review of Wealthy Affiliate here where I go over what it is, what it provides and more.