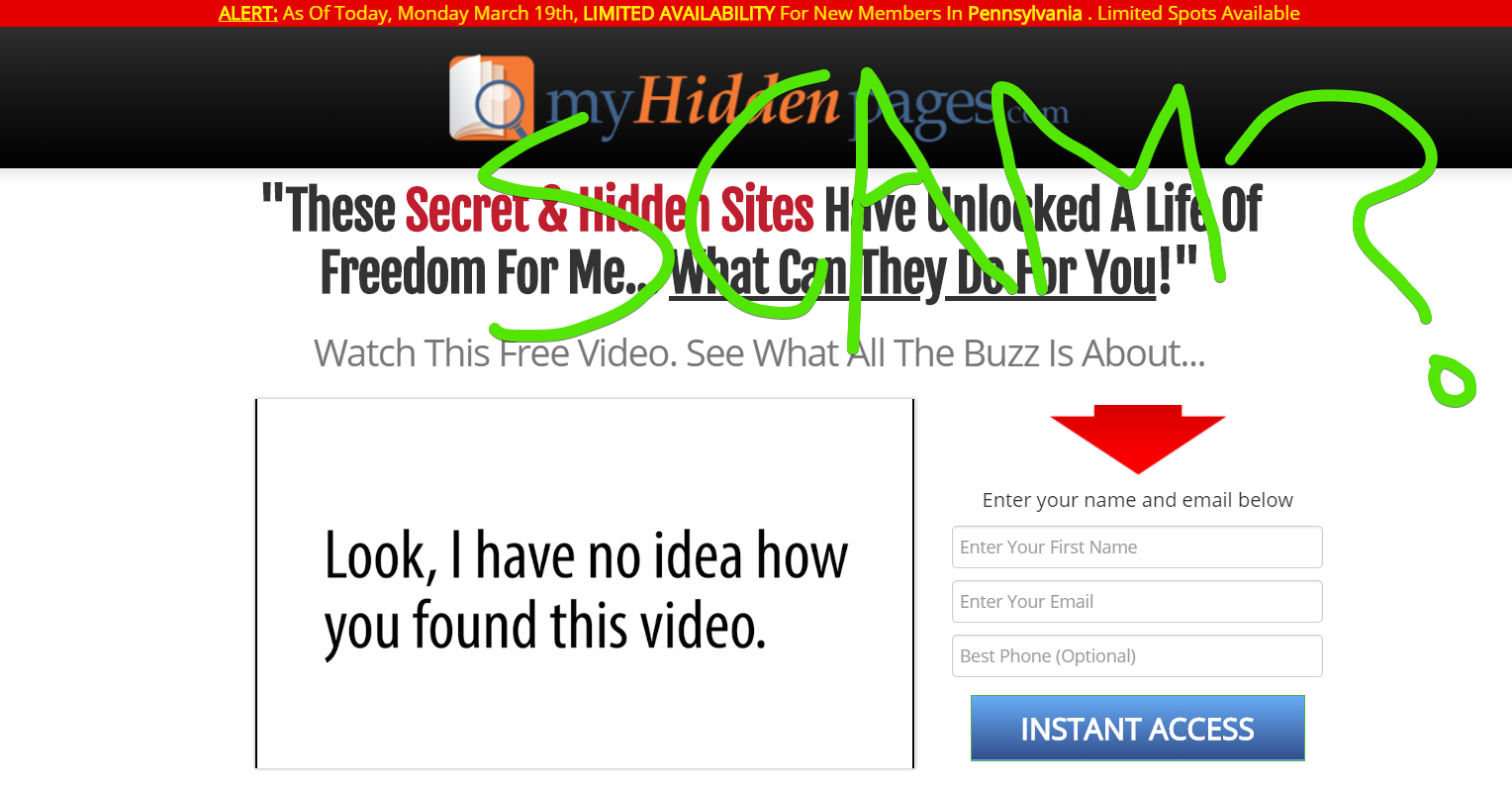 My Hidden Pages claims to be a system that anyone can easily make $1,000 to $10,000 a month with on autopilot. But is this the real deal or is it another worthless program that isn't going to live up to what it says it will? Is My Hidden Pages a scam that is just going to leave you discouraged at the end of the day?
After coming across this site and hearing the over-the-top sales pitch I knew I had to review it. I was very suspicious of what was being said and rightly so… the information given in the video presentation is very misleading. I'll be going over the truth of the matter and you will see that this is nowhere near as good as it seems.
My Hidden Pages Review
The spokesperson you hear in the video presentation claims to be Philip from Minneapolis, however I cannot verify this because he doesn't give any more information.
But anyways…. he claims that he has no idea how you came across this video because its hidden from Facebook, Google, and 99% of the internet. Lucky you right?
But be careful because he says if you click away you might never see this video again. Oh No!! But don't worry, I'll go over how this is not true in a second.
the system that he is supposedly giving to you out of the kindness of his heard he claims can make you anywhere from $1,000 to $10,000 a month online. He claims that many billionaires are making tons of money by activating these secret sites for themselves.
From what he says you are lead to believe that you just activate some "secret" sites and leave them running on autopilot… all the while you are sitting back and raking in the money. Pretty much what he is telling you is that this is a super easy system that anyone can use to make tons of money online.
But….. its not and there is a heck of a lot of misinformation given that I'll go over. But first I want to explain a bit about what he is really trying to get you to buy into.
The Real Program Here
The real program here is called MOBE, or My Online Business Empire. My Hidden Pages is just part of a sales funnel that was set up by a member of MOBE.
MOBE is a digital marketing program that provides training and tools for making money online. In a nutshell its basically one of those systems that people buy into to make money online and then they end up making money online by getting others to buy in. This is exactly what this "Phillip" guy is doing. He is a member of MOBE and is making money by getting others to buy in through his My Hidden Pages website.
It is possible to use the tools and training that MOBE provides to any online business but MOBE pushes people to promote the company and make money this way.
Misleading Information and Lies
"No Crazy Investments" – Lie
MOBE is what you call a high ticket program, meaning that you can make big commissions from selling MOBE to other people but you also have to pay big money to be able to earn those commissions.
MOBE uses a licensing rights business model which means that you have to buy the MOBE products before you can sell them. There are multiple tiers of membership and the core products cost up to $29,997. The $97 product that you buy in at is just the introductory product and is designed to get people's feet in the door.
Here are the prices of the core products…

So YES… there are crazy investments because you are going to have to pay a lot to be able to make a lot. This is similar to programs like Jeff's 6 Figure Business System, Legendary Marketer, and TCP Lifestyle System.
"No Products to Buy" – Lie
This goes along with that above. Of course there are products to buy. You have to pay for the training and tools at MOBE. This is a blatant lie.
"No Multi-level Marketing" – Arguable
He also tells you that this is not a MLM…. although technically it is a MLM. I know there will be a lot of MOBE members out there that will argue with you all day claiming that its not a MLM but the truth is that it does have multiple levels.
They all it a two tier affiliate model but really this is just a mlm with 2 levels.
What this all means is that you can earn money by recruiting in new members yourself and also from the members that your recruits get to buy in.
This is my take on it anyhow. It is a mlm but not that much of one. Its not like there are 10 levels as you will see with some.
Limited Availability – Lie
They tell you that if you are able to see the video then it means they are still accepting applicants… as if they have limited positions open or something like that. At the beginning of the presentation the guy also tells you that if you click away from the video you may never see it again.
However, there are not limited positions and you can easily go back to the video to watch it again. These are just false scarcity tactics used to try to get people to buy in as fast as possible without taking the necessary time to research what they are really getting into.
Anyone can buy into this. There is no limit. MOBE has been around for years and will take anyone they can get to buy in.
Conclusion on My Hidden Pages and MOBE
You could definitely call My Hidden Pages a scam because it really misleads people into buying in. It pretty much suckers people in with talks of making easy automated money… and lots of it. You see this a lot with MOBE promotion sites. I review these sites all the time, such as Online Success Portal & Home Based Wealth System, and they usually do pretty much scam people to buy in, because remember this is how they make money and how you will be too.
MOBE on the other hand is not a scam itself but at the same time I don't really care for this type of program. There is no doubt that they push members to promote the company and their licensing rights business model forces members to buy the more expensive products, which they probably had no idea existed when they joined.
Join MOBE if you want to but its not a recommendation I'm going to give.
If you are looking for a much more affordable program for making money online, that I do recommend, then take a look at Wealthy Affiliate. I've been a member since 2015 and make very good money with it. You can read my Wealthy Affiliate review here for more information on it all.
Please leave any questions and comments below and I'll get back to you soon 🙂