My Home Business Mentors claims to be a way to earn from $1,250 to $5,500 commissions repeatedly… but is it really as good as it seems? What is the catch to it? After all… it seems there is always a catch. Is My Home Business Mentors a scam that looks amazing but doesn't live up to all the hype and bold income claims made?
In this review I will be exposing this place for what it really is, which is pretty much a scam. I'm not going to call it a complete scam because you can actually make money with it, but it is not nearly as good as it claims to be. The information given is extremely misleading and if you buy in based on what they tell you then you are likely going to end up very disappointed.
My Home Business Mentors Review
I'm sure there are different promotional materials out there for this program but you can see above the page that I came across for it. They advertise it as a way to earn $1,250, $3,300, and $5,500 commissions repeatedly and claim that you can start immediately with no experience at all. This leads you to believe that you could potentially be making these massive commission payments pretty much right away, does it not? But this is far from the truth.
Furthermore, after entering your email, name, and phone number you are then taken to this page (screenshot below) that tells you "Congratulations" because they are still accepting applicants in your area. However… as you will see soon in my review here, this is not a job at all and there is no need to apply. Anyone can join.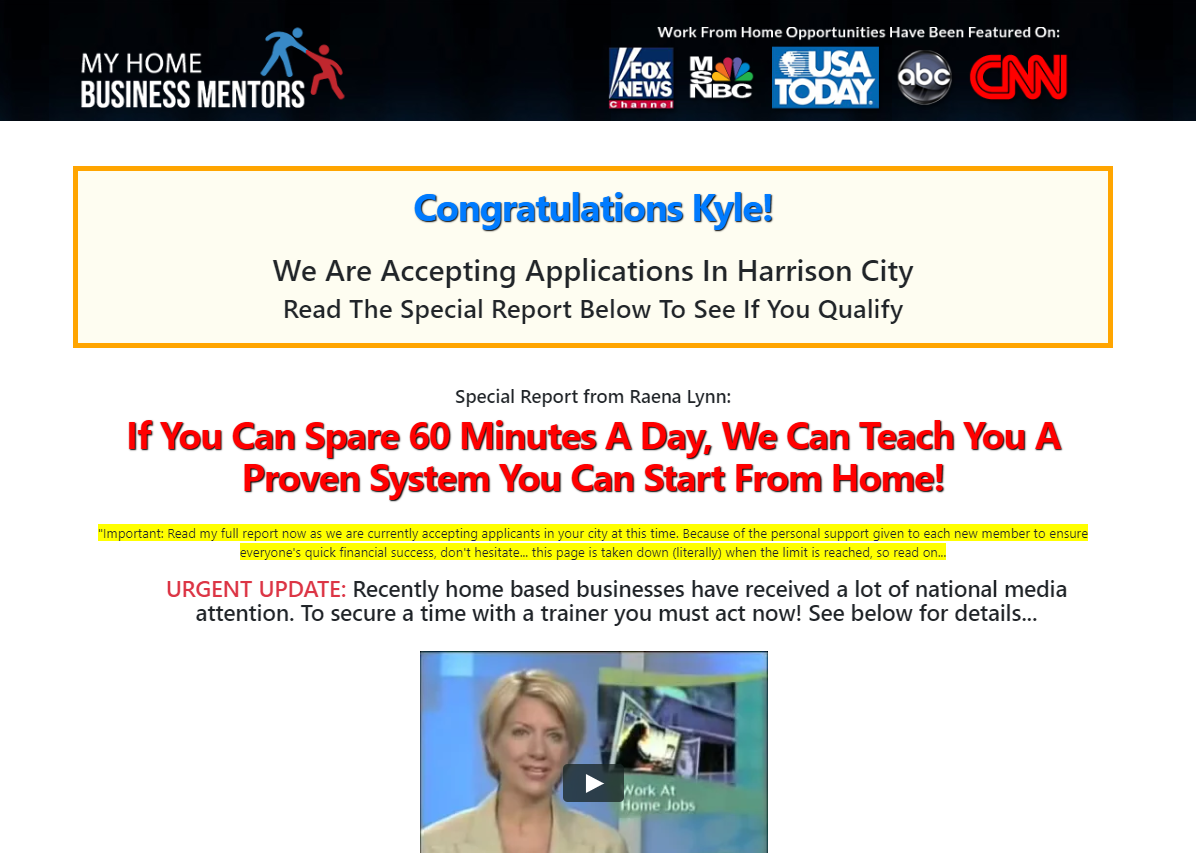 Something else that is misleading is how they put news broadcasts on the page for work at home jobs. It is important to know that these news broadcasts are real, however they have nothing to do with this particular opportunity. If you watch the news broadcast video you will notice that there is no mention of My Home Business Mentors. The people who put this scammy sales page together simply too parts of news videos and put them together on this page.
It makes it seem more legitimate but any scam system could put up news clips like this if they want.
Just About Everything Is a Lie
You are told that the person sharing this opportunity with you is named "Raena Lynn", who was once a struggling single mom living paycheck to paycheck. But this is really all just another one of the many lies you are told and I'll prove it.
Below is a screenshot I took from the My Home Business Mentors sales page. You can see Raena Lynn and her picture…
And now below this you can see many other screenshots I took from other nearly identical scams that I have reviewed in the past, which includes ones like Accelerated Income, The Computer Teachers, Computer Instructors , and Home Internet Income. You can see that they are all the same with the exception of different names and pictures…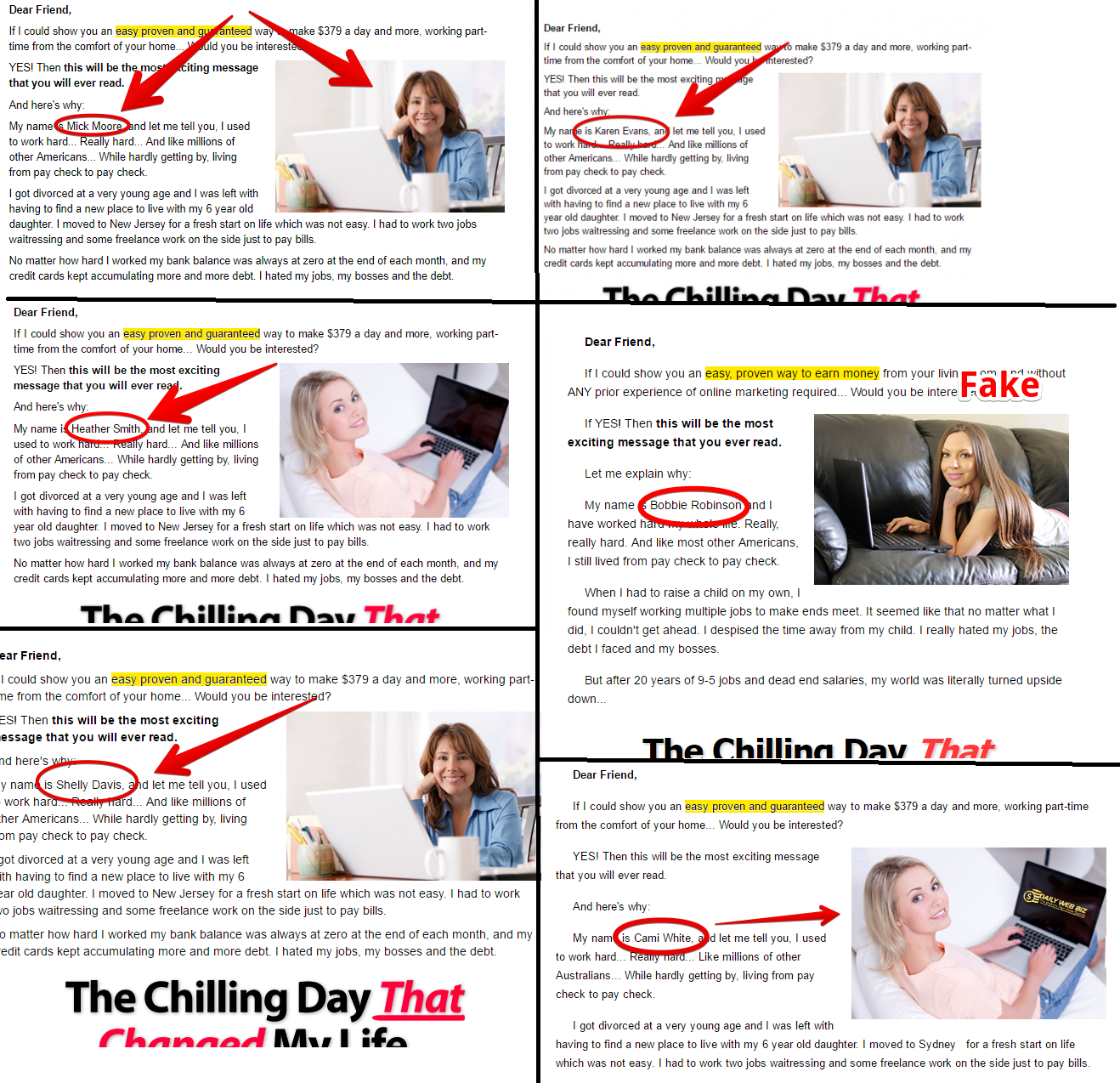 What They Tell You Is Only Partly True
They tell you that you will be able to make an average of $15 per link that you post with this "link posting" method in which you will be posting links for big companies.
What they are really talking about here is called affiliate marketing, which is where you promote products via affiliate links online and earn commissions when you help make a sale. This is a real way to make money online and is actually how I make a living.
HOWEVER… what they say is very misleading. You will not be making an average of $15 per link and there is much more to it than just posting links. Additionally you will pretty much have to spend a small fortune to really make money with this. The $49 that the program costs is just the beginning. This is just to suck you in.
What You Are Really Buying Into Here
Throughout the sales page you really aren't told much of anything about what you are really getting into. They offer some hints but unless you are someone like me, who reviews scams and make money online programs all the time, you probably will not catch them.
Below you can see the first hint to the real program you are buying… It mentions a "21 step training center"…
So what does this mean?
What you are buying into here is the 21 step MOBE course. MOBE is a digital online business training program that provides both tools and training to make money online. More so… it is basically one of those programs that you are taught to duplicate in order to make money.
While you can apply the training and tools you are given to any online business, it largely pushes members to make money promoting MOBE to other people. So you buy in to make money online and then you go out and make money online by getting others to buy in.
Where Does My Home Business Mentors Fit In?
My Home Business Mentors is just a funnel to get you to buy into MOBE. It was created by a member of MOBE that is making money getting others to buy in, which is what you are taught to do. And as you can tell they are recruiting in new members in a very unethical and misleading way, which is common with MOBE sales funnels.
Its Going To Cost a LOT More Than $49
MOBE is what you call a high ticket program, meaning that it is extremely expensive. The $49 for the 21 step course is just the introductory course. Since you are going to be selling MOBE to make money you are going to have to sell the expensive MOBE products to actually earn good money.
There are different "membership levels", or products, within MOBE. The core products include the following…

As you can see they are extremely expensive, going up to $30k in price. This is how you make the big money… by selling these high ticket products.
The catch is that you first must purchase the products before you can earn money selling them. This is where they get you.
If you want to earn $1,250, $3,300, and $5,500 commissions like they tell you that you can, then you will have to purchase products that are more expensive than this.
Final Thoughts – A Scam In Many Ways
My Home Business Mentors is a very misleading sales funnel for MOBE. And although you can make money with MOBE, this scam is basically suckering people in without telling them what they are really buying into. I think I am right to be calling this sort of thing a scam.
And besides the My Home Business Mentors part of it, I also don't really like how MOBE operates. Their high ticket products seem to have high price tags just for the sake of earning massive commissions. They are way overvalued in my opinion.
Buy into this if you want to but this isn't something I would really recommend doing. For many people this isn't even going to be in their price range since it will cost thousands of dollars to really buy in. Remember… the $49 for the 21 step training product is just the beginning.
What I Recommend
If you are looking for a more affordable, and in many ways more legitimate, way to make money online then I would suggest taking a look at the Wealthy Affiliate program. This is where I got started back in 2015 when I was first looking to make money online and now I make a living doing so… which goes to show that it works. This program is 100x more affordable. You can learn more by reading my review below…
Please leave any questions or comments below and I will get back to you when time permits 🙂