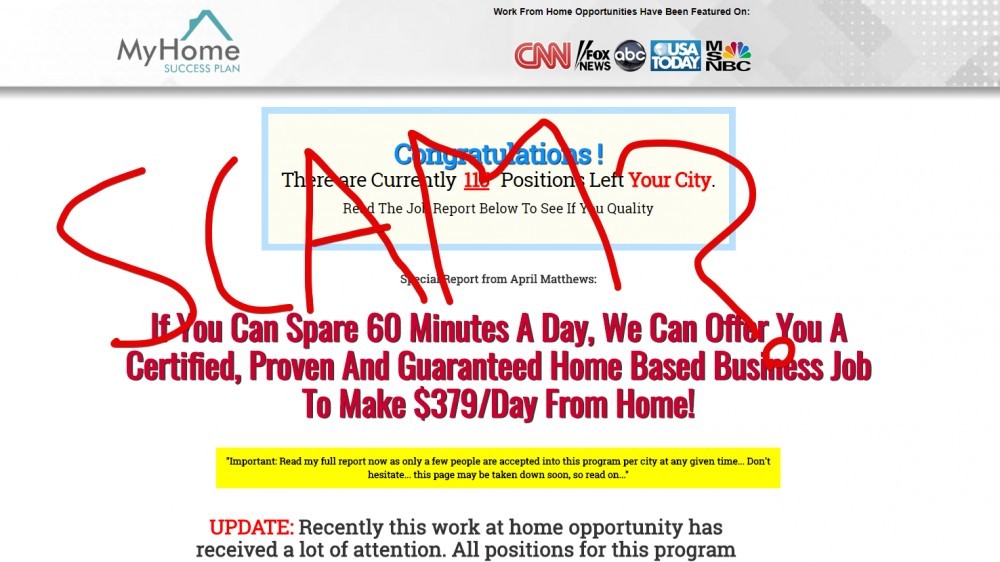 My Home Success Plan claims to be an easy way to make money online, but is it really? Is it possible that My Home Success Plan is a scam instead?
These are important questions that need to be answered before you buy into a product like this, and unfortunately at times it can be difficult to tell what is the truth and what isn't. It is obvious why you are suspicious of this program, which I am guessing is the reason you are doing extra research and reading my review now. Any sane individual should be suspicious when a program like this is claimed to be able to make you super easy money online… In lots of it.
Fortunately for you, you will with your gut instinct and did not buy in right away. You're going to be glad you didn't because, as you see in this review, this program is not what it appears to be. In short… it is a scam.
My Home Success Plan Review
After you enter your name and email into the one page, you are taken to another page that claims you can make $379 per day if you have just 60 minutes per day to spare. So pretty much what they're telling you is that you can make $379 and one hour. And of course positions are limited, with only a certain amount left in your particular area.
Right off the bat this seems like your typical get-rich-quick scheme, similar to a few others I have reviewed recently such as My Traffic Business and 5 Minute Profit Sites.
There are about 100 reasons why you should avoid this place, but below I will just give you a few red flags that really stood out to me and point towards this being nothing more than a scam.
Red Flags That This Is a Scam
#1 – Confusing Sales Page
When you enter your name + email and land on the second page, you are greeted with a video that starts out playing news clips about work at home opportunities. Later in the video email spokesperson starts talking about the opportunity that you are presented with today and claims that you are guaranteed to make $500 just watching the video.
However, if you scroll down the sales page it seems that the show is being run by a lady named "April Matthews". So what is going on here? There is a guy spokesperson talking about this opportunity in the video and a woman talking about it if you read the printed text on the sales page. Strange, you to make matters worse much of what they say is completely different…
#2 – Contradictory Statements That Don't Make Sense
If you watch the video presentation that I was just talking about then you're going to get a completely different story than if you read the information on the sales page. In the video that the guy talks about making $3000, $5000, and even $10,000 per sale. But on the written part of the sales page "April Matthews" talks about what she calls link posting and being able to make $15 on average per link that you post.
So what the heck is going on here? These people seem to be talking about two different things and this really is a making sense. In one thing that I have come to realize after reviewing hundreds of scams is that they often don't make sense.
#3 – Ridiculous Income Claims
Of course a $500 guarantee just for watching a video is absolutely absurd. This just isn't realistic and no way sustainable.
In the same thing goes for being able to make $379 working just one hour a day. If making money online was this easy than everyone out to be doing it.
Yet another major red flag of a scam.
#4 – Super Easy To Do
Yes… It is super easy to do and anyone can do it. This is literally what every single scam that has ever existed tells you. He lure you in with the thoughts of making super easy money online and then usually sell you something that just doesn't work
#5 – Fake News
At the top of the sales page they show a bunch of news logos which might lead you to believe that this work from home opportunity has been featured on the news. They even wrote above that "work from home opportunities have been featured on:"
They don't specifically say that this program has been featured on the news, but they definitely mislead you into thinking that it has. But anyway… It has not. All of those news clips that were played at the beginning of the one video are also completely unrelated to this program. The scammers behind this just threw in a bunch of news clips to try to make it come off as more legitimate.

#6 – Limited Availability
They tell you that there are only a limited number of positions available in your area and in the video presentation the spokesman says that if you leave the page you are going to forfeit your spot. This is all a lie intended to scare you into buying in as soon as possible. They will take everyone they can possibly get to buy into this.
#7 – Fake Picture of "April Matthews"
If you scroll down the sales page a bit you will find a picture of "April Matthews" and a little background story about her. She claims to have been a struggling single mother that was living paycheck to paycheck until she came across this incredible system, which she is now making tons of easy money with.
Unfortunately this is all a lie. I did a reverse Google image search of the picture for April and found that is used on multiple other sites online, meaning that it is more than likely a stock photo that anyone can purchase and use online as they wish…
What Is My Home Success Plan Really?
This it is more than likely a funnel for a high ticket program, such as MOBE.
What I think this? Well because in the video presentation the guy talks about making $3k, $5k, and even $10k at a time. The program more than likely lures you into buying in at a low price and then forces you into very expensive up sells costing thousands of dollars. You will then be trained and taught to promote the system to other people and get them to buy into the up sells just like you did, which will cost thousands of dollars and give you the opportunity to earn thousands of dollars in commissions.
There are many of these "less than legitimate" make money online programs out there and it seems that the one being promoted here is MOBE, or My Online Business Education. However, MOBE recently got shut down by the FTC for being a scam so I am not exactly sure what is going on. It could very well be a similar high ticket program that resembles MOBE.
Definitely a Scam
My Home Success Plan is one of the more confusing scams that I have reviewed, but it is definitely a scam… No doubt in my mind. It seems kind of like a "half-ass" scam that was thrown together in a short amount of time in the scammers behind it all did not do a very good job. If the stuff they tell you is contradictory and doesn't even make any sense.
But the bottom line is that, yes this is a scam. As a rule of thumb, you should always avoid programs that seem too good to be true. Because if something seems too good to be true, then it probably is.
I have been making money online since 2015 and one of the realities I have come to is that there is NO "super easy" way to make money online. There are many different ways in which you can earn legitimate money online, and good money, but nothing is "super easy" into all takes work if you want to be successful with it.
For some reason many people think that making money online is very easy, and I guess it is easier in some ways because of how much you can automate online businesses, but everything takes real work and dedication.
My Recommendation For Beginners
If you are a beginner looking for a way to get started making money online then my number one suggestion would be the Wealthy Affiliate training program. Why? Well because Wealthy Affiliate is what is started with back in 2015 when I first started looking for ways to make money online. Fast forward to today and I am now making a living working online, which goes to show that the program does work if you put in the work and effort.
In a nutshell, Wealthy Affiliate provides the training in the tools necessary to make money with affiliate marketing, which is when you promote products online and earn commissions. This business model is very good for beginners because you simply you promote products that are already proven to sell and earn commissions doing so.
But anyway… I'm not going to do a whole review right here. I already wrote a review for Wealthy Affiliate that you can read by clicking the button below…
Feel free to leave any comments, questions, or concerns below and I'll get back to you as soon as I can 🙂