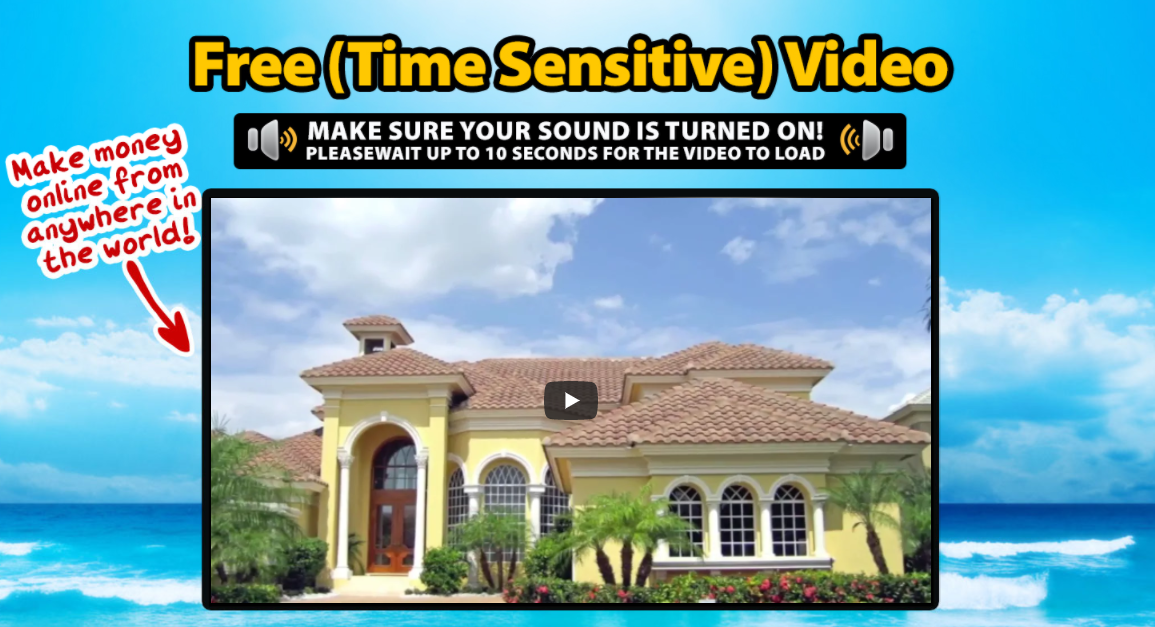 If you watched the promotional video for Jason Rogers' My Online Empires on onlineempiremaker.com then I'm guessing you are pretty skeptical of what is actually going on here. This guy claims to be taking 106 people that want to make money online and he will turn them into millionaires. Is this really true? Or is this whole thing a scam? Is the onlineempiremaker.com website a scam?
Before I even get into the meat of this review I'll tell you right now that yes… this is about 90% a scam. And the reason I say 90% is a bit confusing. You see, you can make money with the system that this guy is promoting but the reality is that it is MUCH harder than he leads you to believe and that this promo video is filled with misleading information and outright lies.
OnlineEmpireMaker.com Review
Jason Rogers, who I wasn't able to find any good information on by the way, claims to be sharing some secret system with people that will make them millionaires. Of course he tells you that you have been privately invited and that he is only accepting 106 people into this group…. but this is all a lie. The truth is that he will take anyone that wants to join because he wants your money.
This website has been around for years and you can even find reviews on it calling it a scam back from 2015.
If it sounds too good to be true then it probably is right? This saying fits this situation perfectly. It sounds way too good to be true. He tells you that a team of highly skilled specialists are going to do all the hard work for you and that you only have to work 20-30 minutes per day in order to become a millionaire with this. This all sounds way too good to be true.
Also the testimonial videos that were displayed of people claiming that they made it rich with this program were atrocious. I wasn't able to find proof that these are fake but it appears to be bad acting at its finest. These people were likely paid to make fake videos on this, which I see all the time with scam programs like this as well as others that I have reviewed such as Desktop Commission System & Get Paid 1K Per Day.
The Real Program Here
In the promo video Jason tells you that the program, or system that he is going to be hooking you up with is called My Online Empires… but really its called My Online Business Empire, aka MOBE. This program has been around for years and is quite infamous in the online marketing world.
The truth is that you really can make $1,000, $3,000, to $5,000 per sale but its nothing like you are led to believe.
MOBE is basically one of those programs that people buy into to make money online and then they are pushed to make money online by selling the same darn program to other people.
When you join you get training, tools, pre-done for you sales funnels and more. All of this stuff that you get is set up to get you to go out and promote MOBE to other people. That is how you make money… which is pretty unethical in my opinion. However…. you can make money with this.
There is one major catch to it all though. The catch is the price.
Let me ask you a question: How do you think you can make up to $5,000 per sale? Remember, you are selling MOBE to other people so if you can make $5,000 per sale then that means that the product you are selling must cost more than $5,000 right?
You see MOBE has different products and membership levels, all of which are focused on online marketing. These range in price a lot and get as expensive as $10,000+. This is what you call a high ticket program, meaning that it costs a heck of a lot but you can make a heck of a lot selling it.
Guess what though… just as you will be trying to sell it to other people… it is also being sold to you. When you join you will be upsold on all the other higher priced products that MOBE offers. You will be part of the whole money making system just as you will try to suck others into it. And one big catch to it all is that in order to make commissions selling a MOBE product you will first have to buy it.. So if you want to make $5,000 commissions you will first have to buy the product that costs over $5,000.
Conclusion on OnlineEmpireMaker.com – Scam?
There is no question about it that OnlineEmpireMaker.com is a scam. It is a very misleading website that was created by a member of MOBE that is just trying to get others to buy in…. just as you will do if you buy in. The person behind this site is just following the money making system which is just a big circle of getting others to buy into the system.
While you can make money with MOBE it is not something that I recommend. Not only do I find it somewhat unethical in the way it works, but its also just going to be too expensive for most people looking to make money online. You will have to spend high amounts of money to make high amounts of money and this is an option many do not have.
Sign up if you want to but I sure as heck am not.
If you are looking for a more affordable and legitimate way to make money online then I would suggest looking at this program. I've been a member since 2015 and make very good money with it.
Also check out the disclaimer for that I found from OnlineEmpireMaker.com… Pretty much says "hey I'm a scam".
Questions or comments? Leave them below and I'll get back to you soon 🙂