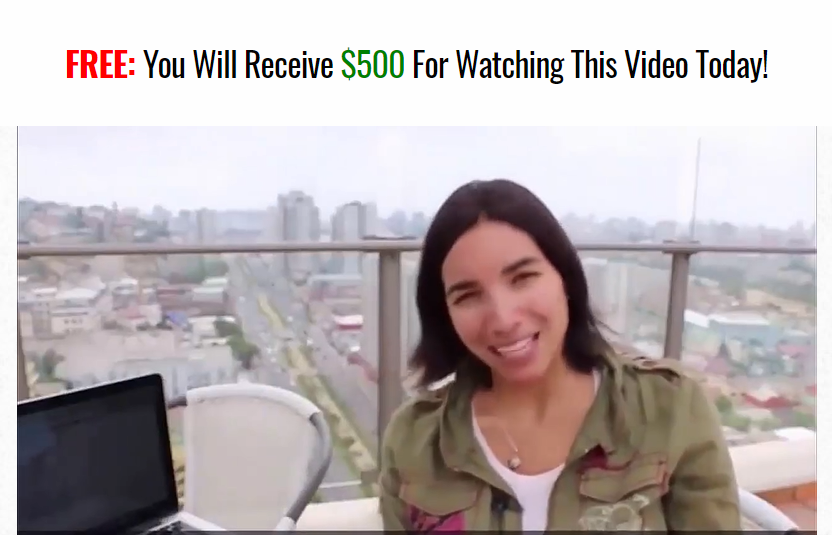 Welcome to my review of My Online Franchise.
I'm guessing you came across the sales page for this online business opportunity and are suspicious of it all. Well that's a good thing. It seems too good to be true and usually when it seems like this it is this way. But I did a little digging around and in this review I'll be going over a few very important things that everyone should know. If you are wondering is My Online Franchise a scam then you will want to read this because the sales video is pretty misleading.
My Online Franchise Review
Its normal for you to be suspicious of this place. There might be multiple sales videos for this opportunity but in the one I watched there were some bold claims made and it a lot of the red flag warning signs of a scam…. being that it is claimed to be a super easy done-for-you system that can make you thousands of dollars per day.
The one lady from the testimonials claims to have made $10,000 in commissions from a single sale…. Is this even possible?
And of course the whole thing is said to be very simple. The spokesperson in the video says he is going to make you a franchisee by giving you a copy of his online business. Sounds awesome I know, but just keep reading and you will see what he means by this.
The Real Program Being Promoted Here
There actually is no program/system called My Online Franchise. The My Online Franchise website is just a funnel site that was set up to funnel people into buying another program called MOBE, or My Online Business Empire, which is similar to Aspire if you have ever heard of it.
And MOBE is a "buy this system and make money selling this system" type of deal. People buy into it to make money online and then they make money online by selling it to other people. Basically it is an online marketing training program that provides tools and training to make money online. What it provides can be applied to any online business but members are pushed to promote MOBE, which is what most people do.
The My Online Franchise website is actually a creation of a member of MOBE. The person is doing what MOBE taught, to sell this opportunity to other people. That is why if you noticed in the video the spokesperson said his name was "Tim" but the one lady from the testimonials was thanking a man named "Matt" for the opportunity.
That is because Matt is the real person behind it all. Matt Lloyd is the owner of MOBE.
The Franchise Part of It
You could call it a franchise. Because one you buy into MOBE and you get the "licensing rights" to their products that you have bought and this means you are able to resell them for commissions.
You also will get the phone sales team that was mentioned in the sales video for My Online Franchise. Your job will be to promote the system and bring in leads and then the sales team at MOBE will help close on those leads and turn them into sales.
The Cost
The cost is what will get you. MOBE is not cheap program. If you remember me saying you can make $10,000 commissions from selling a single product then you might already have an idea of how much it costs.
You can make $10,000 commissions because some of MOBE's digital marketing products cost well over $10k. The $49 that you buy in at is just the beginning. This will give you access to beginners 21 step training but you will pretty much have to buy into the more expensive upsells to really make money here.
And Forget About the $500 for Watching the Video
On the My Online Franchise website they tell you that you will earn $500 just for watching the sales video. This is a load of BS.
The real program here, MOBE, does promise $500 but you have to do a lot more than watch the video. You first have to go through their 21 step system and they only give you this if you don't make money with it. And if you want to see that money you have to follow the system exactly. If you do something incorrect or don't try hard enough they won't give it to you…. so pretty much I wouldn't count on it.
Conclusion on My Online Franchise – Scam?
I guess its not a complete scam but My Online Franchise is pretty misleading about the real opportunity here, being MOBE. MOBE on the other hand isn't a scam but its also not a program I recommend.
Besides it being extremely expensive and way out of reach for many people living on a budget, the market is also very saturated with other people promoting the system which makes it much more difficult. That is why members are now promoting it under different names like My Online Franchise and other examples including My Online ATM, Cash Relief Now, and Rookie Profit System.
You can make money with it but its just not the best choice out there in my opinion.
If you are looking for a more affordable and less risky way to make money online then I suggest taking a look at this program. Not only is it 100x more affordable, but it is also more realistic that the average Joe can make money with it. This is the same place I learned to make money online back in 2015, and now I do this for a living.
==> Here is the program I am talking about
Questions or comments? Leave them below in the comment section ?