Wondering is Nucerity International a scam? With businesses like this a question of it being a scam or not is logical. There are some "shady" aspects to this business that I'm going to make known in this review. Because you are wondering if this place is a scam or not I'm guessing you were probably asked to join the business with claims of being able to make good money.
But is this place legit? Can you make good money? Is it worth your time? I'll be going over a few things that you should definitely know about that people in the business probably will not tell you and I hope I can answer these questions for you.
Nucerity International Overview
Nucerity International is a mlm company that sells skin care products. From what I have read and heard online the products are pretty good and I can't really complain about anything there. But I'm not here to talk about the products being sold. I'm here to talk about the business opportunity offered.
Nucerity does all its selling and marketing under what you call a direct sales business model. This means that their sales force consists of a bunch of independent distributors running around, which anyone can become.
Cost to Join
There is no required cost to join, unlike many similar mlm's. Of course you are going to have to purchase some products at wholesale price because you are going to be selling them to make money, but the amount you buy and what you buy is ultimately up to you.
They do have starter packs available starting at $150 and going up to over $1,000. These packs are designed to give you a boost when getting started and come with a range of products that are good for those just starting.
The Compensation Plan
There are 10 ways that you can earn money with Nucerity International's compensation plan. I'm not going to be covering all 10 of them but I'll go over what I consider to be the main ways of earning.
Retail Profit
Retail profit is the simplest and most straight forward. You earn money when you buy products from Nucerity International at wholesale costs and sell them at a markup. You can also sell products through your own Nucerity International website and have them shipped to the customer automatically.
Team Volume Bonus
The team volume bonus is all about recruitment. This bonus comes from a binary structure where you have 2 people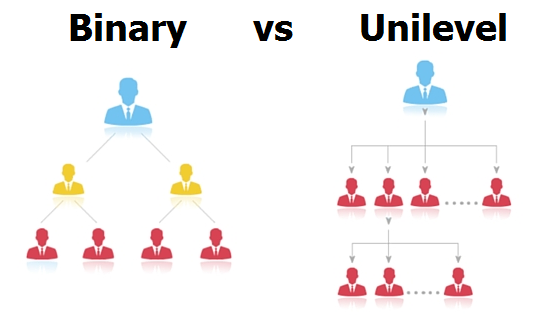 beneath you, 2 people beneath each of those people, and so on. You build up this team beneath you by recruiting other distributors and you will earn commissions from the team as a whole.
An illustration of a binary structure is on the right.
Team Matching Bonus
The team matching bonus is also all about recruitment as well. This is a unilevel structure and basically here you will be earning money from people in your downline and their own teams. You can earn up to 8 generations deep but when you start out you will only be able to earn on the 1st generation beneath you.
Moving Up The Ranks
If you want to unlock the entire comp plan you need to move up the ranks. As you see with the example here of the Team Matching Bonus, you will start out just earning from 1 generation deep but as you move up you can earn from all 8 generations…
Now you may be wondering.. well how do you move up the ranks?? The answer is RECRUITMENT. With each rank the required personal sales volume remains the same, so you don't have to sell any more products on your own to move up. However, the team sales volume increases with each rank, meaning you need to recruit more people.
The Reality of This Business
The reality of this business is that the majority of people will not make good money. The comp plan favors recruitment to the point where if you don't recruit you aren't going to make good money. This mlm business model makes it so that only the top few percent of distributors make the majority of the money.
There is definitely a lot of potential to earn here but most people will fail.
Unfortunately I was not able to find an official income disclosure by the company to prove my point here but I have reviewed enough similar mlm's to know that this is how it works. With a comp plan like this it is the only way it can work.
I just reviewed Organo Gold, Enagic, My Daily Choice, and some other mlm's. Its the same story with all of them.
Conclusion on Nucerity International – Scam?
I do not consider Nucerity International to be a scam. They sell legit products and although they do put a lot of focus on recruitment, the money still all comes from product sales (although much of this is from new distributors buying).
The main problem here is that many people are mislead into thinking that this is some amazing business opportunity when the reality is that most people will not succeed. If you want to join this then go for it, the choice is yours. Just know what you are getting yourself into.
Questions, comments, concerns? Leave them below in the comment section and I'll get back to you ?