Online Web Typing claims to provide lucrative work from home data entry jobs that are easy and that you don't need any experience for. But is this really true? Or will Online Web Typing scam you in one way or another?
I know you are probably suspicious of this place which is why you are reading my review right now. I wrote this review for this very purpose… because I know there are going to be people looking for answers. The truth is that I'm suspicious of it too. In this short review I'll be going over some red-flags that make me a little uneasy about it all.
Online Web Typing Review
The service that Online Web Typing (onlinewebtyping.com) claims to provide makes sense and all but things just seem a bit too good to be true. They claim to provide an outsourcing service for companies that need data entry performed. I have seen places that do this but I've also seen a number of scams that claim to do this as well.
The thing that makes me hesitant to pay to try this out is that they do tell a few lies and that things just seem too good to be true. They are claiming you can make £20 to £25 per worksheet which takes less than 1 hour…. that is a heck of a lot for a data entry job. They also tell you that you can work at this part-time or full-time. Pretty much everything about it makes it sound like a dream job for someone looking to make money online.
Red-Flags
#1 – You Have to Pay
They tell you that you are paying the $35 fee to support their site, and this is great and all… but this usually isn't how it works. Normally the companies that are using the Online Web Typing outsourcing platform would pay for their services, not the other way around.
This could be 100% true but I'm suspicious of it.
#2 Fake Testimonials
They messed up with this one. They probably thought no one would notice this but I review work-from-home opportunities all the time and always look up images to make sure they are legit.
As you can see below.. the images they used for their testimonials are fake… I did a reverse image search on Google to find that these are just stock photos that anyone can buy and use online…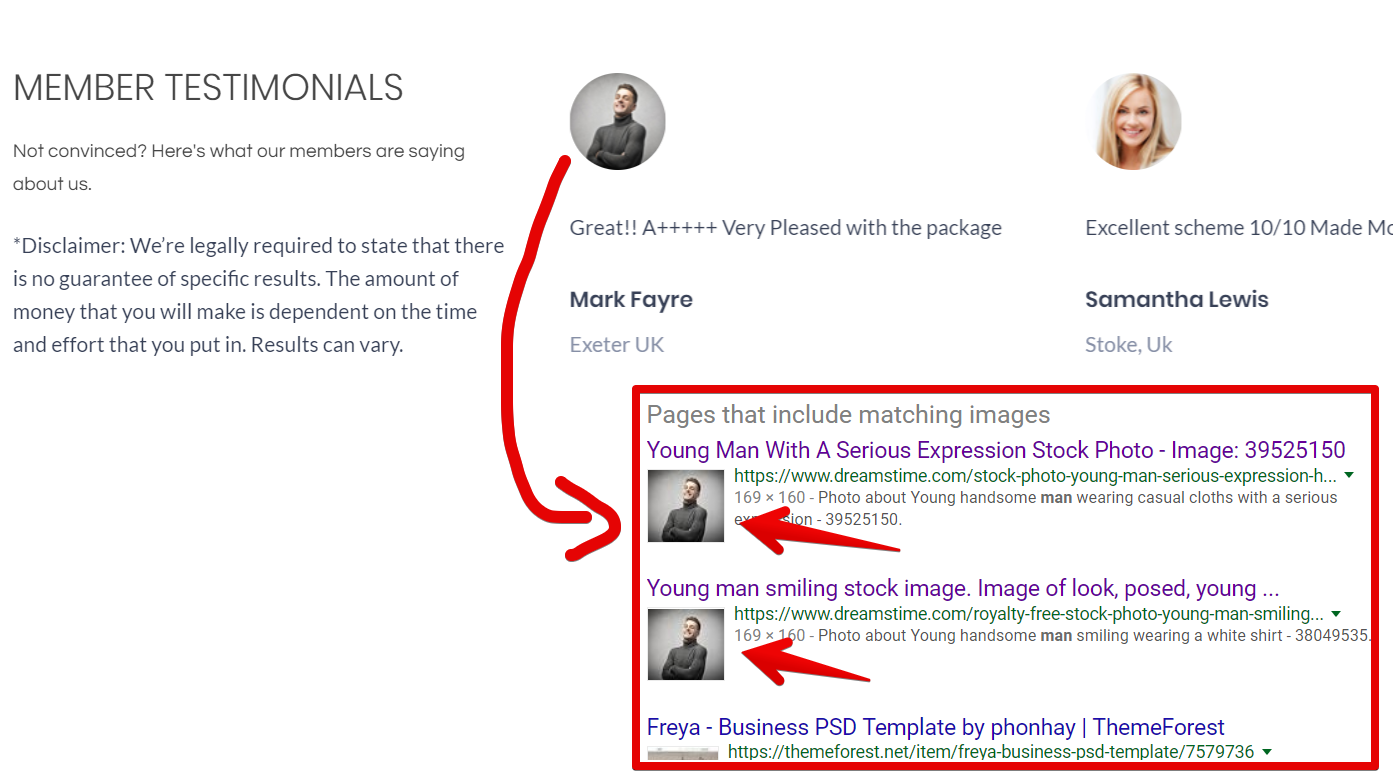 #3 – No Worker Reviews
They claim to have been around for over 5 years and to have provided over 25,000 data entry jobs thus far. Yet there are no reviews from works on sites like Glassdoor, Indeed, and other job review sites.
With a place like this that claims to payout so much for such easy work I would expect to hear people ranting and raving about how great this place is…. but they aren't. I can't find any real reviews from workers who have tried this place out.
Seems strange right?
#4 – No Experience Needed
I get that data entry is an easy job but things just aren't making sense to me. They are letting any and everyone that want to join into the program. Then they don't even use a bidding structure when it comes to giving people certain jobs. This means that they just give any job to anyone, no matter what the skill level required or the nature of the data entry.
This just seems like horrible outsourcing in my opinion. If everything is true that they say then its great for the workers but it would be awful for the clients that are paying for this service.
#5 – No Refunds
They tell you that "Due to the nature of digital goods, we can't accept a refund policy on them"….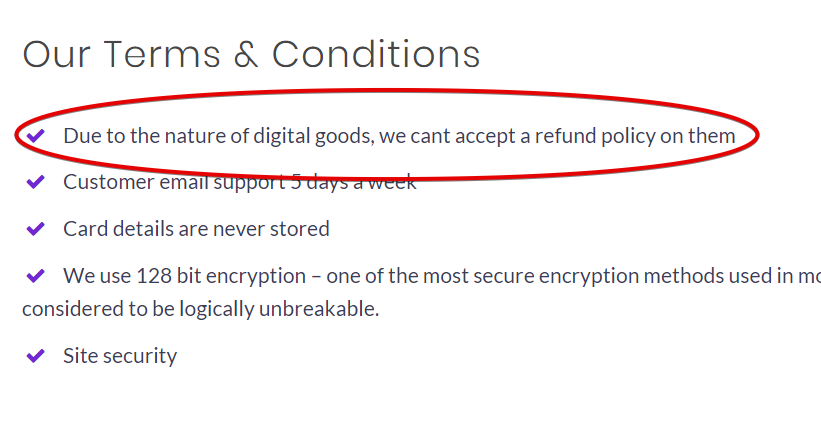 I have no idea what they are talking about here. It should be so simple to refund people's payments. According to them all you are paying for in the first place is access to the platform and to help keep it running. So all they would have to do is cancel your access…..??? How hard is that. Its not like they are actually giving you a program or anything of that nature.
This just makes no sense.
Can This Possibly Be The Real Deal?
Ok so lets think about this….. You have to pay to get jobs through this site and there are no refunds, there are fake testimonials, there are no real reviews I can find even though they claim to have been around for 5 years, and they give any job to anyone regardless of experience which is horrible for clients. And on top of all of this they claim to pay £20 – £25 (about $28 – $35) per hour.
If you compare the pay that this place claims to give out compared to known legitimate freelance data entry sites like Truelancer or SigTrack, its not even close. I don't understand how they would possibly be able to afford to pay people this much.
Conclusion on Online Web Typing – Scam?
I'm not sure what to say about this place. I haven't actually paid for their services so I can't say for sure. However, it seems like it very well could be a scam. Things just aren't adding up and the pay seems WAY too good to be true. They tell you everything that people want to hear. Of course you don't need any experience, the job is super easy, and you can make a ton of money.
At this point there is no way I am going to recommend this program. There just isn't enough information and transparency going on. Or maybe I should say there isn't enough "good" information. Much of what they tell you is vague and just doesn't add up.
If you have your own review for this place I would love to hear it. You can leave a comment below if you think I should add anything here.
Also I would suggest taking a look at how I make money online since you are looking for online work. I wrote a guide you can read Here where I go over what I do, how it all works, and how others can get started doing the same. I've been making money online since 2015 and am currently making a living doing this.
Questions or comments? Leave them below and I'll get back to you soon 🙂