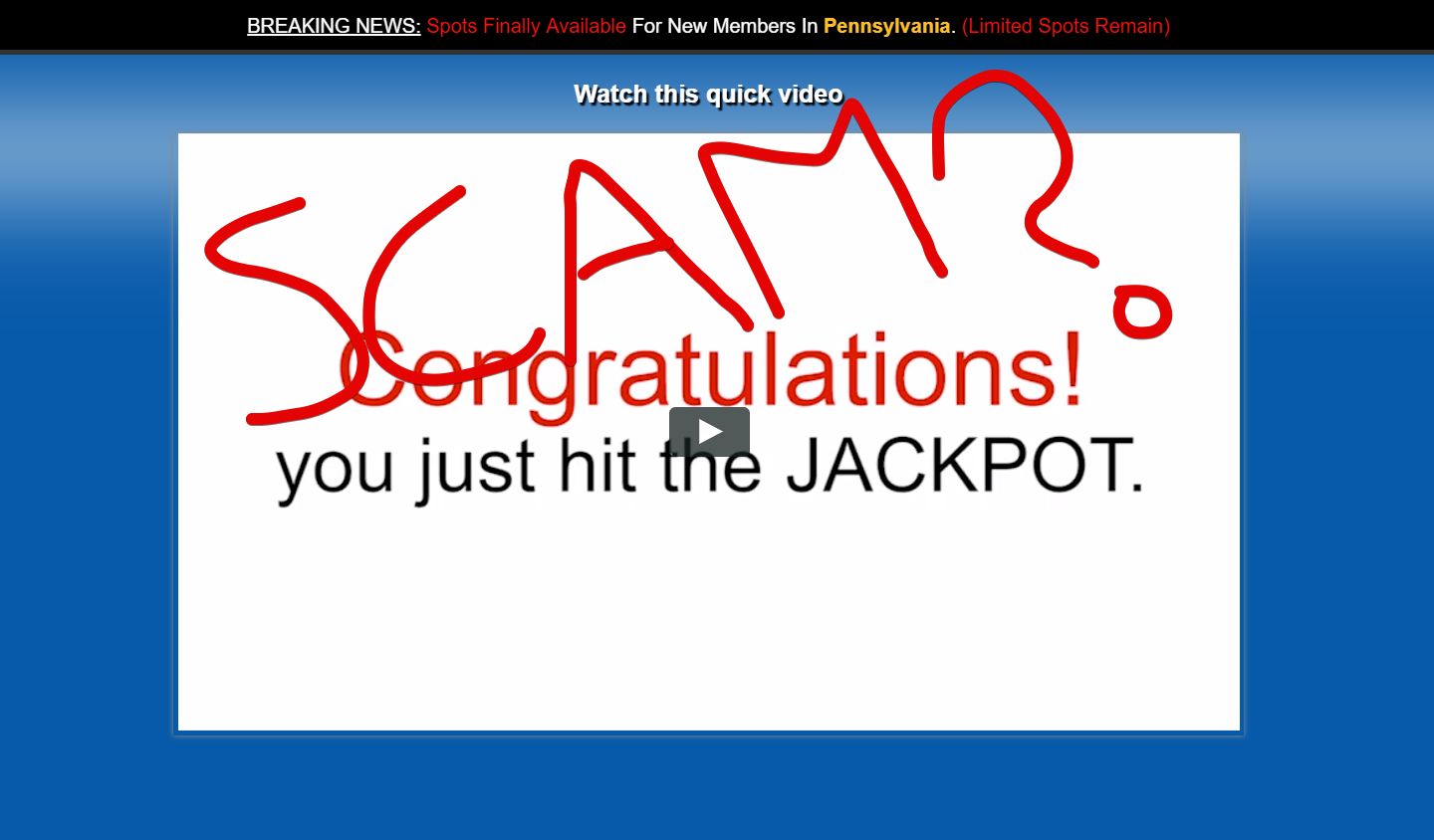 With Optimize Success Portal you supposedly get a "millionaire website" that just cranks in the cash day and night. But is what they tell you in the video presentation really true or is this just another program that is going to leave you discouraged and with less money than when you started?…. is Optimize Success Portal a scam?
In this review I'll be going over the truth of the matter here. And the truth is that the video presentation for this system is extremely misleading. What you are buying into is nowhere near as good as they make it sound nor is it as easy.
Optimize Success Portal Review
If you decide to enter your name and email, which will take you to the second video, the spokesman tells you that "you just hit the jackpot". He claims that you have been selected out of thousands of people to get a system that cranks in money like clockwork.
Lucky you right? But you you have to be careful because if you leave the page you will forfeit your spot and might not get the opportunity again.
He claims that you have been selected to get your own "millionaire website" that will be pre-made for you and pretty much all you have to do is buy in for the extremely discounted price of $97. And best of all you are guaranteed to make money. He says that you are guaranteed to make $500 with this so its a great deal right???
Well…. like I said… this is all VERY MISLEADING.
What You Are Really Buying Into
The program that they are selling you here is called MOBE or My Online Business Empire, which is a digital marketing system that provides training and tools for online business.
In particular MOBE is one of those systems that people buy into to make money online and then end up making money online by getting others to buy into it. There are multiple high priced tiers of the program and pretty much its a big circle of people buying in, buying into the more expensive tiers and getting others to buy in and do the same.
You are able to use what they give you for any online business but overwhelmingly its focused on getting members to go out and sell MOBE to others and make money this way…. which is what the owner of this Optimize Success Portal website is doing. I review MOBE promotional sites like this all the time… Home Based Wealth System and My Optimized Success Plan just to name a couple.
Incredibly Misleading Info
Limited Spots
They tell you "if you leave the page you forfeit your spot". This is not even close to being true. MOBE has been around for years and they will take anyone that wants to buy in. There is in no way limited spots. So take your time here. Do not rush.
This false scarcity is just a sales tactic to get people to buy in as fast as possible without really thinking about what they are buying into.
$500 Guarantee
MOBE does have a $500 guaranteed if you don't make a certain amount of money in a certain amount of time. This is very enticing and many members use this to lure people in. However… its very misleading.
The truth is that they have never paid out this $500 guarantee, not because everyone has made a bunch of money, but because its a bunch of BS. The $500 guarantee is only if you do everything to perfection and they can always say that you did something wrong or not as it should have been done or didn't put in enough effort, which is what they will do if you do try to get your $500.
So don't expect to get this because you won't.
Eligible for a Mercedes Benz?
MOBE does give away Mercedes Benz's to their top members, meaning the people that get tons of others to buy into MOBE. HOWEVER… don't expect this either. I'm not sure how many people have actually got one but I know it is very few.
In order to reach this level you will also have to spend a ton of money, which they don't tell you anything about.
The Real Cost of This
The $97 that this costs to get into is just the very start of it. This is just for one of their intro courses that is designed to get people in the door. It will teach you basics and provide you with some tools and resources but you will need more if you really want to make money.
MOBE has a "licensing rights" program which means that you first have to buy the product before you can sell it. So if you want to make big commissions selling MOBE products you have to buy them first. Their core memberships cost up to $29,997 as you can see below…

So while you can definitely make money with this system you are being pushed to buy higher and higher yourself because you pretty much have to if you want a chance of making the big bucks.
Conclusion on Optimize Success Portal & MOBE
Ok… so Optimize Success Portal is just a website that a MOBE member set up to sell MOBE to other people. It provides extremely misleading information and pretty much suckers people to buy in without really knowing what they are getting into, which is common when it comes to MOBE promotions. Because they push members so much to promote the company this often leads to very unethical sales tactics.
When you buy into MOBE you will likely be doing the same type of thing… or at least you will be pushed to do so. You will also be pushed to buy into the upsells and higher tiers of MOBE and will pretty much have to do so if you want to make good money.
While you can make money with MOBE it is not nearly as easy as it seems. You have to be willing to spend a lot of money and what they don't tell you is that it does require a lot of work. You get the system (the website, landing pages, products to sell, etc) but you are still the one that has to market it. And online marketing is much easier said than done. I've been in the industry since 2015 and it is not a joke that you just go out and do one day and become successful at.
Buy in if you want to but know what you are getting yourself into.
If you are looking for a much more affordable and honest recommendation then I suggest taking a look at Wealthy Affiliate. I've been a members since 2015 and make a living with this program. You can read my review of Wealthy Affiliate here for more info on everything.
Leave any questions or comments below please and I'll get back to you soon 🙂