If you are looking to make money online by completing micro tasks, which are very small and easy tasks, then Picoworkers is one of the options you have. But is Picoworkers worth your time or would you be better off somewhere else? And more importantly… is Picoworkers a scam?
In this review I'll be answering both of those questions along with others. I'll be going over what exactly this place is, what it offers, how it works, how much money you can make and more. I would read this over before signing up so that you have a better idea of what you are getting yourself into.
Picoworkers Review
Picoworkers (found at picoworkers.com) is a platform that connects people looking for work for those looking to pay people to do small tasks. This site is what you call a micro-task site because you will be performing a variety of very short and easy tasks to make money. This has its upsides because you don't need any qualifications and can get started right away, you can work whenever you want, etc… but it also has its downsides… they low pay being the worst of it as far as I see.
If you are familiar with MicroWorkers then you know what to expect. Picoworkers is the same type of thing.
A Look at The Platform
On the platform you will find a variety of different small jobs offered. So if you are an employer you are able to post small jobs like these and if you are a worker you are able to complete these jobs for money. Some jobs that you will typically see on this site include things like…
Comment on a Youtube video
Like a Facebook page
Download an app
Comment on a blog post
Sign up for a survey site
Search for something
And there are plenty more but the point I'm making is that these jobs are all very short and easy to do.
Employers can pay people to like their social media pages, comment on things, whatever they want really… as long as its short and easy. And as a worker you get paid to complete these short tasks. You never know what to expect really. The examples above are common but every so often you will see some more uncommon jobs. It all depends on what employers are looking for.
The Pay
The pay is the downside to this as far as I see it. You won't get paid much at all.
There are 2 different job categories at Picoworkers: Small Jobs and Ongoing Jobs.
Small Jobs
These are small jobs that you will be able to complete once and get paid for. For example you will see a lot of things like "comment on this" or "like this", so it will take 10 seconds to complete and you get paid. Its a "one and done" type of thing which all the workers on the platform have access to.
So an employer might be asking for 20 comments on a Youtube video and once those comments are complete the job is taken down.
Ongoing Jobs
These are jobs that need workers on an ongoing basis, for weeks or months. With these jobs a handful of people will be selected to perform small tasks over and over again for a period of time.
These jobs still include things like commenting on videos and liking pages, its just that they want people to keep doing these small tasks again and again.
A Look at The Pay… Below you can see a screenshot I took of some of the featured jobs in both categories. For Small Jobs you can expect to earn anywhere from $0.08 to $0.30 and with the Ongoing Jobs you can expect to earn around $0.15 – $0.50 per task and up to $100+ per month.
*Note: The Ongoing Jobs where you can earn $100+ per month will sometimes require some skill.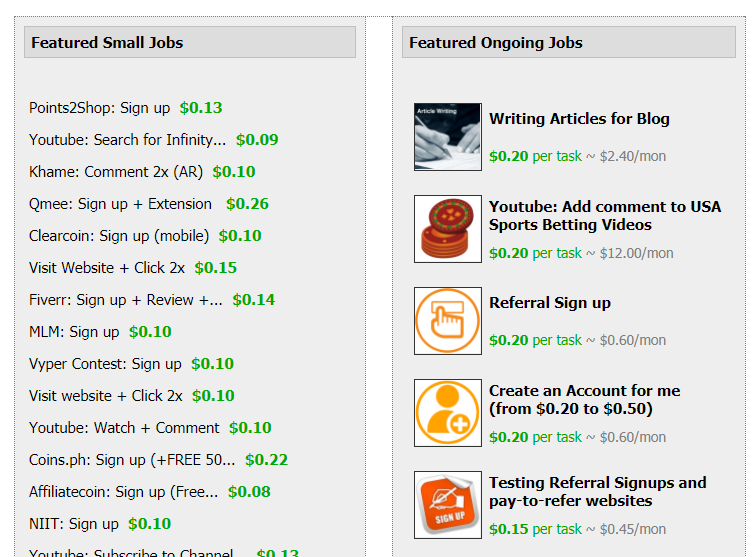 However, I do want to really point out again that these jobs vary a lot. You never know what exactly to expect and because of this you never know how well they might pay. But generally speaking you will be earning very little.
Completing a Job
The Small Jobs are simple… you just pick one of the jobs that you are interested in doing from the list you will find inside the dashboard, you look at the instructions the employer gives for the job, you complete the job and you submit proof that you completed it.
But for Ongoing Jobs you will have to show that you are worthy before you can complete the jobs. Because these jobs will be ongoing over a period of time the employers need to know that they can trust you to get the work done. For these jobs you are required to have a 75% job completion rate or higher. But the same goes for these… you will perform small tasks based on instructions and then submit proof that you did them.
How Much Can You Realistically Make Here?
The answer is not much. If you are just going around completing Small Jobs then maybe you can earn an extra $20-$40 per month. But if you are completing Ongoing Jobs that are on the higher paying side of things you might be able to earn an extra $300 per month.
But there really is no good answer I can give you here. The jobs vary and it all just depends. One thing for sure though is that this isn't a site you can count on to make a living with.
Conclusion on Picoworkers – Good Opportunity or Not?
It all depends on what you are looking for. If you are looking to just earn small amounts of money here and there in your spare time then this might be something worth trying. You also might want to look into GPT (get paid to) sites like Swagbucks as well. But if you are looking for anything substantial by any means this is not for you.
Another path that I think would be better to pursue is doing something like I do, which is make small websites like this one and get paid for advertising, promoting products etc. Whats good about this is that you can do it whenever you want and it has a heck of a lot more income potential than Picoworkers or any GPT site out there.
I wrote a guide on how I make money online that you can read through. In it I go over how it all works and how others can best get started. You can read it Here.
If you have any comments or questions be sure to leave them below and I'll get back to you soon 🙂