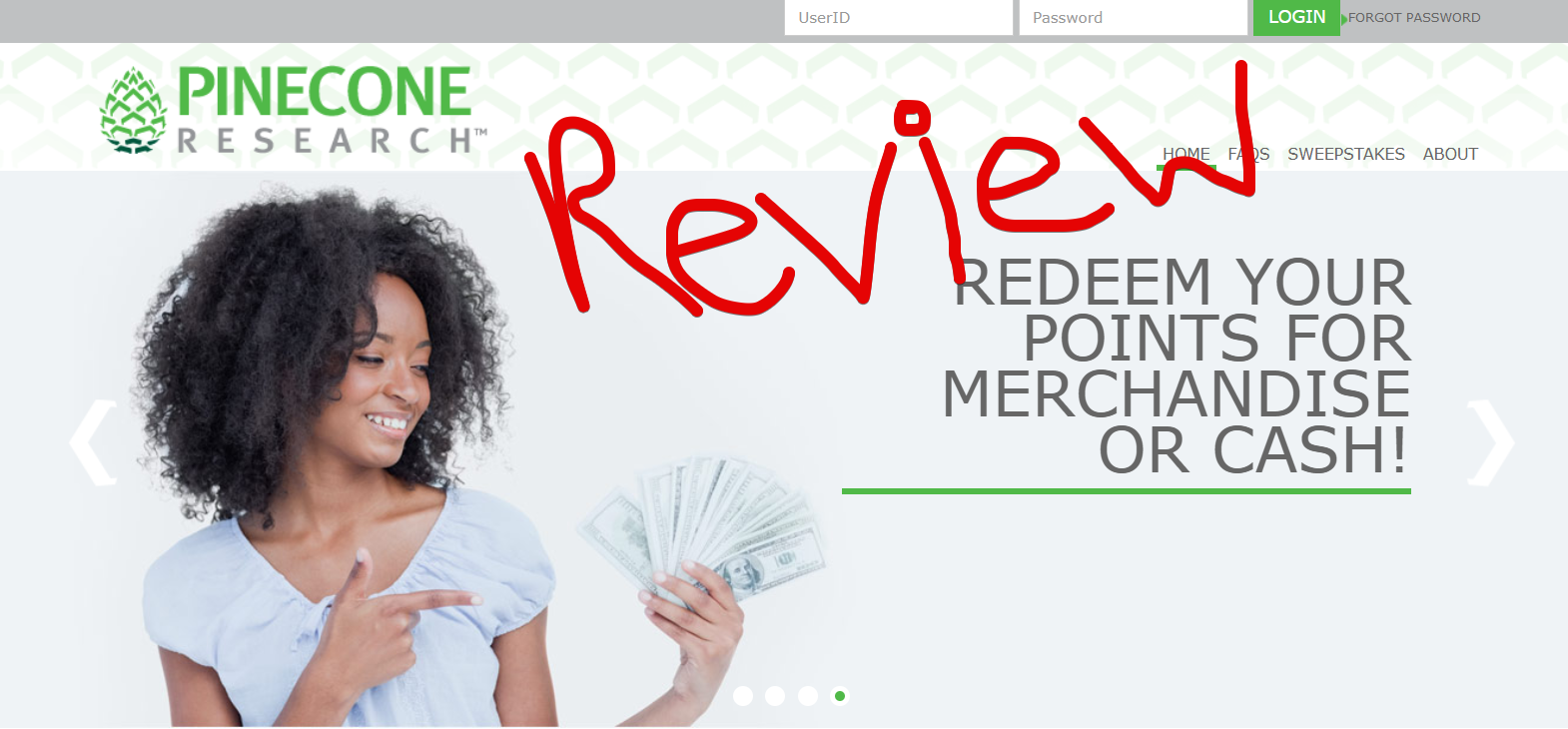 Pinecone Research is one of many paid survey websites out there that you can join to earn a bit of extra money sharing your opinion online. But is the site any good? Is it better than the many other ones out there? Or will Pinecone Research scam you in one way or another?
In this review I'm going to be answering these questions and going over how this site works, including what you will be doing to make money, how much you can really make, the different rewards that are available, pros versus cons, and more.
Pinecone Research Review
There are plenty of different paid survey sites out there that pay you for the same reason that this place pays you… Which is for market research. They work with large companies to collect information from consumers to help influence their products/services. So they get paid for the research they do from companies and they pay people like you and I a small portion of this money as incentive to participate.
One of the reasons that Pinecone Research it is so luring compared to other survey sites is because they will pay you a minimum of three dollars per survey that you complete. This is definitely on the high side. I have reviewed dozens upon dozens of other paid survey sites and usually what you can expect from a 10 to 25 minute survey is $0.50 to $2.00 or so. Making three dollars per survey is pretty darn good and is certainly more than you will earn on average compared to sites like Swagbucks, Valued Opinions, Opinion City, etc.
The surveys will take you generally 10 to 25 minutes as surveys on most sites will take but you will be compensated more for your time.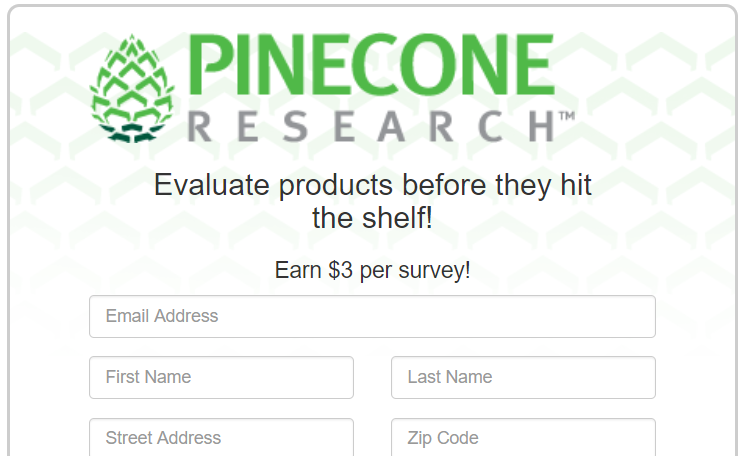 Of course you get paid in points first but these points can then be redeemed for cash and various other rewards.
What also is nice about Pinecone Research is the product testing. You will be able to receive sample products before they hit the market so that you can test amount and provide feedback on them. This is something that's kind of fun to do. And unlike many survey sites out there that will send you sample products and that counts is the compensation, Pinecone Research will actually reward you in addition to the sample product that you get to keep. After testing out a product you will complete a survey on it and get rewarded in points for that.
Cash Out Options
As mentioned will not be paid in cash directly. You will first earn points which will end up in your account and then you'll be able to redeem this points for things of real value, such as cash. The different options you have if you want regular old cash include cashing out with PayPal, getting a check in the mail, or getting a prepaid Visa card.
But other than this there are many other options. You can get tons of other different gift cards such as for Amazon, Walmart, Starbucks, etc. as well as use your points to enter in sweepstakes contests when large prizes.
I would say that Pinecone Research is also on the better side compared to other paid survey sites when it comes to the cash out options available. They have every option you need really. Anyone who wants cash has three different options to getting it the end of this is probably what most people are going to request.
Pros Vs Cons
Pros
Good Money Per Survey
Of course the fact that you make three dollars per survey is definitely a pro. On average this is much higher than the majority of paid survey sites out there.
Don't Get Disqualified
One of the main complaints you will find on other paid survey sites come from people who are frustrated because they will begin taking surveys and then get disqualified without being compensated at all or within only being compensated a small amount. But here it is different. If you get a survey offer you will not be disqualified and you do not have to worry about this.
Plenty of Cash Out Options
As I just went over there are plenty of different ways you can redeem your points and I don't see any reason that anyone can't find a cash out option they would be interested in.
Cons
By Invite Only
You can only join Pinecone Research by invite only. You can't just go to their website and decide to sign up because you feel like it. You will have to be invited by another member. But if you want to do this it's usually pretty easy. What you can do is Google "Pinecone Research signup" and usually you can find someone that is promoting the company using their invite link that you will be able to join through.
Not Many Openings
But even if you do find and invite link this does not necessarily mean you'll be able to join. Pinecone Research limits the amount of members they have and won't just accept tons of people like many other survey sites. So if you try to sign up you might get a message saying that they do not have any openings or something like that.
Not Tons of Surveys
Making three dollars per survey is great but this is definitely not something you can count on for a full-time job or even close to that. If they did have unlimited surveys you would be able to do this but the fact of the matter is they do not.
Conclusion on Pinecone Research – Good Opportunity?
Pinecone Research in my opinion is one of the more legitimate and reputable paid survey sites out there. They conduct quality research and treat their members a well which is something that cannot be said for all paid survey sites. There are some downsides of course but if you do have the ability to join and are looking for a little extra income on the side that you can make in your spare time helping influence products/services, then I would go for it.
Just don't think you're going to make lots of money doing this. I find that some people looking into paid survey sites like this think they are going to be able to make much more than is possible and if you go in with this mindset you will only end up disappointed.