Point Club is one of your options if you are looking to make some extra cash in your spare time taking surveys online. But is this place legit? Or will Point Club scam you and end up being a big waste of time?
If you are familiar with my blog then you know that I am looking into and reviewing extra money making opportunities all of the time for the fun of it. Because who doesn't like to make some extra money right? Anyways, I looked into Point Club and in this review I'll be going over a few things to know.
Point Club Overview
Point Club is a paid survey site that will pay you to take short surveys, usually ranging from 5 – 25 minutes in length. These surveys could be about anything from politics, to education, to shopping, to healthcare and more. You never really know what survey types are available.
The market research industry, which Point Club is part of, is a massive industry. Companies and governments are always looking for people's opinions on things so that they can improve, and Point Club collects people's opinions via these surveys online.
Some other recent survey sites that I reviewed include MyPoints and NiceQuest.
How It Works
Signing up for this site is free and only takes a minute to do. After doing so the first thing you will have to do is fill out a profile survey. This survey is so that Point Club can develop a profile for you which will then be used to match you up with surveys that are relevant to you and your lifestyle.
I highly suggest taking your time and filling this profile survey out accurately. It will be worth it because you won't get disqualified for surveys much because they will be able to match you better.
After completing this profile you will be able to choose from surveys that are offered to you. As I mentioned above, these can be on just about any topic out there and usually take 5-25 minutes to complete. After completion you will be awarded points. These points can then be redeemed for things of real cash value.
Rewards
Points are redeemable for both gift cards and PayPal cash. Once you have 10,000 points in your account you are able to redeem them for such. There are a variety of gift cards available but my number one choice for cashing out is always going to be PayPal when it is available. But the choice is yours.
How Much You Actually Make
1,000 points = $1.
And the amount that surveys pay will vary a good deal. You might find ones that pay you 3,000+ points for a 20 minute survey and you might find ones that pay you only 1,000 points for a 20 minute survey. As you can see below there is one survey that pays a whopping 4,500 points and is 20 minutes long… That is pretty darn good and equates to $4.5 for just 20 minutes of your time. But ones like this aren't to be expected. They are rare.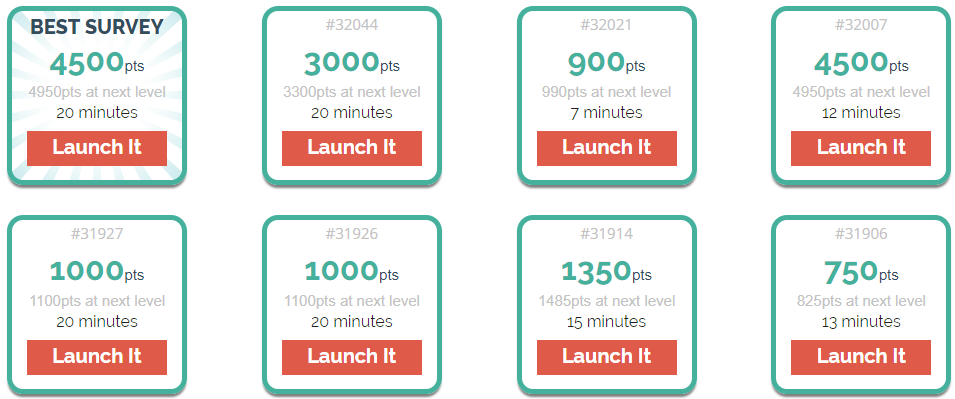 What I Like/Dislike
The one thing that I noticed about this site that I did like was that they offer a good amount of surveys. There are some survey sites out there where you can only expect a couple of surveys per month. Point Club offers a good bit so that you can actually make some extra money.
The main complaint that I have here is that the pay just isn't any good. I know the one survey I showed you as an example above pays well but these are uncommon. Usually you can expect $1-2 per survey which isn't worth my time. This has become the norm with paid survey sites these days.
Another complaint that goes along with pretty much every other survey site out there includes getting disqualified from surveys after starting them.
Conclusion On Point Club
Point Club is not a scam in any way. They are a legitimate paid survey site where you really can make money online. You just need to have realistic expectations when you join them. Don't join thinking you are going to make a part time income doing this. You will be sadly disappointed because that isn't even close to being realistic.
This place is best treated as a way to make some extra pocket change in your spare time. If you are looking to make a steady income online with real earning potential then I would suggest taking a look at my number 1 recommendation for doing so here. This is how I make a living.
==> My no. 1 recommendation here
Questions, comments, concerns? Leave them below in the comment section and I'll get back to you soon 🙂