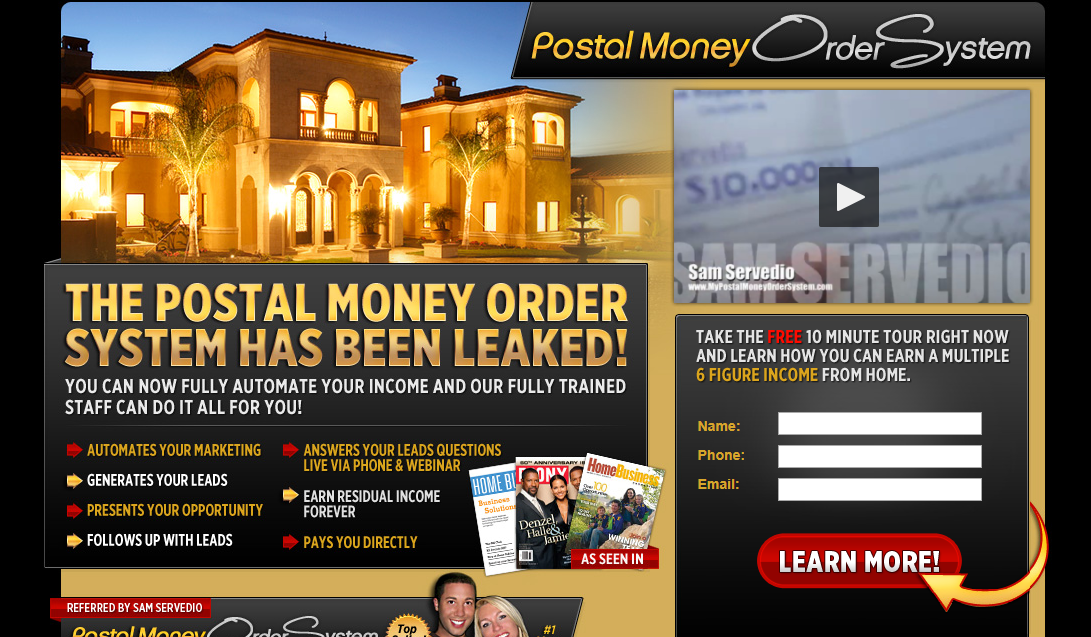 If you are looking to make money from home and came across Postal Money Order System I suggest you tread lightly. This may sound like an easy way to make quick cash from home but there is a lot that they don't tell people.
If you are suspicious of it all and wondering is Postal Money Order System a scam then you are in the right place. I have seen and reviewed programs like this in the past and am very familiar with them. In this short post I'll be going over what this places is, how it works, the downside to it, and more.
Postal Money Order System – Overview
The Postal Money Order System, which I will be calling PMOS for short, is a recruitment based scheme where people buy into it via money orders and make money recruiting others. It has been around for a while, I'm not sure how long, and recently has been getting some more attention.
Basically its just a big transfer of money scheme that provides no value to its members. All it is, is one of those programs that you join and then make money by recruiting other people in with the sales pitch of "hey join this program and you can make a ton of money getting other people to join this program".
How It Works
When you are recruited to join into the PMOS program you will have to buy in at a certain level. These levels vary in price and cost up to over $10,000. When you join in you have to send a money order in the mail (which is where the name comes from) to the person that recruited you.
You then will make money just as that person made money. You will recruit new people in by selling them dreams of making easy money from home and you will have them send you money orders.
If you were on the PMOS sales page then you probably watched the video of Sam Servedio (the creator I think) opening a bunch of mail and getting money orders. Those are from the new people he recruited in.
What You Get When You Join
When you join you will also need to purchase their lead generating system. This is so that you can actually promote the product online to other people and recruit them. The cost for this is a monthly charge of $39.95 and this is how the owners of this program make their money. Because they don't actually make money when people join in and send the money orders. The recruiter keeps the money from the money orders. The owners make money from products that they sell members such as this lead generation product.
Sounds Easy Right?
I know the promotional material and sales pitches make this seem like the easiest thing to ever exist but that is not the reality of it.
The reality is that most people that invest in systems like this fail to recoup their investment….. they LOSE money.
Have you ever heard the saying "if it sounds too good to be true then it probably is"? This applies great to this situation.
I have reviewed similar programs like Big Profit System and Cash Tracking System and they all turn out the same… most people lose a lot of money and then you find a ton of complaints all over the internet.
Complaints
You can find plenty of complaints on PMOS on sites like Ripoff Report where scam victims can submit reviews for companies and programs that they feel have scammed them. They are all complaining about joining, getting the lead generation system and still not making any money.
Well this is because the business model here is horrible and doomed. It provides no value and every time a program or product like this comes out it always fails in the long run.
Conclusion on Postal Money Order System
I would absolutely not recommend PMOS to anyone. While some people that join will go on to make some decent money with it the majority will not. And besides that the whole system is somewhat unethical as far as I see it. From what I have seen it seems that much of the promotional material out there from members trying to make money recruiting people is misleading and deceptive.
If you are looking for an ethical way to make money from home that is actually realistic then why not take a look at how I make money online. I make a living online and enjoy what I do. It is legitimate and has nothing to do with this PMOS nonsense.
Questions, comments, concerns??? Leave them below in the comment section and I'll get back to you soon 🙂