If you are looking to make money online in the world of proofreading, then Proofread Anywhere is one of the options you have. But what is Proofread Anywhere and is a scam? The courses provided are very expensive in the last thing you want to do is spend a bunch of money on a course that is just going to be a waste of your time.
So is this the real deal or is this just another lousy digital e-course that you shouldn't mess with? In this review I will be going over all you need to know. I will go over the courses offered, the prices, what other people are saying, and so on.
What Is Proofread Anywhere?
Proofread Anywhere is a blog started by Caitlin Pyle that offers two different courses in proofreading, including general proofreading and transcript proofreading. It is similar to Transcribe Anywhere just its focus is in the realm of proofreading, which can potentially be a nice work-from-anywhere personal business.
Proofreading, which I'm sure you already know, is a job where you are simply reading over written documents and checking for errors as well as correcting them. These could be simple or complex errors and the material you proofread could be a number of different types including legal documents, medical documents, blog posts, and anything really.
Who Is Caitlin Pyle?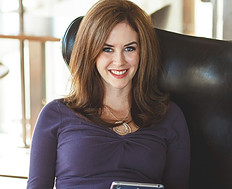 Caitlin is the inexperienced proofreader. She has been proofreading since 2007 and worked in the court reporting industry starting in 2009.
She enjoys the "freedom lifestyle" that proofreading gives her, since 99% of the work is done online and decided to create these courses to help others enjoy the same.
Courses Offered
As I mentioned, courses in both general and transcript proofreading are available. They are both put together based on Caitlin's own experience in the methods that she has developed from that experience. In the transcript proofreading course there is also feedback from court reporters that helps shape the course.
The transcript proofreading course seems to be the more popular one so I will go over this first…
general and transcript proofreading course
put together based on her own experience and methods that she has developed, also has feedback from court reporters
can complete the program in 8 weeks, or can take your time
Transcript Proofreading – Theory & Practice
This course consists of nine modules and 60 units total, all of which are divided up into 4 different levels. Each level must be completed before moving onto the next and you will have to take examinations to show your knowledge and skill level before moving on, with the exception of moving from level 1 to level 2.
The contents include worksheets, video training, tutorials, and handouts, with the focus being on theory, practice, and exams to prepare you for work as a transcript proofreader. If you do make it to the end and pass everything with a score of 90% or higher on the cumulative final exams, you will get a certificate of completion.
The four different levels include the following…
Level 1: Beginner Basecamp (An Intoduction to Court Reporting and Trancript Proofreading)


Module 1
Intro to it all, goes over skills needed, how the job works, despositions vs EUOs, how to go about Interpreted Preceedings
7 units total (7 days)

Level 2: Jumpstart (The Nuts and Bolts of Transcripts)

Module 2
Goes over different types of transcription errors, formating, legal and medical terms, commonly violated rules that you need to get right, punctuation, commas, capitilization
Must score a 80 or higher on the skills test to move on.

Level 3: Next Steps (Marking Up Transcripts and Practice)

Modules 3, 4, and 5
Learn 4 methods of correcting transcripts, which include doing a hard copy, errata, on a computer, and digitally using iOS. Have a checklist to work with. Provides practice at varying difficulty levels where you will get to mark up transcripts.
60 days to complete it all

Level 4: Launch and Earn (Corresponding Withing the Court Reporting Profession + Marketing Your Business)

Modules 6 and 7 + 8 and 9 if you pass your final exam
Get access to all other modules for life
Learn how to communicate with court reporters/agencies, preperation beforehand, custom preferences for each reporter, taxes, marketing methods for your business, and having a success driven mindset.
General Proofreading: Theory and Practice
The general proofreading course is a bit smaller. It only contains 40 lessons within a different modules. It it is still a good course but is just not as in-depth and thorough as the transcript proofreading course, which is expected since this is a general course and you could apply what you learn here to a variety of different areas of proofreading.
The focus of the eight different modules included…
Module 1 – Intro
Module 2 – Proofreading mindset
Module 3 – Basics
Module 4 – Methods and practice
Module 5 – Making a business out of it
Module 6 – Job searching
Module 7 – Dealing with clients after you get a job
Module 8 – Getting the most out of the freelance life
The Cost
This is where many people turn and run away. The courses here are great, but they are not cheap… Well at least that is what many people would say.
For the transcript proofreading course it will cost you $1174 for the full program. During this program you pay per level, meaning you don't pay all at once and only pay when you move on to the next level. You will be able to get a discount of $230 total if you buy into the proceeding level right after completion of the prior. The different prices are:
level 1 = $77
level 2 = $197
level 3 = $400
level 4 = $500
One of the major downsides to only purchasing some of the levels is that you only get access to the program for certain amount of time. For example, if you were only to purchase level 1 you would only get access for seven days. If you would purchase level 2 you would get access to levels 1 and 2 for 30 days, and so on. With each higher level you purchased you get longer access and if you purchase the whole thing you get lifetime access.
For the general transcription course it will either cost you $497 or $597 if you want he integrated exams in a certificate of completion. I believe you get lifetime access to the general transcription course with these prices.
What Other People Are Saying
Overall the opinions students of these courses are very good. You are more than welcome to look around for yourself, but based on what I have seen they are extremely good.
For example, on Facebook there are well over 100 different reviews from users and it has an average or rating of 4.5/5, which is pretty darn good.
In fact, I haven't really heard anything bad from the people who have taken these courses. They all seem to agree that the price is well worth it if you are serious about becoming a proofreader and want the guidance.
Final Thoughts – Good Opportunity?
Okay… well Proofread Anywhere is obviously not a scam. In no way is this a scam.
Caitlin claims that her courses are the only proofreading courses like this out there, and I think this is the truth. I cannot find anything else like them, not even close.
They are very well laid out and provide step-by-step guidance. It is not like there's just a jumbled up mess of information that you have to filter through. You are guided on what to do, starting with the basics and building on it from there.
Most programs that I review on my blog here I end up not recommending, because I can be rather harsh in my reviews, but this is something that I do actually recommend for anyone wanting to become a proofreader who doesn't want to waste a bunch of time with trial and error going at it on their own.
Anyways… I hope you enjoyed my review and found at least somewhat helpful. If you have any questions, comments, or concerns, please leave them below and I'll get back to you as soon as I can 🙂