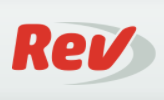 At Rev you can make money as a freelancer from the comfort of your home as a tanscriptioner, captionist, or translator. If you are wondering if Rev.com is a scam or not I can assure you that they are not… However.. there are a few things you should know about this place before moving forward.
Rev is not a scam but this opportunity is also not for everyone. In this review I'll be going over what you need to know beforehand so that you don't waste your time.
Rev.com Review
Rev.com provides transcription, caption, and translation services to companies and individuals who need them. And to do the work of transcribing, captioning, and translating they hire people to work from home. This saves them money because they don't have to tend to employees and its good for you too because you get to work from anywhere with internet.
What is also nice about this job is that it is very easy to get and you get to work at your own schedule. I know it sounds pretty awesome but there are some downsides that I will get into shortly.
Other transcription sites: Scribie, BabbleType
The Jobs
As a freelancer there are 3 different jobs you can choose to do at Rev.com. You can work as a Transriptionist, a captioner, or a translator.
All of the jobs are remote, meaning you can work from home.
The transcriptionist job is the main one that they offer. There are more clients demanding this service so there is more work to be done here. What you will be doing here is listening to audio files and typing what you hear on the computer. It is an audio to text service. These audio files could be interviews, lectures, conference calls, or anything really.
If you wish to be a captioner you will be inputting captions at certain times of videos. Again, the job here will also vary a lot on what the videos might be about. It just all depends.
Lastly there is the translation job. You will be translating documents here. So of course in order to do this you will need to be fluent in multiple languages, which means most people will not qualify for this position.
How Much Do They Pay?
The answer is not much. If you are looking for a high paying job this definitely isn't for you.
The pay ranges for each job are as follows…
Transcription – $0.40 – $0.65 per minute of audio
Captioning – $0.40 – $0.75 per minute of video
Translation – $0.05 – $0.07 per word
Since the transcription service is the main thing going on here I will use it as an example. The best case scenario is that you make $0.65 per minute of audio. This means you could make $39 per hour of audio. The thing is though… it will take you way longer than an hour to transcribe it. You will likely be pausing and starting the audio like crazy, having difficulty understanding it, and so on.
I would say don't even expect to make 1/3 of that. Most people would make even less.
Complaints
From reading through reviews on sites like Glassdoor from people who have worked at Rev, here are some of the common complaints I've found…
Low Pay
Of course the low pay part of the job is a complaint that you will come across. A lot of this depends on how fast of a typer you are but for most people it will pay extremely low per hour that you put into it.
Difficult to Understand
The job can be harder than you think and this is another complaint I've come across. Some audio files can be hard to make out what is being said.
Harsh Graders
Some people complain about being graded too harsh on mistakes made. As a transcriptionist you will make mistakes at times. One person who worked for Rev claims to have had their account closed for writing "going to" instead of "gonna", which was how it was spelled. So this can be tricky.
Conclusion on Rev.com – Worth Your Time?
Rev.com is definitely not a scam just to make it more clear. However, this place isn't that great if you are looking to make significant money by any means. Its an ok job because you can work whenever you want to but the pay is ridiculously low.
I would only recommend them if you are very fast at typing. If you are not it will probably be a waste of time.
Since you are looking to work from home on your own schedule I would also suggest taking a look at how I make money online. I make a living working online for myself and I enjoy it. You can read about how I do so and how you can too HERE.
Its worth reading over and seeing if you think you would like it.
==> How I make a living online here
Questions, comments, concerns? Leave them below and I'll get back to you soon ?