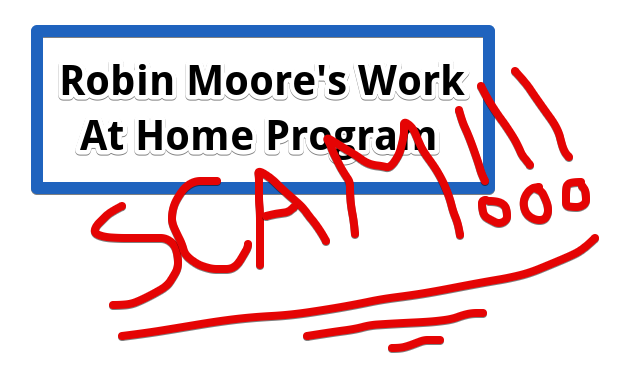 So I sat down today and was thinking what I should write about when I realized that I had not written anything warning people about the Robin Moore work at home program scam… Said that is what I want to talk about here in this post. This work at home opportunity presented by Robin Moore may sound like an incredible and easy way to make a living online, but in reality it is a nasty scam that everyone needs to avoid.
I have been looking into scams like this for quite a while now and the am very familiar with this particular type of scam. While it is possible to make some money with this, it will be nothing like they claim it is and and is in no way worth anyone's time.
What She Tells You
Robin Moore leads people to believe that they can make easy money posting links from home. She tells you that companies need people to post links for them from the comfort of their home, which helps out the companies because they do not have to pay for office space, equipment, etc. And while some of what she tells you is true, but overall it is very misleading.
She has people believing that they will basically just go around posting links and earning money every time they do so, which only takes a couple of minutes to do. But… This is not the reality. If it were this easy than everyone would be doing it including myself, which I am not.
The Reality
The reality is that this is not the super easy work at home opportunity that is presented to you. This "link posting" opportunity is what you call affiliate marketing. Affiliate marketing is one you promote products for companies via affiliate links and you get paid commissions when someone clicks on your link and buys the product you're promoting. It is a legitimate business model and actually is how I make a living working online.
Robin Moore isn't lying when she tells you that companies are looking for people to work from home posting links. Amazon, Apple, Best Buy, Walmart, and the literately just about every big company out there online will pay people commissions to promote their products.
So some of what she says is true to some degree but overall there is no one who is going to listen to what she's thinking get the correct overall picture of what's going on. You don't just go out there and post links everywhere expecting to make money. If you do this no one is going to click your links and you will not help make any sales, which means you will not earn any commissions. But this is something that she completely leaves out. You are led to believe that you will earn money from posting links alone when in reality you only earn money when someone actually clicks your link and buys the product you are promoting.
If you are interested in learning affiliate marketing, or what they call "link posting", the right way then I would suggest taking a look at the Wealthy Affiliate program. I became a member of this program back in 2015 when I first started affiliate marketing and am still a member to this day… Making a living doing it now. But just know that is not nearly as simple as they make it seem in this scam link posting program. It takes real work and real time dedication.
Same Old Scam Program
This same basic scam program has been around for years and is continuously being promoted under different names including Home Internet Income, The Computer Geeks, Accelerated Income, Home Based Wealth System, etc. The reason it changes names so much is because people catch on to it being a scam and in order to avoid this they simply rebrand it under a different name.
The name of the woman that supposedly is behind the program also changes. There have been many different names that I've come across including Kelly Simmons, Kelly Richards, Mick Moore, Bobby Robinson, etc. These programs are always presented by a woman who claims to have once been a struggling mother, working paycheck to paycheck, and then suddenly coming across this amazing work at home program where she is now making tons of money posting links at home.
Conclusion
There is no question about it that Robin Moore's work at home program is a big old scam. I guess it's not a complete scam though because you do get training and a website. The problem is that the training is outdated and ineffective, and the website is a cookie-cutter website that should cost no more than a couple dollars.
This program is nothing more than a scam that lures people that are looking to make money from home in by making claims of being able to make easy money in short amounts of time. I am not telling you what to do with your money, you can buy into this program if you would like to but it is definitely not something I would ever recommend doing. I mean just think about it… Doesn't sound too good to be true? It sounds like some fairytale opportunity.
The old saying "if it sounds too good to be true than it probably is" has saved my butt more than once and is definitely something you should think about before getting involved in work-at-home opportunities. If it sounds too easy, if something doesn't make sense, if they make claims about being able to make money really fast, etc.… Then it probably is a scam and you should probably avoid it.
But like I said, affiliate marketing, which these scam link posting programs are loosely based around, is a legitimate way to make money online. And if you are interested in making money promoting products and earning commissions then, as I said, my recommendation would be the Wealthy Affiliate program. At Wealthy Affiliate you are provided with tools and training to make money doing this. And one of the great parts about it is that the training starts off at the very beginning as if you have no experience and proceeds in a step-by-step fashion, making a great for beginners and easy to follow.
I'm not going to get into detail here but you can read my Wealthy Affiliate review if you're interested in it.
Anyway, I hope you enjoyed the short review. If you have anything you would like to add, such as your own experience with Robin Moore's work at home program, then leave a comment in the comments section below. Likewise, if you have any questions leave them down there to and I'll get back to you when I can 🙂