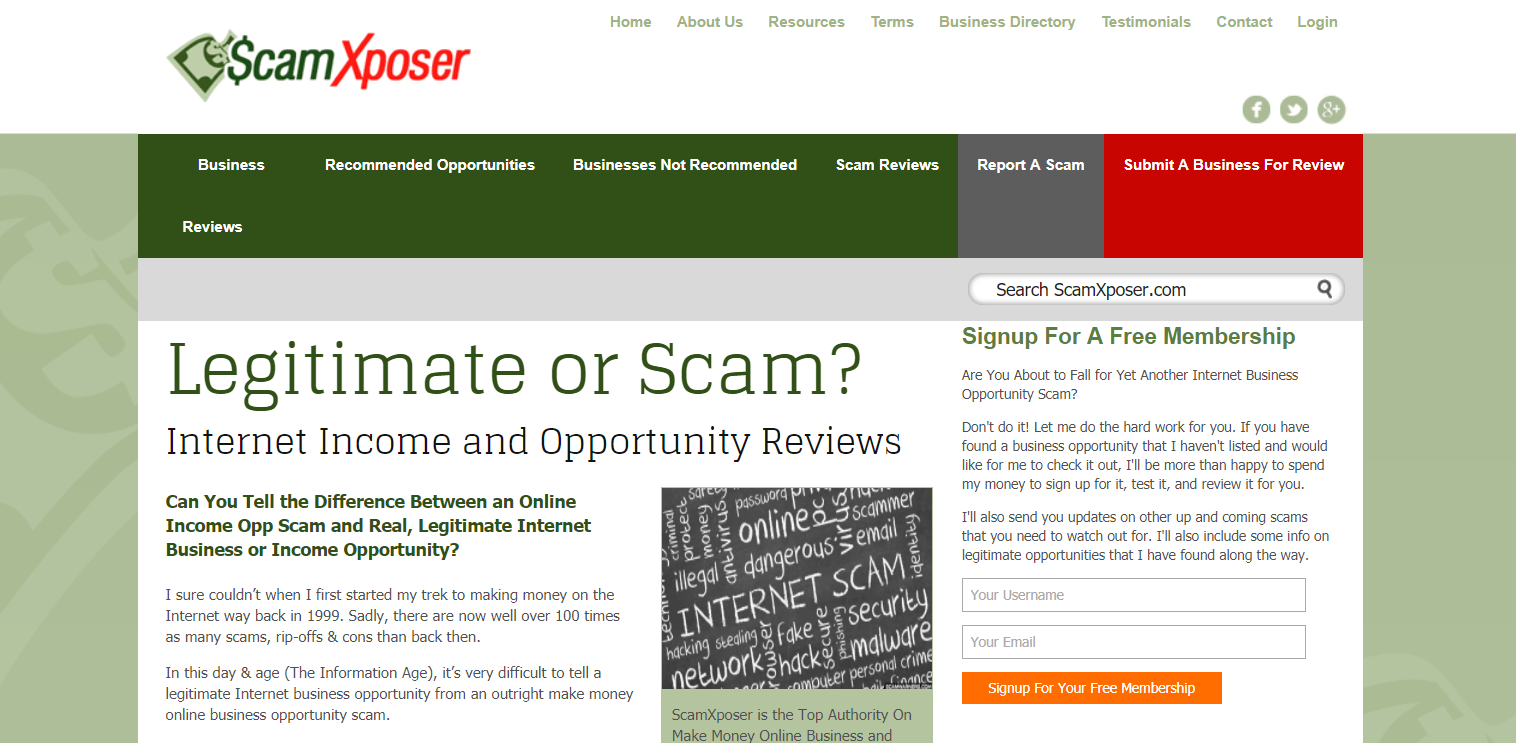 ScamXposer claims to be a website that reviews make money online programs and exposes scams, but does it really do what it says? Or is ScamXposer a scam itself?
Since you are reading this review I'm guessing you have your suspicions of this website. You are wondering if the information they provide is legitimate or if it is provided all for the sake of making money on their end. In this short review I'm going to be getting over my opinion of the site and some problems I see with it. Is it a scam? I'll jump straight to the point and tell you that there is shady activity.
ScamXposer…. What Is It?
As I said, ScamXposer is a website that exposes scams. It is the creation of David Harris and is basically a blog type website where he reviews different make money online opportunities. So pretty much, he will review a particular opportunity, talk about what he likes and dislikes about it, and then gave his final opinion where he either promotes the product/program or doesn't recommend it.
Since he is making money promoting the products that he reviews this brings up the question of whether or not they are legitimate truthful reviews or if he is just writing them to make money. Providing misleading and false information all for the sake of getting people to buy into something to earn commissions is a big problem in the online marketing world. However, there are lots of truthful websites out there that will provide honest reviews of products/programs.
I actually do this myself. If you have read my guide on making money online, you know that I make a living promoting products online earning commissions. Sure, it is easier to make money when you lie and promote every single product there is, but just because this is possible doesn't mean that everyone out there is doing it. You can make money doing this and still provide legitimate and truthful information.
So Is ScamXposer a Scam?
My problem with ScamXposer is that it does promote programs that I personally would call scams. The mindset behind the creator of this website is also something that I can't really understand. I have read many reviews on this website and I am still surprised at times. Some programs that I would expect this place to label as scams it calls legit and vice versa. For example, there might be two nearly identical programs out there and this place calls one of them legitimate and the other a scam.
But anyways, I'm not going to get into that here. Instead what I want to do is go over a few of ScamXposer's top recommendations and my opinion of them, which isn't good.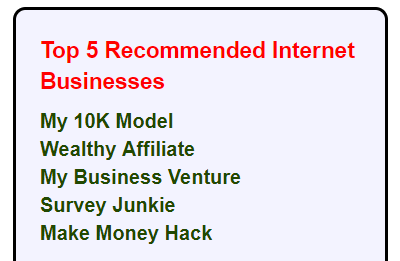 #1 – My 10K Model
Above you can see ScamXposer's top recommendations, where My 10K Model is listed as number 1.
Basically My 10K Model is a sales funnel for a program called Easy 1 Up, which is one of those programs that people buy into to make money online and then they try to make money online by selling it to other people.
Its all a big cycle. You buy in, you are provided with training and tools to promote it, and you then get others to buy in. There are 5 different levels of membership going up to $1,000 in price and they are all focused on getting members to promote the system.
My 10K Model was created by Michael Mansell and is just a big promotion of Easy 1 Up. If you buy in Michael and his team help you get your Easy 1 Up business started and provide you with additional training but the core of what is going on here remains the same… which is getting others to buy into Easy 1 Up so that you can make money.
I am not a fan of recruitment schemes like this. Sure, there is some value provided in this program, but the sole focus here is to make money by promoting the same make money online opportunity to other people.
#2 – Wealthy Affiliate
Based on Scam Xposer's number one pick I wouldn't expect them to rank Wealthy Affiliate as their number two pick. Why? Well because Wealthy Affiliate is very different from that above.
Wealthy Affiliate is actually my number one recommended program for newbies looking to make money online. This is where I got started back in 2015 and I now make a living working online for myself, which goes to show that it actually works.
The big difference between the two is that Wealthy Affiliate does not push its members to promote their program. While you can make money promoting Wealthy Affiliate, many members make money promoting products in their own nieces, which is something that Wealthy Affiliate provides training on.
Pretty much My 10K Business Model is everything that Wealthy Affiliate is doing its best to avoid being.
You can read my Wealthy Affiliate review here if you are interested in learning more about this recommendation of mine.
Things Just Don't Make Sense To Me
ScamXposer's five recommended Internet businesses list just doesn't make any sense to me. As I just explained, their number one and two picks are extremely different. They are like polar opposites of each other in the Internet marketing world.
But anyways, let's take a look at another one of their top five picks. Let's take a look at survey junkie which is their number fourth pick.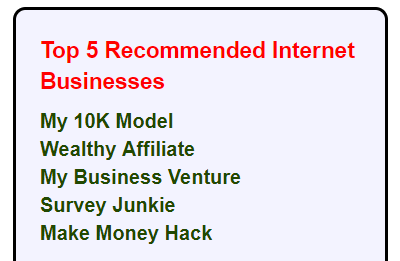 Survey junkie does not belong in this lineup and it makes no sense to put in with the other recommendations. All the other recommendations are ways to potentially make a living working online, or at the very least good money. Survey junkie on the other hand is a paid survey website where you literally are going to be earning pocket change with.
Yet, in their review of survey junkie they do not tell you this. The review post that was written tells you all the good stuff about this survey site and none of the bad. Overall the review comes off overly "salesy". It seems that they are really pushing readers to sign up for this site. They tell you about the potential to make $50-$100 if you get to sit in a focus group, but what they don't tell you is that the chances of you actually being able to participate in one of these is extremely rare.
Overall survey junkie is pretty much your typical paid survey website. You will not make much money with this and the review on ScamXposer is very misleading in my opinion.
Conclusion on ScamXposer
From what I see it seems that ScamXposer is somewhat of a scam. But I guess this really depends on what your definition of a scam is. ScamXposer does provide good information but they also provide misleading and poor information which seems to be due to the underlying focus of making money online by promoting these different programs/products.
It seems that ScamXposer is pretty much a hit or miss. I agree with some of the reviews, like Wealthy Affiliate which I do recommend, while others I disagree with. Some provide good information while others provide poor and misleading information. All in all I do not trust this website because of what I just said, which is that the main focus seems to be on making money rather than providing truth.
We are all allowed to form our own opinions on this and this is my own. If you disagree with what I am saying here then I welcome your argument in the comments section below. Also feel free to ask any questions below and I will get back to you soon 🙂