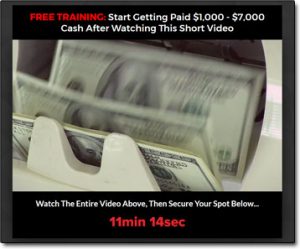 Simple Profit Secret claims to be one heck of an amazing opportunity to make money online. But can you really trust what you hear? Can you really make $1,000 to $7,000 like they say? Or is Simple Profit Secret a scam that is just going to leave you with less money than when you started?
This is a relatively new "system" that just came out and there is a lot of misinformation about it swirling around the web. Because of this I decided to write this short review to let people know what they are really getting themselves into here. This "system" is not what it seems and I'll be going over what it really is for you.
Simple Profit Secret Overview
This Simple Profit Secret system claims to be a done for you system that can generate $1,000's per day. And of course… as expected…. you barely have to do any work. Awesome right? Wrong.. systems like this don't exist.
This "system" in fact is not a system at all. All this Simple Profit Secret really is, is just a promo site that is trying to get you to sign up for another program that has been around for a while and that I am very familiar with.
The Real Program Here
The real program that they are trying to sell you here is called Aspire, which is a product of the company Digital Altitude.
Aspire is an online marketing program that has been around for a while. I am very familiar with and have written several reviews on it in the past.
While you can make very good money with this program, it is not as good as many people promoting it make you believe.
What You Get
To sign up for Aspire you only have to pay $1 to get started. But this is just for the trial and that will soon jump up to $37/mo.
With this program you will get digital marketing training, pre-built sales pages, websites, and more.
While it is possible to apply what you learn here to any online business, members are pushed to go out and try to make money by promoting Aspire to others. The sales pages and everything that they give you are made to promote Aspire.
Basically this program is one of those "hey buy this program and you can make a lot of money getting others to buy this program" type of deals.
The Cost
While the initial membership only costs $37/mo, this is just the beginning of it. Aspire has different membership levels and if you want any good chance of making good money promoting this program then you are going to have to upgrade. The most expensive membership is called Aspire Climber and it costs $127 per month.
On top of that they also have other products, costing as much as $27,997. Yes you read that right.. that is $27,997. And in order to make money selling these other products you will have to first buy them yourself. When you buy the products you get what is called "licensing rights" which gives you the opportunity to resell them. This type of system often forces members to buy what they don't want just to try to make money.
The Problem
Besides this being very costly and a horrible choice for those with no experience, it is also not a realistic way for many people to make money.
The reason is because it is an mlm (multi-level marketing) business. This means that you can make money from those that you recruit in, from those that they recruit in, and so on.
You have the potential to earn from 3 tiers beneath you. This mlm pyramid-like structure may sound amazing but this makes it more difficult to make money and just leads to massive uneven wealth distribution where those at the top make all the money and those at the bottom struggle.
I review mlm opportunities all the time, Tempo Wireless & doTERRA recently, and this is just the reality of them. You need a big downline and people beneath you to make money off of and there will always be many more people at the bottom than at the top.
Of course Digital Altitude's Aspire is much different than these mlm's but its the same basic concept.
Conclusion on Simple Profit Secret – Scam?
Ok… so Simple Profit Secret is nothing more than a website that was set up to promote Digital Altitude's Aspire program. It makes bold claims of you being able to make $1,000's per day but the reality is much different. Most people that join are going to fail miserably with this system.
I'm not saying that it won't work but I am saying that it won't be easy.
I don't recommend Aspire especially for those with no experience. Its a costly system that is much harder than it seems.
If you are looking for a legitimate way to make money online then I would suggest reading about my no. 1 recommended program here. I started with this program back in 2015 and am still a member to this day. Its also notable that I am making a living online now and this can pretty much all be attributed to what this program has taught me.
==> My No. 1 Recommended Program Here
Questions, comments, concerns? Leave them below in the comment section below and I'll get back to you soon ?