There are a lot of scam sites out there that are similar to Snuckls so I was hesitant to trust this site at first. But it seemed like a cool idea.. I mean watch videos and get free lottery tickets… whats not to like? So I joined to see if its really all that great. If you are wondering if its a scam or is Snuckls legit then keep on reading.
In this review I'll be going over how this site works, whether its legit, how much money you can make and more.
Snuckls Review
Snuckls is a free lottery site where you can earn lottery tickets by watching short videos. They are the same exact thing as BayMack if you have ever heard of them. In fact, I wouldn't be surprised if both BayMack and Snuckls are owned by the same company. Their websites even have the same layout, work the same and all.
How It Works
Of course the first step would be to join the site. This can only be done by getting invited. If you go straight to the site you won't be able to sign up. An easy way to join is to Google Snuckls invite code and you will find people that share their invite code online.
Once you join you will have access to the lottery. Every day they have a big jackpot that you can potentially win which will vary and sometimes gets up to $4,000+. This depends on the amount of money that Snuckls makes in that particular day before someone wins. The more people using the site the higher it goes.
They have a bunch of lesser prizes as well.
In order to enter to play you first need to watch videos. This is how the company makes money in the first place so that they can pay the winners. They get paid to advertise these videos.
These videos can be about anything pretty much. You never really know what to expect. There was actually a trailer to a porn movie that I watched for the one video. Just to give you an example of what I mean, here are some of the videos available to me at this time…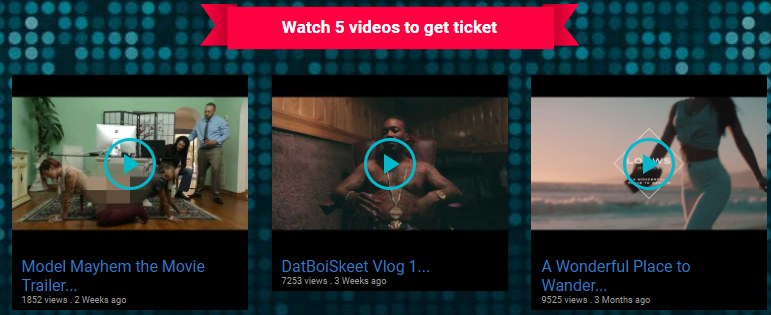 These videos are usually 1-2 minutes long. There is a countdown timer at the bottom that shows you how much you will need to watch to get credit.
One of the good things about these videos is that you don't actually need to watch them. You just need to have them playing. You can open the video and then go to a different internet browser tab and do something else. You will still get credit. However, at the end of the video you will have to answer one question about what category the video falls into. This is supposed to ensure that you actually watched it but you can guess this question correctly pretty easily.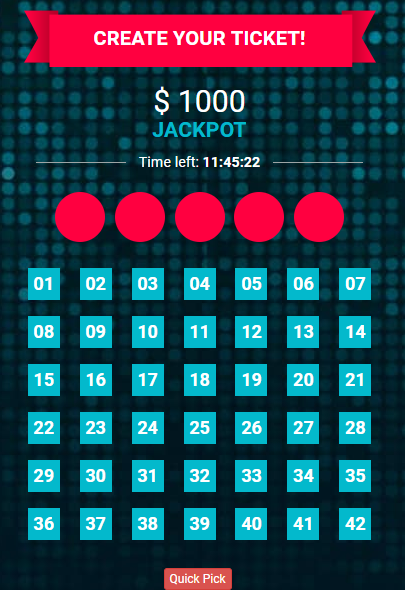 Once you have watched your 5 videos you will be able to pick your numbers. You will pick 5 numbers between 1 and 42. You can also choose for the computer to randomly pick numbers if you wish.
How Much Money You Will Make
You will actually make money even if you get all the numbers wrong, but you will only get paid $0.005 if you do, which is basically nothing.
The more numbers that you get right the more money you make. The drawings come from the Georgia Fantasy 5 Lottery. The percentage that you will earn depending on the amount of matches you have is as follows…
All 5 numbers: 90% of the jackpot
4  numbers: 6%
3 numbers: 3%
2 numbers: 1%
How You Get Paid
When it comes to cashing out your earnings Snuckls is nice. You only need 2 cents of winnings to be able to cash out.
You will be able to get your money via PayPal or direct deposit.
Another Way to Make Money
So obviously you can make some money playing the lottery but you should also know that you can make money by referring other people to join. That is why there are people online sharing their invite links trying to get people to sign up.
When you refer other members to join you get paid a percentage of their lifetime earnings at snuckls. You also get paid from what their referrals earn, and from what their referrals' referrals earn, and so on.
The people you refer are your level 1, the people they refer are your level 2 and so on. It goes all the way down to level 7. You will earn 50% of level 1's earnings, 10% of levels 2-5's earnings, and 5% of levels 6 & 7's earnings.
Conclusion on Snuckls – Waste of Time or Good Opportunity?
Snuckls is not a scam but whether it is worth your time depends on you. It an be a fun way to potentially win some money but most people will probably consider it a waste of time. Your chances of winning anything worthwhile are slim to none and it is mostly a waste of time.
Personally I don't really see the point of signing up with this site. The referral program also isn't going to make you anything either because the people in your downline aren't going to be making much and then you will only be earning a small percentage of what they make.
I guess this can be a fun way to earn a little extra cash but you cannot rely on lucky draw sites like this that pay at random. If you are looking to make reliable money online then I would suggest taking a look at this program.
This is the same program I got started with back in 2015 and I am still a member today…. which is a testament to how good I think it is. I make a living online right now and I owe pretty much everything to what I learned here.
==> My No. 1 Recommended Program Here
Questions, comments, concerns? Leave them below in the comment section and I'll get back to you soon ?