Are you looking to make some extra money taking paid surveys online and wondering if Survey Club is a scam? If so then you are right where you need to be because I'm going to be reviewing this site.
In this review I'll be going over all that is important to know before you get started or not. I'll be going over how it works, how much money you can make realistically, some complaints and more.
Survey Club Review
Survey Club (at surveyclub.com) is a paid survey site that also acts as a survey site directory. What I mean by this is that they both host surveys on the site and they also refer you to a bunch of other sites to take surveys as well.
While you can make money taking surveys online here, overall this place is nothing special by any means. But then again its nothing bad either when it comes to paid survey sites.
How Things Work
After you sign up you will have to fill out some profile information. This will include things like income, education level, household size, etc. This demographic info is used to match you up with appropriate surveys.
The next step of the process after filling out your profile information is to sign up for other survey sites if you want to. You will see a page like this with a bunch of survey sites they are trying to get you to sign up for…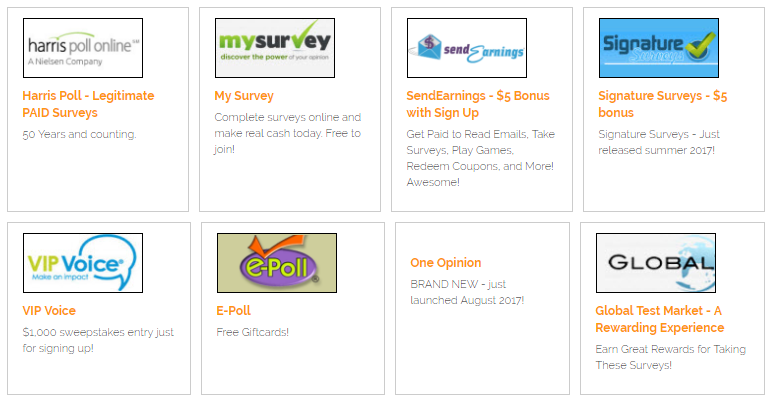 I have reviewed some of these sites in the past such as MySurvey if you are interested in reading it.
But anyway, they tell you that you should sign up for at least 3 but you don't have to.
After that you will be able to view the available surveys that they have for you. Here is what you can expect to see…
There will be surveys, or studies, that Survey Club is providing you with and then there will be listed studies that are just trying to get you to sign up for other survey site again….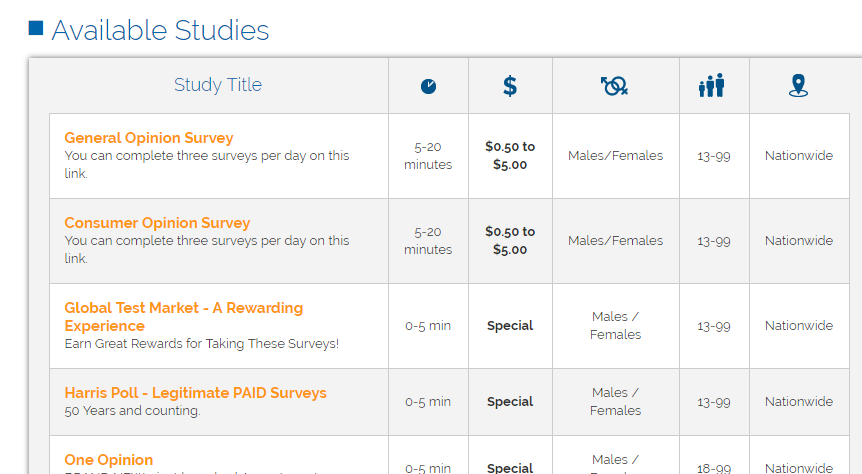 The studies that Survey Club brings to you are pretty common and nothing special. For example the one consumer opinion survey I clicked on was provided by Peanut Labs, which is a market research company that pretty much evey survey site hosts surveys from.
How Much Money Will You Make?
Not much. There is nothing about this site that makes them better than other paid survey sites. And as you may or may not know, the norm for sites like this are to pay very little.
The other paid survey sites that they refer you to are your typical ones that all pay right around what the industry standard is and the surveys that they host on their site are typical as well.
I would say that you can generally expect to make between $0.50 and $3.00 per survey and these will normally range between 5 and 25 minutes in length.
So you really won't make much. And another problem is that you will run out of surveys. So if you want to have plenty of surveys to take then you will have to sign up to a bunch of different survey sites.
Complaints
Getting Screened Out
Getting screened out of surveys is inevitable with any survey site. This is when they kick you out because you answered a question in a way that they feel has disqualified you from taking the survey.
Too Much Promotion
This is a complaint of my own. I just don't care for sites that push you to join a bunch of other sites too much. What they are doing is making money off of getting you to join these other sites. There is nothing wrong with making money off of referrals but I just feel they push members too much.
Spam Emails
I have heard of people joining and then getting their inbox filled with promotions and spam. I have heard things like this before and would suggest using an email account you don't really care about.
Conclusion on Survey Club – Scam?
Survey is a decent paid survey site but there are a lot out there that are better in my opinion. Its not a scam its just not the best. If you are interested I would recommend looking at Swagbucks and PaidViewPoint, they are 2 of my favorites. But even with these sites you will not make much. That is just the reality of it. If you are looking to make extra pocket change in your spare time then go for it but if you are looking for more than that then these places aren't going to cut it.
If you are looking for a better opportunity to make money online on your own schedule then I highly suggest checking out this program. Not only can you make money on your own time with this but you can make a lot. I actually make a living online with it.
==> Program I'm Talking About Here
Questions, concerns? Leave them below in the comment section and I'll get back to you soon ?