Talk Fusion has a potentially lucrative business opportunity, but is it really as great as some people are saying? Is Talk Fusion that home-based job that you have been waiting for? Or is Talk Fusion a scam that is just going to have you running around like a mad-man with little reward?
I know there are a lot of people looking into the business opportunity here so I decided to write this review because I think there are a few things you and others should know. I will be going over how this business works, how you make money, the downside and more.
Talk Fusion Overview
Talk Fusion is a direct sales company that sells digital products for online business. Their main product is video email software that allows you to make video emails. For what its worth their products seem to be good quality and all, but I'm not here to review the products. I'm here to talk about the biz opp.
As a direct sales company they rely on independent distributors (affiliates as they call them) to do all the selling and marketing of their products. Anyone can become one of these affiliates and make money with this company, which is where the opportunity lies.
The Cost of Doing Business
If you want to become an affiliate you are going to have to first pay a $30 fee. And this is just the beginning. You will also have to first buy the products that you want to sell. If you do not buy them then you can't make any commissions selling them.
The prices of their products are as follows…
Video Email Only – $99
Video Suite (Executive) – $250
Video Suite (Elite) – $750
Video Suite (Pro) – $1,500
How You Make Money
If you watched any of the promo videos for this company you will hear all about how you can make money off of the efforts of others. This is because this business is a mlm (multi-level marketing) business which basically means that you can recruit in other distributors beneath you and earn from them. Now this may sound extremely appealing and awesome but there is a major downside to this that I will get into shortly.
But first let me go over how you make money… there are 2 main ways: by selling Talk Fusion's products yourself and by recruitment of other distributors. There are actually over a dozen ways to earn with this company but they all fall into these 2 main categories.
Direct Sales
When you make commissions on your personal sales they call this a Fast Start Bonus, because you will get paid right when the sales is made. You will earn between $20 and $120 on these sales depending on which product you get people to buy. You will also earn $10/mo when you sell a monthly plan.
Recruitment
Recruitment is the key to making good money here. If you want to make a lot then you absolutely need to recruit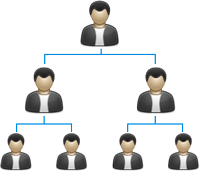 people in beneath you and build up your downline. There are several ways that you can earn from recruitment, Team Commissions being the big one here.
With Team Commissions you are paid from a binary compensation structure. You will have 2 people beneath you and there will be 2 people beneath them and everyone else, as illustrated in the picture to the right.
The Downside Here
I know that earning money from the efforts of others sounds very appealing, but the reality here is that it makes it much more difficult to make money.
With a mlm pyramid-like compensation plan like this those at the top make most of the money while those at the bottom struggle. Those that are at the bottom, which make up the overwhelming majority of affiliates, are having their commissions sucked out of their paycheck so that those above them can earn more. That is how mlm's like this work.
There is a lot of potential here to make a lot of money… but you have to move up the pyramid structure and this is done through recruitment. The bottom line here is that there will always be many more people struggling at the bottom than at the top.
Mlm's like this always have very uneven wealth distribution and I was actually able to find an official income disclosure from Talk Fusion that proves this. As you can see below around 97% of all associates (affiliates) made far less than $2,500 in the entire year of 2016. In fact, 69.54% made nothing at all.
Conclusion on Talk Fusion – Scam?
I have reviewed a lot of mlm business opportunities over the year… and I mean a lot. What I can tell you here is that Talk Fusion is definitely one of the more scammy ones out there. They really push recruitment more so than most. And it seems like many of their product sales are coming from affiliates that are forced to buy them just to try to make money selling them.
Overall I would not recommend this mlm. I don't like the looks of it and there are definitely better mlm's out there. However, I don't really care much for mlm's in general just because of how few people actually make good money with them. I see it all the time… I just reviewed Neways & Limu (2 other mlm's) the other day and its the same story with them.
Something else that you might want to look into if you are looking for a work-from-home job is how I make money online. I make a living online and I enjoy what I do. Here is the program that got me started and got me to where I currently am, making $5k + per month.
==> My no. 1 recommended program here
Questions, comments, concerns? Leave them below in the comment section and I'll get back to you soon ?