Technology Profits Confidential claims to be able to pretty much be able to make you rich, but is this really true? After all the sales pitches I have seen for this newsletter sound rather unbelievable to me and are probably enough to make anyone suspicious. Is Technology Profits Confidential a scam that is going to be nothing more than a waste of your time?
In this review I will be going over my opinion of it. What I say it's a scam? No I wouldn't go as far to say that. However I will say that the marketing practices used to promote this newsletter are rather misleading and might give you the wrong idea of what Technology Profits Confidential really is.
Technology Profits Confidential Review
Technology Profits Confidential is a newsletter subscription by Ray Blanco. Ray used to work as a network technician in a systems analyst before he got involved in finance, where he supposedly managed a fund at some wealth management firm that was over $30 billion in value. Now he is employed as an editor at Agora Financial where he provides investment advice via these newsletters.
Technology Profits Confidential is a monthly newsletter that provides advice on penny stock investments, particularly in the area of emerging technology. The goal behind this newsletter is to provide advice to investors and give them information on new investments that could potentially explode in price. Not many people know about penny stocks because they only usually exist when companies are still in their infancy. So the hope of this all is to give people the chance to buy into these penny stocks while the company is still small and then hopefully write out the wave of profit as they grow exponentially and become mainstream.
What You Get With a Subscription
The subscription cost between $49 and $89 depending on what package you buy. They all include the same thing, with the difference in price determining how you receive your newsletter, which can be electronically or electronically and by mail. The more expensive packages also include bonuses.
At the core of the newsletter are the monthly issues. You will receive a monthly report that details potential good investments. It will provide information on pretty much all aspects of the potential investments including the technology, company history, etc. In addition you will receive alerts on a weekly basis that keep you updated on the market and the stocks that you have your scope on.
Is It a Scam?
Based on what I have found the Technology Profits Confidential newsletter itself is definitely not a scam. The investment advice given is definitely a bit risky, due to it being in the realm of penny stocks, but this just comes with the territory. You could lose money following the advice and you also could profit.
However there are a lot of people calling this whole thing a scam… So why is this?
Well part of the reason is because the company that publishes the newsletter, Agora Financial, is well known for having horrible customer support and making it very hard to cancel subscriptions, as well as overcharging, double charging, etc. You can find all sorts of complaints about this online all over the Better Business Bureau's website and on customer complaint sites like PissedConsumer where I found complaints having to do with Technology Profits Confidential in particular as you can see here…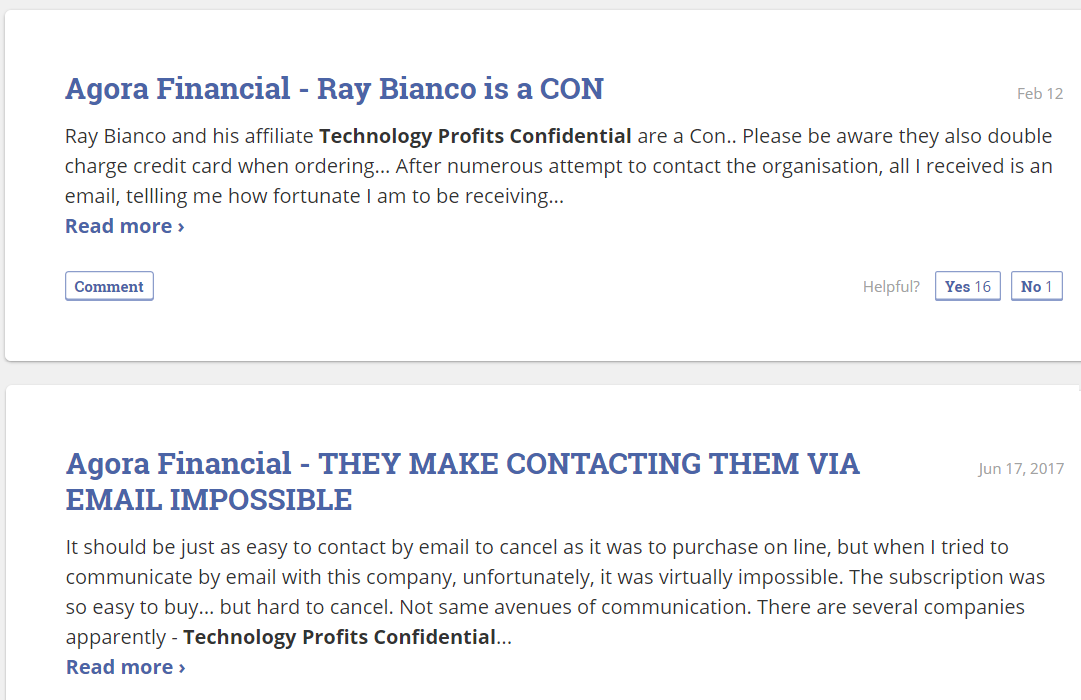 *You can read my review of Agora Financial to find out more about them here.
And another major problem with this all, which is a big reason for many of the complaints against this, is the absolutely ridiculous and misleading sales pitches that they used to lure in new subscribers.
The "Scammy" Part of Technology Profits Confidential
The sales pitch that I had to listen to was about some "weird rooftop pod" that is supposedly going to put the cable companies out of business and provide much cheaper/faster Internet to the whole world.
One of the first things that I found suspicious about the sales pitch was that for some reason they kept telling me I had to get in before May 18. That was supposedly the deadline for some reason but they offered no clear explanation as to why. I also found it rather humorous that in the video presentation you could hear the "May 18" part was different from the rest of the presentation. It literally sounded like they had pasted a little voice over to say May 18.
My guess is that this whole May 18 stop is a bunch of BS. It's probably just some false scarcity tactic used to try to get people to buy in as soon as possible. I bet when May 18 comes and goes they will switch this to another date later on.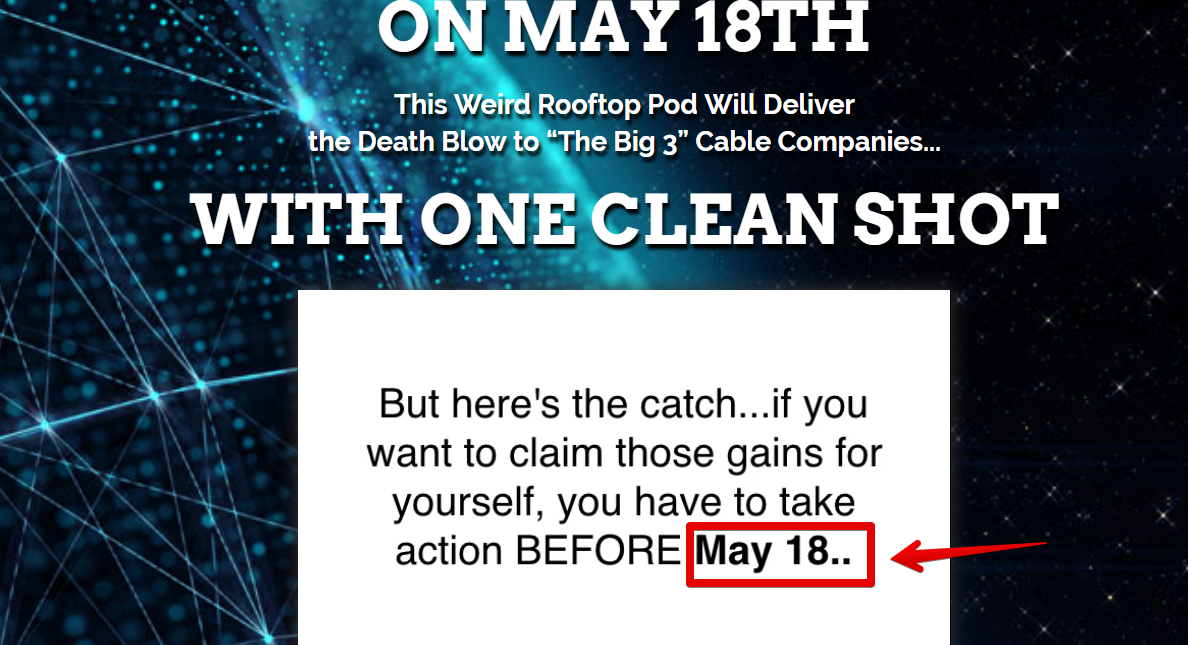 But anyway, what is this "weird rooftop investment"?
What it is, is some new LEO technology that will provide Internet across the entire earth via satellites. This will be much faster and much cheaper than the current Internet infrastructure where service is provided with old copper cables in most of the US. And supposedly one private company owns the "exclusive private rights" to use this technology.
So pretty much the sales pitch is that Mr. Blanco is going to reveal the name of this private company if you subscribe to his newsletter. Which of course you're definitely going to want to do because this new investment opportunity will make investors "very, very rich".
How rich you ask?
Well Ray Blanco claims that you will be able to turn a single paycheck into $110,661. So just think about that for a second…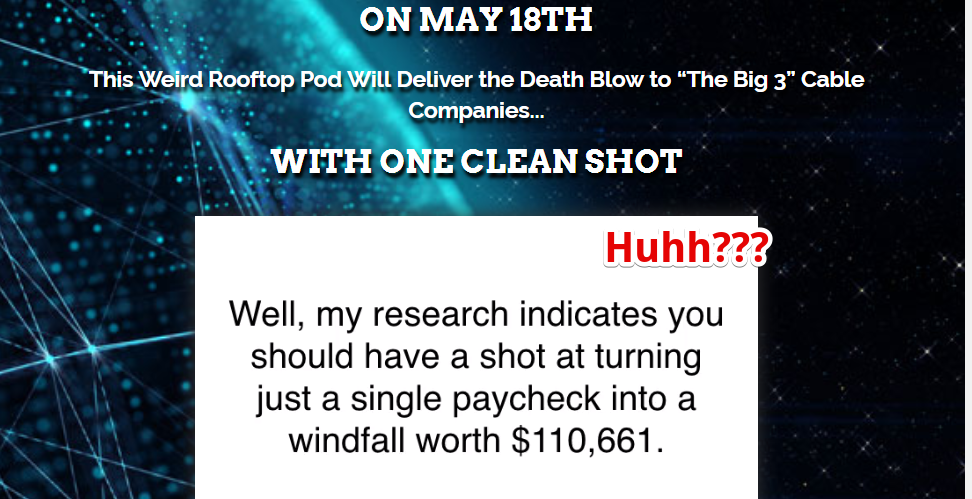 Wait a minute, how does Ray Blanco know how much I make in a single paycheck? Wouldn't he have to know how much I make per paycheck to make a statement like this?
The truth is that he would have to know and that he doesn't know. This is just one of many very misleading BS statements made in this ridiculous sales pitch. One of many.
The entire sales pitch is filled with lies and misleading information. If you saw this particular video presentation you may remember Ray talking about this farmer from Nebraska named Nick Schumann. During the presentation he showed a photo of Nick and his family, which I then did a reverse Google image search of and found that this is a fake picture. This picture is not of Nick and his family, it's a stock photo that anyone can purchase at Shutterstock…
And there are more fake pictures and fake information given than just this. I did the same thing with one of the member pictures that was below the video. Below the video there is a bunch of member pictures along with quotes that they supposedly made about the newsletter. There was one guy named Tom Phillips that supposedly stated "I made about $35,000 in 10 days". I knew this had to be fake because I already knew that half of the video presentation was fake so I ran a reverse Google image search of this guy too. Lo and behold I found that his image is also a stock photo that anyone can purchase…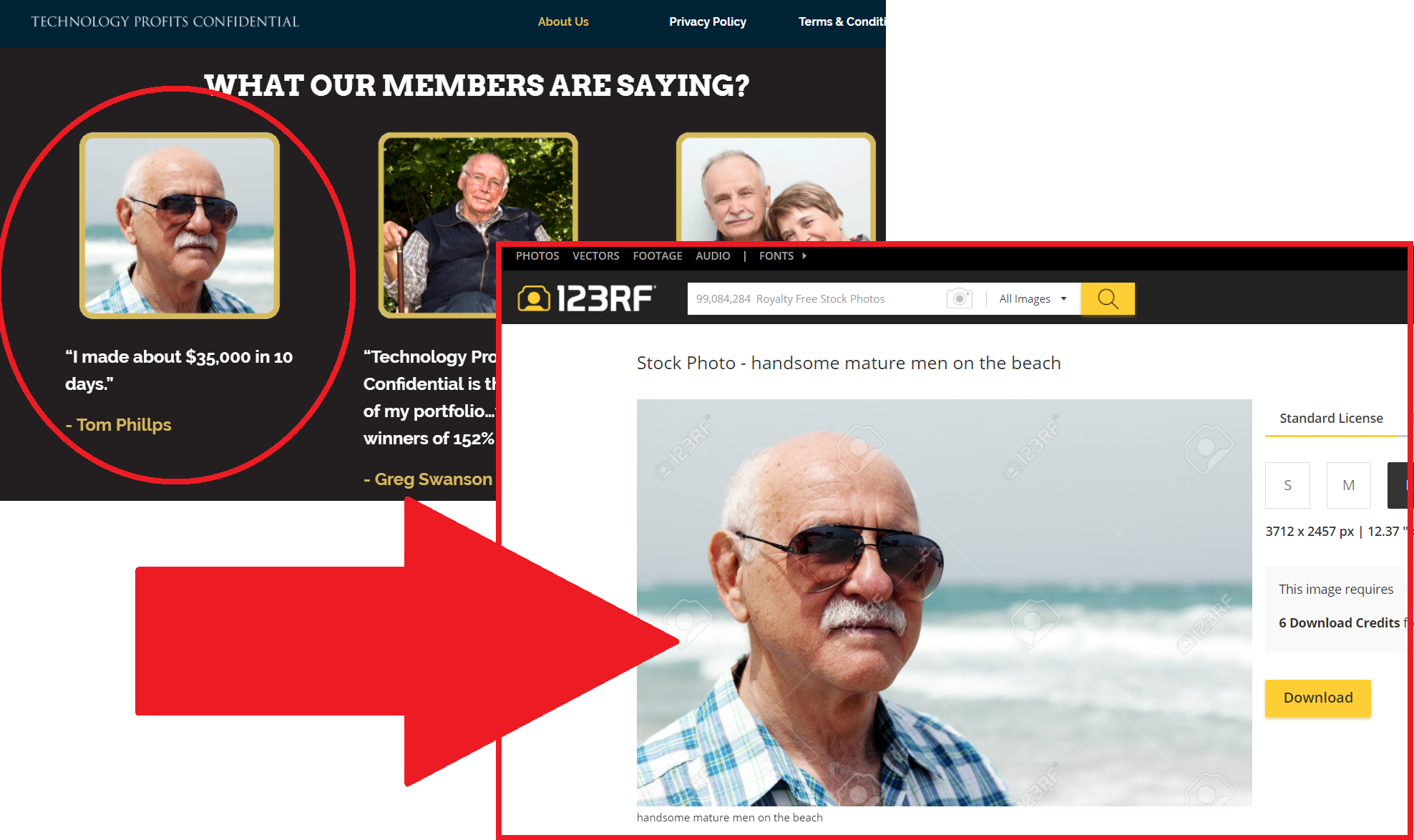 Conclusion on Everything
I still don't consider Technology Profits Confidential a scam itself, but many of the marketing tactics used are very scammy. I don't understand why Ray Blanco has to pull this kind of crap to get subscribers. It just isn't right to mislead people like this to get them to buy your product. But I guess this should be expected since it's a publication of Agora Financial, which is notorious for pulling this kind of crap. I have reviewed many Agora Financial newsletters before including Real Wealth Strategist, Big Book of Income, True Momentum, etc , and they are all very similar with how ridiculous their sales pitches are.
But anyway, by and if you want to. Just know what you're getting into you know that it isn't the fairytale investment advice that the sales pitch leads you to believe it is. And if you have already bought it and want to leave a review all love to hear your personal opinion of it. You can leave any comments below…