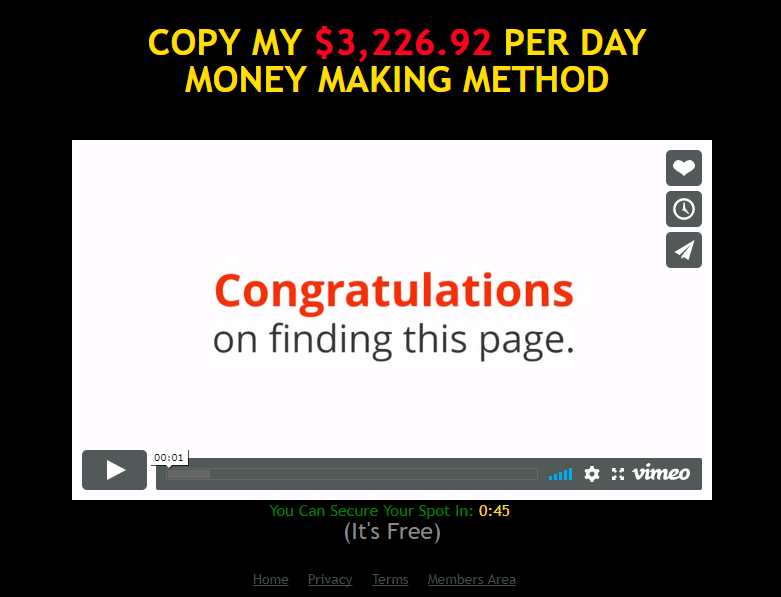 The Job Quitter is a new system that I came across that claims ordinary people can make thousands of dollars per day with a few simple taps on their cellphone. But could this possibly be true? Or is The Job Quitter a scam like it seems to be?
I have reviewed hundreds of scams online and after coming across this program my scam radar was beeping like crazy. This sure does seem like a scam, but you can't always judge a book by its cover right? I mean… what if you really can make an easy $3,226.92 per day like they tell you?? LOL.
The JobQuitter System Review

There are a series of promo videos that you have to watch on this system before actually buying. In the 2nd video, after you enter your email and everything you will find that the guy talking claims to be Richard Harper from Chicago IL.
He claims that he is only accepting 100 students to take on a ride with this JobQuitter System, and this opportunity will only be open for a few hours.
One of the best parts of all is that he tells you that you will be getting $500 from him just for watching the video.
How It Works… How Do You Make Money?
As expected, there is just about no information at all on how this system actually makes you money. He just throws some vague and confusing information into the videos and expects people to think it is some amazing new method that really works.
What he tells you is that this opportunity has to do with affiliate marketing. Affiliate marketing, for those that don't know, is when you promote products online and earn commissions for referring buyers. For example: I promote a TV on Amazon.com and get paid a commission when I refer a buyer.
This is a legitimate business model, and is actually how I make a living online, but it doesn't mean that The Job Quitter is legit by any means.
Richard claims to have found a "free loophole" to. He saw what "super affiliates" where doing and "piggybacked" on their efforts. That is all he says about this… very vague and doesn't tell you anything.
So pretty much after listening to all his BS I found out absolutely nothing about how this system actually makes you money. And I have been affiliate marketing since 2015… so I know a thing or 2 about this all.
Some Obvious Lies He Tells
At one point in the promo video he tells you that this offer will be open for less than a few hours and that he is only accepting a 100 students. This is all a complete lie. The free $500 thing is also a lie.
This offer will be open as long as it can be open because this guy wants to make as much money off of this scam as possible. I know for sure that it isn't only open for a couple of hours because I started writing this at night and revisited it the next morning, in which it was still open for anyone to get scammed.
And the 100 student limit is just another false scarcity lie. He will take in as many people that want to be scammed as possible. This guy is in it all for the money.
And that free $500 for watching the video is also a lie. You actually have to buy the darn program before you can get this, which I'm sure will still not happen after you buy in. When you get to the checkout page here is what you will see… You have to buy it first.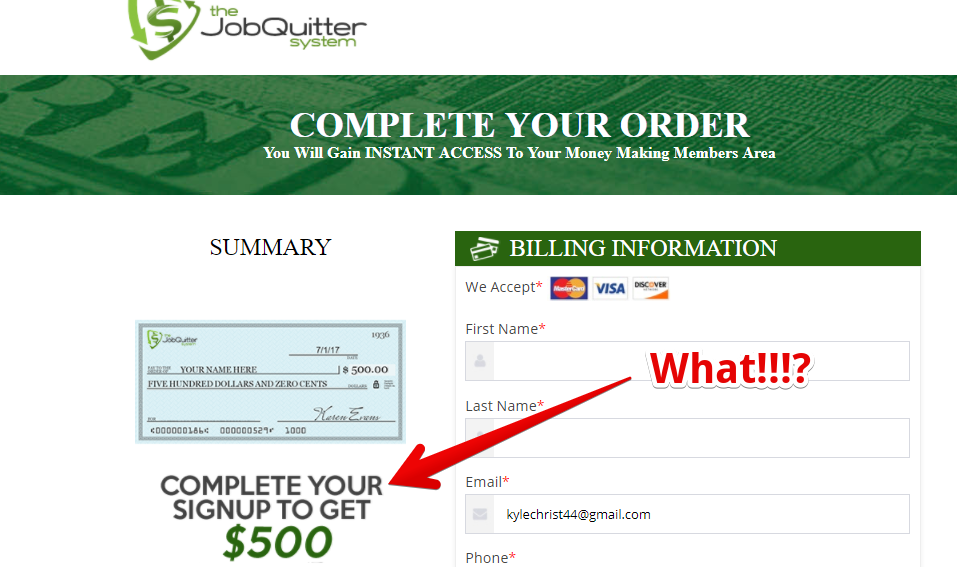 The Cold Hard Truth
I know that everyone wants to believe that there is some miracle system out there in the online world that can generate them easy cash and give them financial freedom but the truth is that there is not. There are a lot of ways to legitimately make good money online but they all require work. There is nothing even relatively close to as easy as this program claims it is.
This is the realization I have come to know after working online since 2015…. everything takes work. There is no substitute for this. Sure there are some great aspects to working online, such as the ability to automate a great deal of your business, but there is still work involved in getting all of that up and running.
The JobQuitter System – Scam for Sure
Just to make it clear… I have not actually purchased this system so I can't say with 100% certainty that this is a scam. However, I can say with 99% certainty that it is. I have reviewed hundreds of scams over the years and this is pretty much your typical "get rich quick" online scam, just like The Auto Money System & One Click Payday.
If you are looking for a legitimate and affordable way to make money online then it gets no better than this program here. I joined in 2015 when I just started out. I was a complete beginner at the time and now I make a living online, which goes to show that it actually works.
Its a good, honest program that provides the tools and training without all the BS and hype.
==> Learn more about this program here
Questions, comments, concerns? Leave them below and I'll try to get back to you soon ?