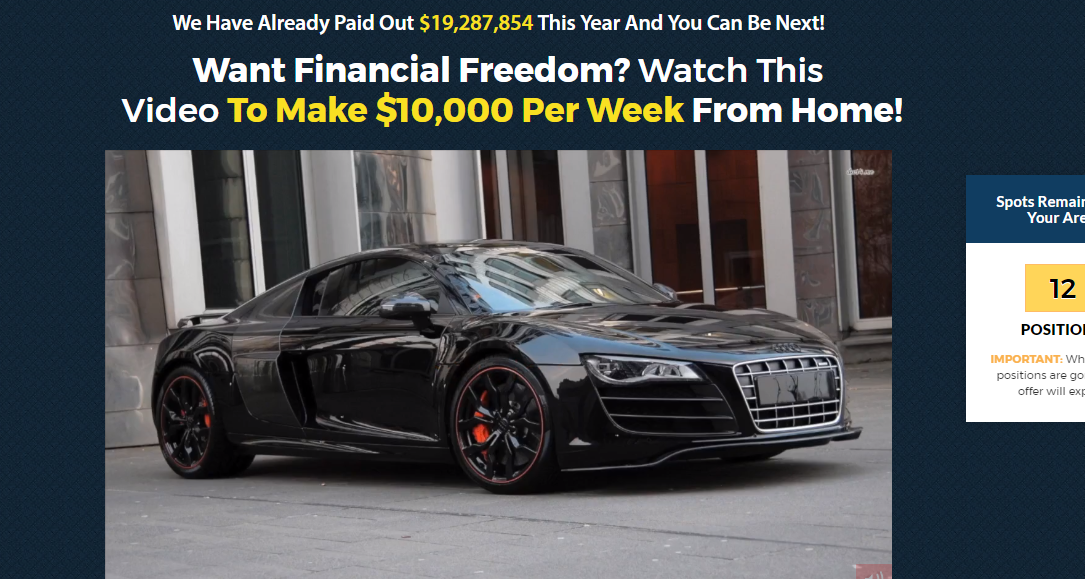 There is this program being promoted on TheFreedomSecret.Net that is really hyped up and basically tells you that it can be your way to financial freedom. But is this really true and can you really trust this program that is being pushed on you here? Or is this just another scam like the many that plague the online business world?
If you are suspicious of The Freedom Secret then you are in the right place. I am familiar with the program being promoted here and I will say that there are definitely a few things that you will need to know beforehand….. things that they don't tell you.
The Freedom Secret Review
The sales video that is on thefreedomsecret.net is one that is hard to believe. In it you hear people talking about all the thousands of dollars they have made in one day, there are sports cars and mansions flashed on the screen, and of course there is talk about how easy this system is to make money with. All of these components seem to be taken directly out of the Scam 101  Playbook. On top of this they also have the countdown timer and the limited positions banner, both of which are fake and just to try to get you to buy into this faster.
The spokesperson in the video tells you that he is going to be giving you the exact system he uses to make millions per month. Sounds like a scam but he makes sure to reassure you that it isn't by telling you it is risk free guaranteed….lol, which we know isn't going to be true.
The truth is that you can make money with the system here but it sure as heck isn't risk free. I am very familiar with it and I'll be going over what is important to know.
The Real Program Here
There is no program called The Freedom Secret or anything like that. The real program being promoted here at TheFreedomSecret.Net is called Aspire. If you click to buy it for $37 you will be taken to this order page where you can see it is Aspire…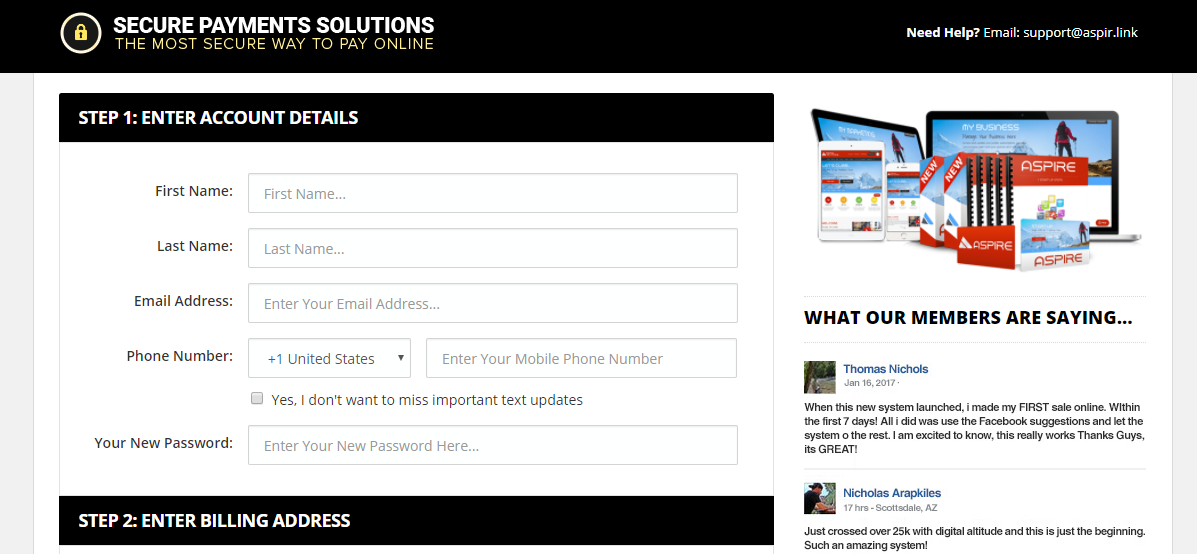 Aspire is a digital marketing program that was created by a company called Digital Altitude. The reason it is being promoted here is because the owner of TheFreedomSecret.Net, or the person that created it, is an affiliate for Aspire. He/she gets paid when people sign up through the website and that is why they are promoting it.
What You Get With This
Aspire provides you with online marketing training and tools to get started. The program is very professional and provides a lot of good information. My only complaint about it is that it pushes members to promote Aspire to other people rather than to make money online in their own desired field.
You will get pre-made sales funnels and things of this nature that are designed to get you to promote Aspire. So while it is possible to apply what you learn to any online business, there is a slight push to get you to promote Aspire, as the people behind TheFreedomSecret.Net are doing.
The Real Cost
$37 is just the beginning of things. This is the cheapest of their programs and this is not the end of it. In this business there are many upsells, some of which you will pretty much have to buy if you want any good chance of making money online.
The $37/mo membership is just to get your foot in the door. If you choose to get involved with Aspire you can expect to easily spend thousands of dollars.
So the whole "risk free" thing that they tell you is a bunch of BS. I don't know how you can say that this is risk free by any means. This isn't even close to it the way I see.
Conclusion on TheFreedomSecret.Net – Scam?
Ok, so TheFreedomSecret.Net is just a sales funnel that was created by affiliates of Aspire in order to make money by getting other people to join Aspire. And Aspire is an online business training program that teaches you online marketing and provides you with some necessary tools that you will need to be able to do so.
Aspire provides a lot of good things but overall there are only 2 main problems I have with it. 1) I don't like how it pushes members to promote the system to others, and 2) I don't like how there are many hidden upsells that you have no idea about when you buy in at just $37/mo. Oh… and another one is that it will not be nearly as easy to make money with as they lead you to believe.
If you are looking for a more legitimate and affordable program that the average Joe can realistically make money with then I suggest taking a look at this program.
I started with this program back in 2015 and am still a member to this day. Its also notable that I make a living online now and pretty much all of my success can be attributed to what this program has taught me.
==> My No. 1 Recommended Program Here
Questions, comments, concerns? Leave them below in the comment section below and I'll get back to you soon ?