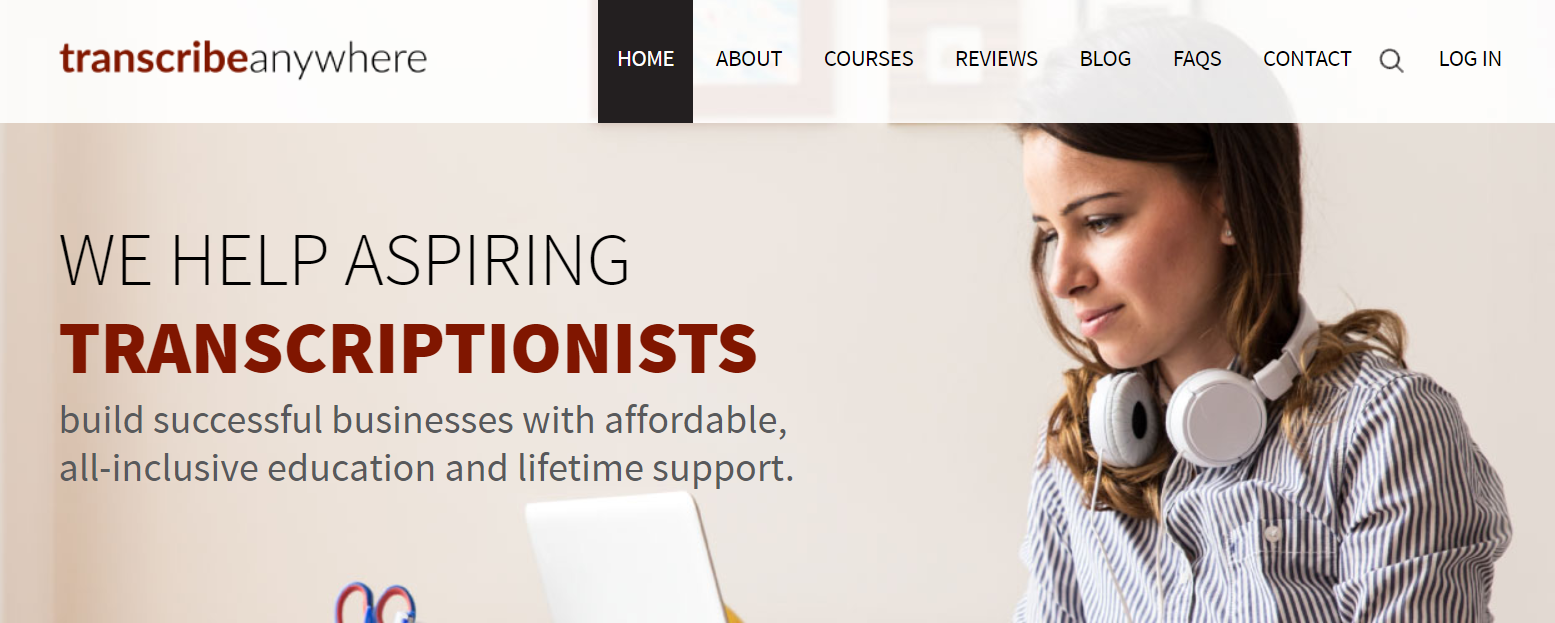 Transcribe Anywhere (transcribeanywhere.com) is site that provides training courses for aspiring transcriptionists. But is this worth the cost and is it worth your time? Or is Transcribe Anywhere a scam that you should avoid getting into?
In this short review I'll be going over what this place is, the training it provides, complaints and more.
Transcribe Anywhere Review
Since you are looking into Transcribe Anywhere I'm guessing that maybe you tried out a transcription job but found that you weren't that good at it. It may seem easy enough but if you are a complete newbie it can be a struggle. The bottom line when it comes to transcription jobs is that you have to be on the ball if you want them to be worth it. They pay on a performance basis so the better you are the more you will end up making with the time you put in.
The goal of Transcribe Anywhere is to help you get to that level where you can actually make good money with this. The provide 2 different transcription courses depending on what type of transcription you want to get into and they also provide free mini courses so that you can "test the waters" and see if you want to go through with actually buying the full course.
Janet Shaughnessy is the creator of the course. She is professional transcriptionist and owns the company Zoom Transcription Services.
What Exactly Is Transcription?
Transcription is putting things in words. In the case of online transcription jobs this consists of putting audio files into words. The nature of the job consists of you listening to audio recordings and typing up what you hear.
The reason jobs like this are sought after from what I have seen is usually because they give people the ability to work from home and set their own schedule. Most people the that transcribe do so part-time but there is the potential to go full-time.
A Look at The Courses
The courses cover the skills you will need to be successful in legal and/or general transcription. Legal transcription consists of transcribing files where you need knowledge of legal terms, laws, legal documents, etc., whereas general transcription includes pretty much everything else.
So if you decide to go down the legal path then you will end up transcribing things such as trials, hearings, etc. If you go down the general path then you will end up transcribing meetings, class lectures, speeches,  and so on.
The Free Mini Courses
The free mini courses offered are basically like an introduction to transcription that will give you a better idea of how everything works and will also help you to decide whether or not this is really something you want to pursue.
Janet is the creator of these courses and she is a professional transcriptionist. She has been doing this for years and has worked transcription in a variety of different fields. She knows what goes on, she knows the reality of it, she knows how to make a living with it, and she can definitely help you figure out whether its good choice for you.
Just to give you and example of what the mini courses include, here are the 7 lessons that are included in the general transcription mini course…
Lesson 1 – Learn about Janet and what transcription is
Lesson 2 – What it takes to be a transcriptionist
Lesson 3 – Biggest myth about the job
Lesson 4 – Signs you are not a good fit for a transcriptionist
Lesson 5 – Earning potential
Lesson 6 – Where transcription work comes from
Lesson 7 – What you need to get started
These free courses don't include any training but they are important as far as I see it. They are a free and risk-less way to see if you really think you will like this before potentially wasting time.
The Full Courses
The full courses are ones that you have to pay for. They are meant to be an all-inclusive courses, meaning that you can take one of these and then go get a transcription job that you will succeed at.
Topics covered in the courses include punctuation, hot keys, formatting, finding jobs and much more.
Whats nice is that as a member you will get lifetime access to the members area where there will be updates. Additionally you will get access to their Facebook support group.
Now Facebook isn't the best platform to provide support on, but this is still a big deal in my opinion. Too many courses give you some information and then leave you to fend for yourself. With Transcribe Anywhere you will be able to get ongoing support and you will be able to talk with others that are going down the same path.
The Price
I'm not going to lie, the price is a bit steep and some people probably won't be able to afford it.
For the general transcription course the price is $597 and for the legal transcription course the price is $697.
What I Like
Overall I'd say that I like the honesty that this course brings to the table. Janet isn't looking to make as much money as possible. She is looking to help people.
The information given doesn't sucker people into buying in when they shouldn't be. This is nice to see in the online world because its not too often when you do see it.
What I Don't Like
There isn't really anything to complain about here to be honest. The course is priced fairly, it provides good information, has good reviews, doesn't sucker people into it…. whats not to like?
I don't really know what else to say here. I mean I guess the support platform could be better than Facebook as I mentioned but this isn't too big of a deal for me. It still works.
Do You Really Need This Training?
The truth is no you don't really need this training… but it will help. It all depends on your situation and what you want to do.
The training will help set you on the right path and give you some help in getting to the goal. You could go out, do your own research, and learn everything on your own but it will take longer of course.
Final Thoughts on Transcribe Anywhere – Good Course?
Transcribe Anywhere is definitely a good course and one that I  would recommend if you are looking to get into the transcription business. At the very least if you are interested in it you should go through the free course to see if its really something you should pursue. Then after that you can go from there.
If you decide to take on of the full courses it should take you anywhere from 2-4 months to complete. This of course depends on how much time you set aside to complete it. After that you will be ready for the workforce.
So if you want to try out the free course and see if its right for you then you can do so here: transcribeanywhere.com
If you have your own review of the Transcribe Anywhere training program you can leave a comment below. Also leave any questions below in the comment section and I'll get back to you soon 🙂