Thinking about joining Univox to make a little extra money online? Well the first thing you need to make sure of before getting involved is whether or not this place is worth your time. Is Univox a scam? Is this place legit? How much money can you make?… These are all questions that are important to get answers to before hand.
In this review I'll be answering them all. I will be giving an overview of how everything works, going over how much you can realistically make, the rewards, complaints and more.
What Is Univox?
Univox Community is a paid survey website that conducts market research. Basically what they do is gather consumer information via surveys for the purpose of product and service improvement. Companies pay money for market research like this and Univox collects this type of information, and of course pays survey takers as incentive to take their surveys in the first place.
The company that owns Univox is Market Cube, which has been around since 2009. They seem to be a company that is doing fairly well and has a good reputation, which is nice to see. The last thing you want is to sign up for a survey site that is run by some shady operation.
Users are able to take surveys from their desktop computer as well as use the mobile app that is available for android and iOS. Everything about this place is completely free to users.
Joining Univox
As incentive to join, Univox offers a sign-up bonus of 500 points, which is equivalent to five dollars. However… You do not get this sign-up bonus right away. You only get this bonus after you fill out your profile.
Filling out your profile is very important. This gives them important demographic information, such as your race, ethnicity, age, what type of car you drive, the foods you eat, hobbies you have, fashion taste, etc., which they will be able to use to match you up with appropriate surveys. Every paid survey website makes their users fill out profile information like this and I can't stress enough how important this is. If you do not fill out your profile correctly/accurately then you will get many more surveys that you are unfit for and you will end up being disqualified much more often.
But anyways… After you fill out your profile your account will be credited with 500 points.
How It Works
Inside the Univox dashboard you will see over on the left-hand side that you have a fair number of options to choose from… I'm not going to go over every part of this website but I'll go over a few of the more important things, such as the surveys, redeeming points, the referral program, and polls.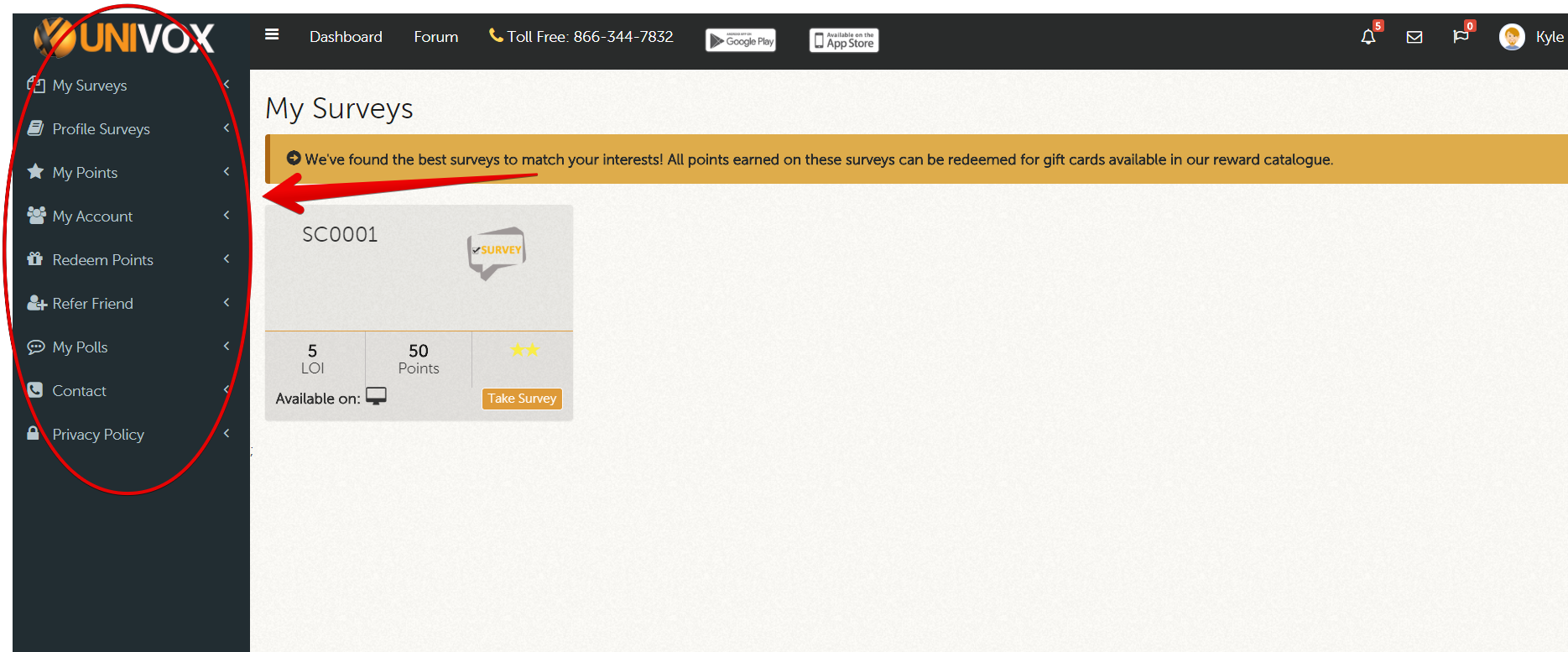 Paid Surveys
Univox is pretty much a typical paid survey website when it comes to the actual surveys being offered. Most of their surveys run anywhere from 10 to 15 minutes or so and credit you with $0.50 to $2.00. Now of course I'm speaking in general terms, there may be times where you are paid more and there also may be times when you get paid less.
Definitely nothing special here… Pretty much all other popular paid survey websites will pay you about this much to complete your typical 10 to 15 minutes survey, Swagbucks, Inbox Dollars, MySurvey, etc.
Polls
The polls are very simple and straightforward. From what I have seen they are usually just one question and it is in multiple-choice format, but there may be times when there are more than one question. You will usually be awarded with around five points for answering these polls.
Redeeming Points/Getting Paid
You will be able to redeem your points for cash via PayPal, for Amazon gift cards, or for virtual Visa cards. As far as I'm concerned they offer great options for point redemption. With PayPal you can transfer your funds to your bank account so it is basically like making regular old money, and with a virtual Visa card it's the same sort of deal because this money can be spent anywhere for the most part. And then of course you have the Amazon gift card which is also great because Amazon sells any and everything.
As a tip, if you are looking to redeem your points for gift cards the e-gift cards are much faster to get than physical ones. It is not uncommon for it to take a couple weeks to receive a physical gift card.
Loyalty Program
When you first join you will be considered a basic user and you will be required to have at least $25 in your account, or 2500 points, before you can redeem the point for rewards. However… You will have the ability to move up on the totem pole and potentially be able to cash out with only $10 in your account. The different ranks and the amount of points needed for redemption are as follows…
Basic Users – Need 2500 points to redeem
Verified Users – Need 2000 points to redeem
Premium Users – Need 1500 points to redeem
Ambassador Users – Need 1000 points to redeem
Referral Program
Of course Univox has a referral program, as pretty much every single paid survey website out there has. What this means is that as a user you will be able to refer in other users and earn money for doing so. But don't get too excited, it is not much at all.
You will be able to earn one dollar when you refer someone to sign up and they either complete a survey or attempt to complete 10 surveys. Now you might notice that this sounds a bit strange… How would a user attempts to complete 10 surveys without even completing one survey? Why would they need to state something like this? While I will get to this soon in the complaint section, so just keep on reading.
In addition you will be able to receive 10 point when those referrals complete surveys in the future.
A downside, a major downside, to their referral program is that you cannot refer an unlimited numbers of people, or at least this is what I've been told. From what I have heard you can only refer up to five friends but there is no information saying this on their website, so I'm not completely sure on this matter.
Privacy Concerns
Not many, but some people have concerns about their privacy on paid survey websites like this, after all they are collecting data about consumers so you may want to know what it actually is going on with this data.
According to Univox, they do not sell, rent, or lease their data to third parties. This is nice to hear because now you only have to be concerned with Univox themselves, and not various third parties that are out there.
Some of the information that is collected includes your name, email address, telephone number, street address, preferences, favorites, etc. They also collect data about your computer hardware/software, but according to them they only use this to be able to maintain quality service. It is just used to provide general statistics regarding how users are using their website.
Overall there privacy policy looks good and this is a paid what survey website that I personally trust. Its not like they are selling your personal information on the black market or to the CIA.
Complaints
Complaints, complaints, complaints… Every single paid survey website out there has them but these are still very important to discuss because you need to know what you're getting involved with beforehand.
Some of the more common complaints that I have come across include the following…
Surveys Already Full
At times you will try to take a survey only to find out that the survey is already full. They will give you some sort of message saying that they already have enough of your demographics. Now this wouldn't be too bad if it happened right away but the part of it that really takes people off is how this can sometimes happen after you are already involved in a survey, which is a waste of time.
Not Qualifying
Every single paid survey website out there will get complaints from people that are mad about not qualifying for surveys. However… I do think that Univox could do a better job at providing more appropriate surveys. There are a heck of a lot of people complaining about being disqualified in the middle of surveys and I know that there are other sites out there that do not get nearly as many complaints, such as PaidViewPoint for example.
Horrible Support
The last complaint wanted to touch on is that the support is absolutely horrendous. So if you have some problem with your account, or maybe you are trying to complain to them, you might be better off getting in a car and driving to their physical location. Now of course this is a joke but seriously the support is horrible. This is usually how it is with paid survey websites like this they have massive user bases and not many people on staff working as support.
Final Thoughts – Worth Joining?
As with the typical paid survey website you will make not much of any money considering the time you put into these things. This might not be the impression you got from my review, since I mentioned that you can potentially make $2 with a 10 minute survey, which sounds pretty good. However, if you take into consideration the fact that you probably will not qualify for a large number of the surveys you attempt, this really lowers the amount of money you will make in a certain amount of time.
Univox definitely is not a scam, but in my opinion sites like this are largely waste of time and I really do not recommend them to many people. They are often mis-advertised as a good way to earn extra cash in your spare time, when really most people and spend their time much better in other ways.
Since you are looking to make money online in your spare time, something you might be interested in is how I make money online, working for myself. I got started making money online back in 2015 and I currently make a living doing so. You can click the button below to see exactly what I do, learn how it works, and I'll also go over how beginners can get started if it is something you would be interested in.
Also, if you really are interested in taking paid surveys then I would recommend Swagbucks over Univox. Univox doesn't have anything to offer other than paid surveys, which isn't much, and they also have a rating of less than two stars on Survey Police, which is a survey review site where users submit their own personal reviews.
But anyway, that's all I have for you here today. Please leave any questions, comments, or concerns below and I'll get back to you as soon as I can 🙂