There has been a lot of talk about this website called Viral Dollars that claims you can make up to $15 just for inviting people to join, and up to $500 a day–so I decided I better give it a thorough look to see if it lives up to the hype.
Is Viral Dollars legit and can you really make $500 starting today? Or is this another scam?
Of course a bunch of people are saying it's legit, but you can't always trust what you hear or read online.
I'll cut straight to the point here and tell you that NO you are definitely not going to be making $500 a day with this website. In fact, I DO NOT suggest anyone join this site, and you will see why in this review.
Viral Dollars Review
They make it seem so simple… Just join the site, share a link which supposedly earns you $10 every time someone joins, and cash out…
Sounds pretty darn easy and pretty darn awesome.
That is probably why so many people are posting online to join this website… Because of course they are trying to make money.
And the site might appear to be legitimate from the outside, since it appears professionally built and they claim they work with well known big-name brands, such as…
But doesn't this seem a little bit too good to be true?
I'm guessing you probably think it does, after all you are reading my review right now with suspicions that it might be a scam.
The opportunity is very luring however. They even have a calculator on the website where you can calculate estimated earnings based on the number of social media followers you have. As you can see below, I entered the number of 500 followers and it says that I make $118 a day…
How the heck does this calculator come up with this number?
Who knows… But for someone looking to make easy money online, which is pretty much everyone, the opportunity is very enticing.
What Happens After You Join..
From the homepage all you know is that you can supposedly earn money by sharing your link and getting other people to join. However, when you actually join there are actually several different ways in which you can earn.
Below you can see what the dashboard looks like after you login for the first time…
One thing that caught my attention in the left-hand menu is the "$30 Task Wall". I have reviewed many websites before that pay you to do simple tasks, but never a website like this paying out as much is $30 per task.
I decided to check it out and these were the different "tasks" that were listed for me…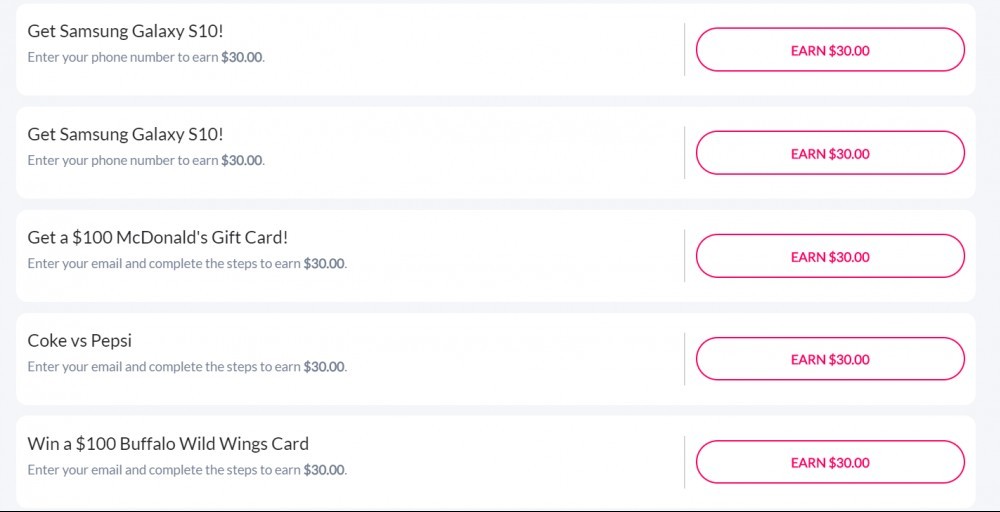 At this point things were seeming and more and more scammy. All of these "tasks", or at least most of them, were to win some high priced item, which didn't seem realistic.
But anyways, I decided to try to earn $30 with the first offer of "get Samsung galaxy S10".
When I clicked on the button I was sent to a website that was first blocked by my antivirus software as you can see here…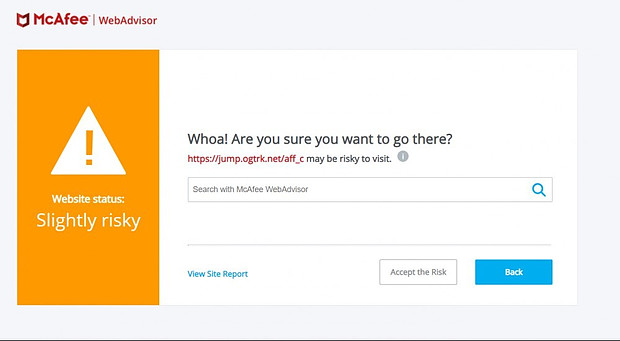 But for the purpose of this review I decided to accept the risk and proceed to the "slightly risky" website.
The website I landed on was called National Consumer Center–which unfortunately I am very familiar with…
I came across this website while exposing two other scams in the past—Teens Earn Cash and Brands You Need.
Basically what it does is takes you around in circles. It will take you on a never ending cycle of filling out different surveys, answering questions, submitting information for different reasons, and so on… But you will definitely never get the prize that you can supposedly win.
As you can see above, it says that I can collect 100 points and get a Samsung galaxy S10–but believe me… There is no way I will make it to 100 points.
Things Seem a Bit…Fishy…
The more and more I dug deeper into this website, the more and more it seemed like a scam.
Another thing I want to point out is that they claim to have 225,000 members and have already paid out $68 million…
Yes… You heard me right… $68 million…

But of course this is probably just a bunch of BS.
When I was digging around I typed the website, which is viraldollars.co, into ScamAdviser and found that it has only been around for 12 days (as I am typing this of course)…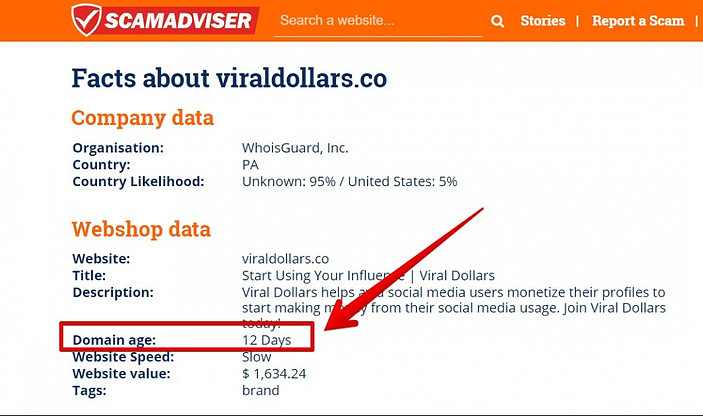 So how the heck can they already have 225,000 members and have already paid out $68 million if they have only been around for 12 days–sounds like a big fat lie to me.
And there is more.
On the website they shows screenshots of "payment proofs", but I doubt that any of these are real. As you can see below, the one payment proof is dated from way before the website was even created. If you can't read it, it shows this woman making $245 on September 13, 2018, which is over 6 months before this website was created.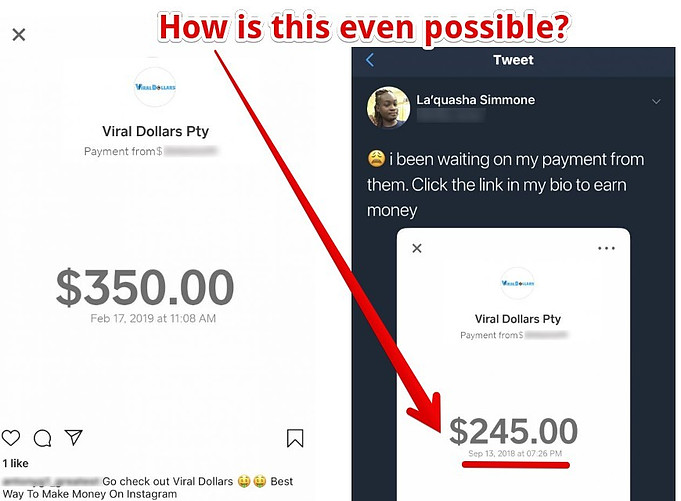 What's Really Going On Here?
While I don't know exactly what is going on here, I do have a good idea.
I think we can all agree that what is going on here is not what they tell you. This is not a legitimate website–or at least it definitely doesn't seem to be such.
My guess is that this website probably is involved in "data harvesting". Basically what this means is that they are collecting as much data from as many people as possible, such as email addresses, telephone numbers, names, etc. and then selling it all–yes there is money to be made in this.
So don't be surprised if you join this website and then start receiving a bunch of spammy emails, sales calls, etc.
But again, this is just a guess.
Can You Really Make Money?
All I'm going to say here is that I would not waste my time.
You might possibly be able to make some money, but I guarantee that you are definitely going to be wasting a ton of time trying to win free products from the "task wall", as I showed you with the Samsung galaxy S10 prize above.
Conclusion – Scam?
There are a lot of legitimate ways to make money out there online, this doesn't seem to be one of them.
While I'm not going to call it a scam, I will call it a shady operation that I definitely do not recommend anyone get involved in, unless of course you are looking to waste a bunch of time.
If you want a personal suggestion of mine, I would recommend taking a look at how I make money online. In this post I'll go over exactly what I do, how it all works and how others can get started doing the same.
Feel free to leave any comments or questions down below and I'll get back to you as soon as I can 🙂