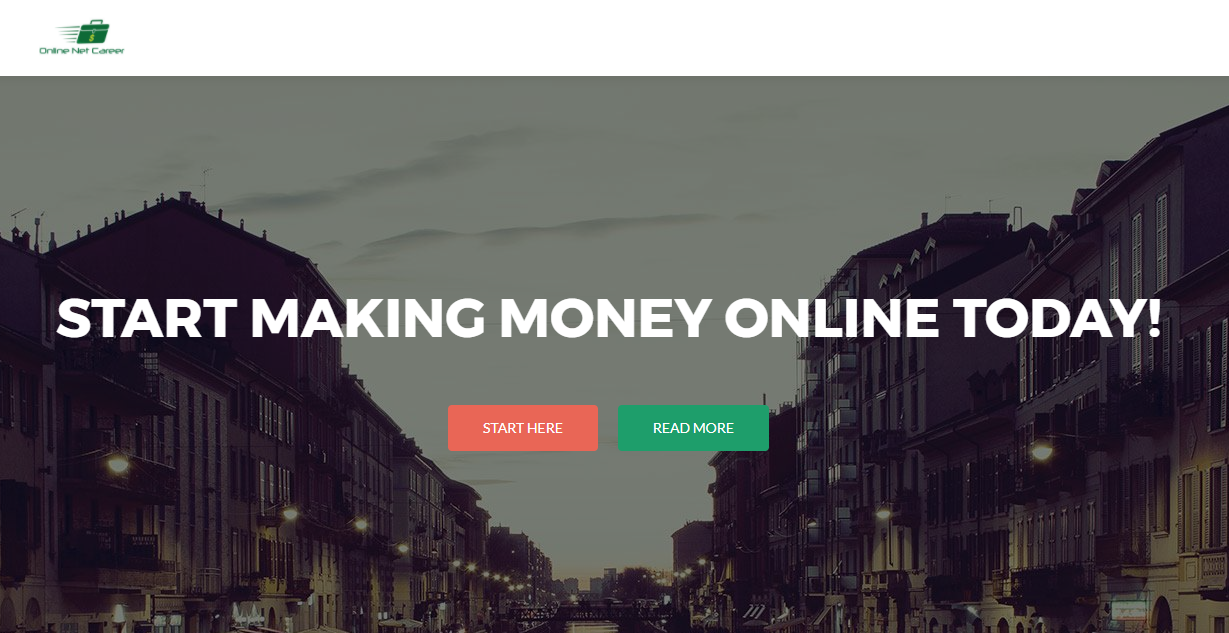 OnlineNetCareer.com claims to be the best place to find opportunities to succeed online but I beg to differ with this statement. This place is not the amazing opportunity finder that it leads you to believe it is, not even close to it.
In this short review I'll be going over what is OnlineNetCareer.com and everything you need to know. Do not go through with any of the opportunities that it refers you to without reading this first. You will understand why shortly.
OnlineNetCareer.com Review
OnlineNetCareer.com poses as a legitimate online job finder website but it is far from legitimate. The soul purpose of this site is to make money off of desperate people looking to make money online.
Overall this site is what I would call a scam and I would never recommend anyone to use it.
It is similar to scam job finder sites like Top Jobs Reviewed.
How This Site Works
All this site does is funnels you to "money making opportunities" online that are scams. It is a single page site and no matter where you click it will direct you to scam programs.
The people behind this site are affiliates for the scam programs. When people they refer buy into the programs they get paid commissions for referring them there in the first place.
Now I don't have a problem with promoting products online….. when they are legitimate. The problem I have is that this place is promoting complete scams that will just leave people with less money than when they started.
An Example:
I'm sure this site changes the programs that it is promoting all the time but currently, as I am writing this, it is promoting a scam called Accelerated Income. I actually already reviewed this scam and you can read about it here if you would like.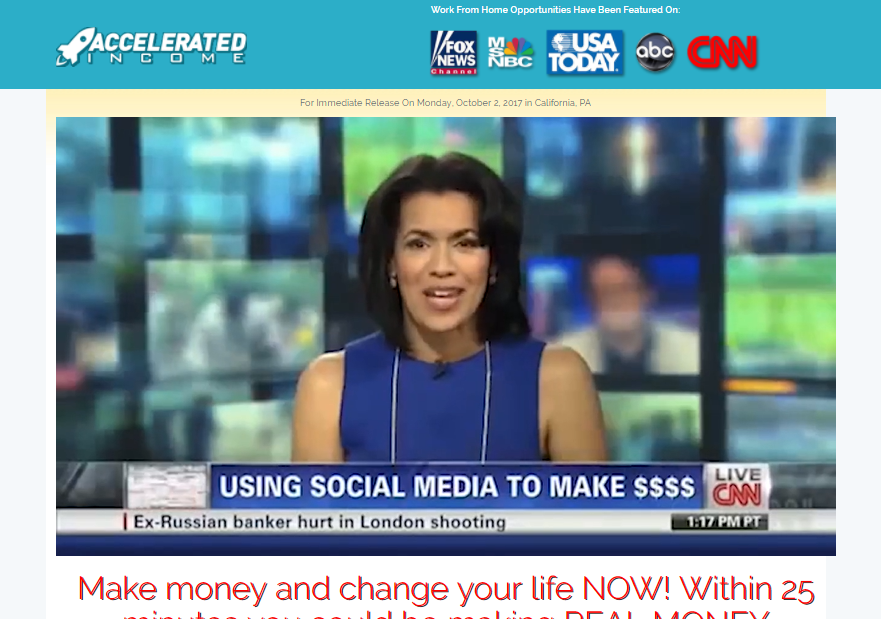 Here is a summary of the scam: Accelerated Income claims you can easily make $279+ per day posting links from home, which takes 2 minutes on average per link. They make it seem like it is the greatest opportunity on the face of the earth, and while it is possible to make money like this, what they tell you is extremely misleading.
The bottom line is that this program is not as great as it seems. People buying into it will be sorely disappointed if they are expecting to make the income that they tell you is possible.
Basically what will happen when you buy into it is you will be given some really poor training and a website so that you can make money. Both will leave a lot to be desired and you will be pushed to buy upsells in order to make money, which also will be poor quality and won't work out.
Scam Promotions and Lies
Not only does this OnlineNetCareer.com site promote known online scams, but they also lie to you right on their site. I think its worth mentioning that the testimonials displayed are fake.

The images that are used in these testimonials are stock photos that anyone can buy and use online as they wish. And since they are fake it is only logical to assume that the written portion of the testimonials are fake as well.
Conclusion on OnlineNetCareer.com – Scam for Sure
This place is a scam and there is no doubt about it. It is just a funnel that is set up to lure unsuspecting people into scams that will make them little to no money online. It will make the owners of the site money but not you.
I'm sure you were suspicious of this site to begin with. I mean after all you did click on my review after doing a bit of research.
When it comes to making money online there are a lot more scams out there than legit opportunities that I can recommend. However…. gun to my head, what is the best program out there? This is it. I have been a member since 2015 and it took me from nothing at all to making a living online.
==> Recommended program I'm talking about here
Questions or comments? Leave them below and I'll get back to you ?