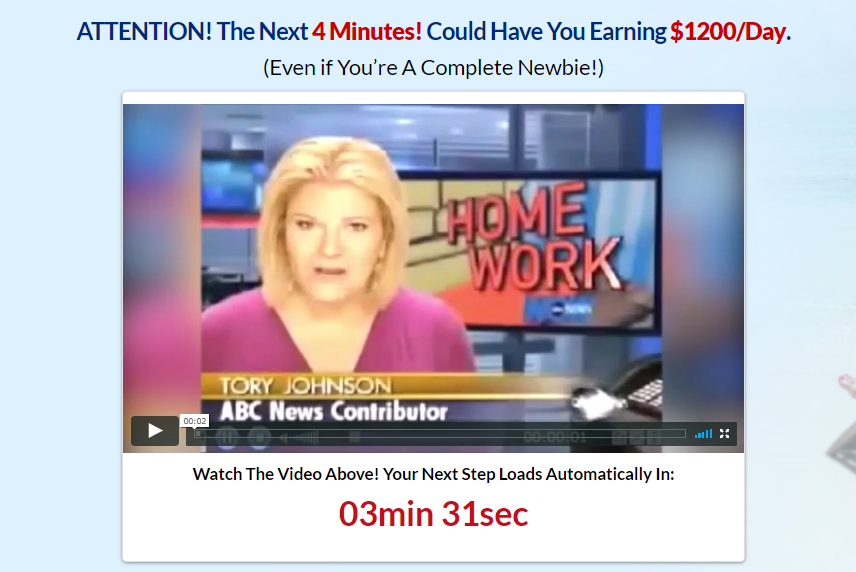 Your Home Biz is a new program that I came across that claims you can make massive amounts of money online with it. In fact, it claims that you can make as much as $1,200 per day… which is insane.
Of course I was suspicious of the claims that this program makes so I decided to take a look into it more to see if its a scam or not. And that is what I am sharing with you here in this Your Home Biz review.
Your Home Biz Review
Immediately upon landing on the sales page for this program I was skeptical of it all. I have seen the news clips that they use in their sales video in many other work-from-home scams. These clips have nothing to do with this program. They are real news broadcasts but they are talking about other work from home opportunities and WAH jobs in general. There is absolutely nothing that ties them to this Your Home Biz program.
Anyway… apparently this program was created by a man named Stephan Erikson. He claims he used to live paycheck to paycheck and never had enough time for his family. Then of course things got even worse and he was laid off from his job. At this point he couldn't afford much of anything but luckily he met a man at Starbucks at just the perfect time. This man had been working at home for years and showed him how to make money online.
Awesome right! Just too bad I cannot verify any of this story or that the guy's name is actually Stephan. And judging from the lies that are told in the sales video I would guess that the story is a fake.
The Lies
Fake Testimonials
The testimonial videos that they show in the sales video are fake and more than likely paid actors. 
They actually don't even make any sense. The guy in the blue shirt above was talking about making all kinds of money selling products on Ebay and this program isn't even about selling on Ebay, its about Affiliate Marketing.
Misleading Earnings Statements
In the sales video the guy tells you that you could earn $5, $10, $15, $20, $30 or more for each link that you post. This is true that you "could" earn that much but it really doesn't tell you anything. All this does is misleads people because he makes it sound very easy to make money like this.
He also makes it seem like you just go around posting links that only takes a couple seconds to do. The reality is much different.
Fake Timer
There is a timer that will count down at the top of the screen at some point that claims this is a limited time offer.

This is completely fake and if the timer runs out nothing is going to happen. The offer is still here.
What Is This Program?
This program is all about affiliate marketing. And it just so happens that I am very experienced in this field. I started affiliate marketing in 2015 and make a living doing it. So they aren't lying when they tell you there is a lot of potential here.
Affiliate marketing is when you promote products online for big companies. Amazon, Walmart, Macy's, Apple…. all the big companies have affiliate programs where you can get paid to promote their products. But its not like you get paid just to promote them. You only get paid when you actually refer someone to their site that goes and buys something, which earns you a commission.
What You Get
This is one of these programs where they really leave you hanging as to what you are going to get when you actually buy it. In the sales video that I watched Stephan is very vague and doesn't tell you much of anything.
He tells you that you will get access to their training course that is "so advanced" it will have you "in business" right away. But that doesn't tell you much either. What the heck does "in business" means? Does that mean you will be making money right away or what? I have no idea.
He also tells you that you will get access to tools but that is as far as he goes there. You have absolutely no idea what tools he is talking about.
So pretty much you have absolutely no idea what you are buying into. But hey… its only $97 right? And it has a money back guarantee if you don't like it… so what could go wrong? Well believe me when I say that I have seen tons of scams over the years that claim to have a money back guarantee yet they fail to follow through with it. Pretty much every scam that ever existed has said this… so it means nothing.
Conclusion on Your Home Biz – Scam?
I have not bought this program and I don't plan on it, nor do I recommend anyone else do it. From the many programs I have looked into and from my years of experience in affiliate marketing I can say fairly certainly that this is a scam.
It reminds me very much of other scams that I have reviewed like Xtreme Home Paycheck & Entrepreneur Jobs Club, that make it seem you can make easy money posting links everywhere just like this program.
The bottom line here is that you can't trust this program. They lie to you over and over and don't really tell you what you are even buying into.
If you are interested in affiliate marketing then I suggest reading about my no. 1 recommended program here. I started with this program back in 2015 and am still a member to this day. Its also notable that I am making a living online now and this can pretty much all be attributed to what this program has taught me.
You will get training, tools, support, and a bunch more that I won't get into here. You can click the link below to read a full review I wrote on it…
==> My No. 1 Recommended Program Here
Questions, comments, concerns? Leave them below in the comment section below and I'll get back to you soon ?