There is a site called Top Jobs Reviewed (topjobsreviewed.com) that is a massive scam. What it does is promotes 3 of what they call the top work at home jobs and each and every one that is promoted is a scam that I am very familiar with.
I decided to take the time to write this review because I know there are a lot of people out there that can benefit from it and hopefully avoid these scams and avoid losing money. In this review I'll be going over what is really going on here and the scams that are promoted.
Red Flags of This Being a Scam
The first thing I noticed is that they claim that the work from home jobs they are promoting have been featured on the news. This simply isn't true and is very easy to prove. If you go to any of he news sites' websites you won't find any information on these.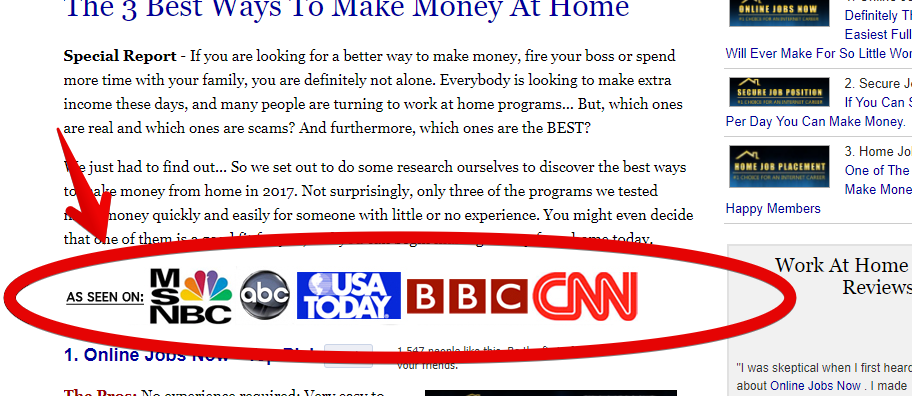 Another thing that I noticed is that the reviews at the bottom of the page are fake as well as the author "Sarah Johnson". There are about 20 reviews at the bottom all were made between September 3rd – 6th. And the picture of Sarah Johnson is a stock photo that anyone can buy online and use as they please.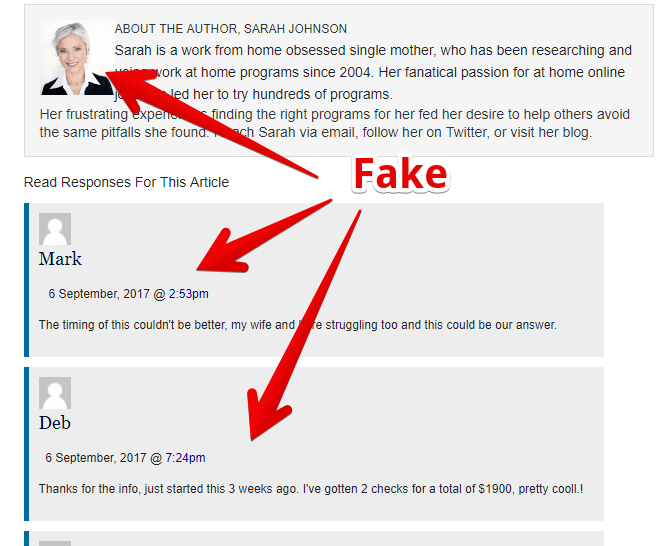 The Scam Programs Being Promoted
As I am writing this they are promoting 3 jobs: Online Jobs Now, Secure Job Position, and Home Job Placement. I am sure that these will change in the future but as for now this is what they are.
I am very familiar with all 3 of these "jobs", which really aren't jobs at all. These are 3 scam programs that make you think you will be making all kinds of money if you buy into them but the reality is much different than they tell you.
The Truth
All 3 of these programs are the same thing basically. They are all a re-hashed scam program that has been re-marketed under dozens of names over the recent years.
This program claims that you can make a lot of money posting links from home and that it is going to give you the training and tools to do so. They give you your own pre-made website and everything. But unfortunately this website is a cookie cutter site that is also being given out to everyone else that buys into the program. And the training is very "scammy".
While you can make money posting links online from home the reality is much different then they lead you to believe.
The Reality Here
They act like "link posting" is some new method of making money online that they discovered but what they are actually talking about here is called affiliate marketing.
Affiliate marketing is when you promote products for companies online with your own unique affiliate link. When someone clicks your link and buys the product you are promoting you get paid commissions. Its a great business model and Yes, you do indirectly get paid for posting links… but it is nothing like they make it seem.
I actually make a living affiliate marketing online and have been doing so since 2015. I can tell you with absolute certainty that it doesn't work like they tell you and that it isn't as easy as they say.
I will also say that if you do buy into these programs being promoted you will more than likely not make a penny. Their strategy of spamming links everywhere simply doesn't work. It is the easy way out and appears very spammy. People aren't going to click the links nor buy anything that you promote. That is not how it works in the real world.
My Recommendation
There are plenty of legitimate job finder sites out there where you can find work at home jobs. ZipRecruiter and FlexJobs are two good ones. I would recommend them if you want to find a variety of work at home job opportunities.
Also, as I mentioned, I make a living affiliate marketing online. I started this back in 2015 part-time and now it is my full-time money make. If you are interested in pursuing this career path then I would suggest taking a look at this program.
This place provides training and tools for people looking to start making money online via affiliate marketing and it is particularly good for beginners. It is where I got my start and I am actually still a member to this day… which should show how good I think it is.
==> My no. 1 recommended program here
Questions, comments, concerns? Leave them below in the comment section and I'll get back to you soon 🙂