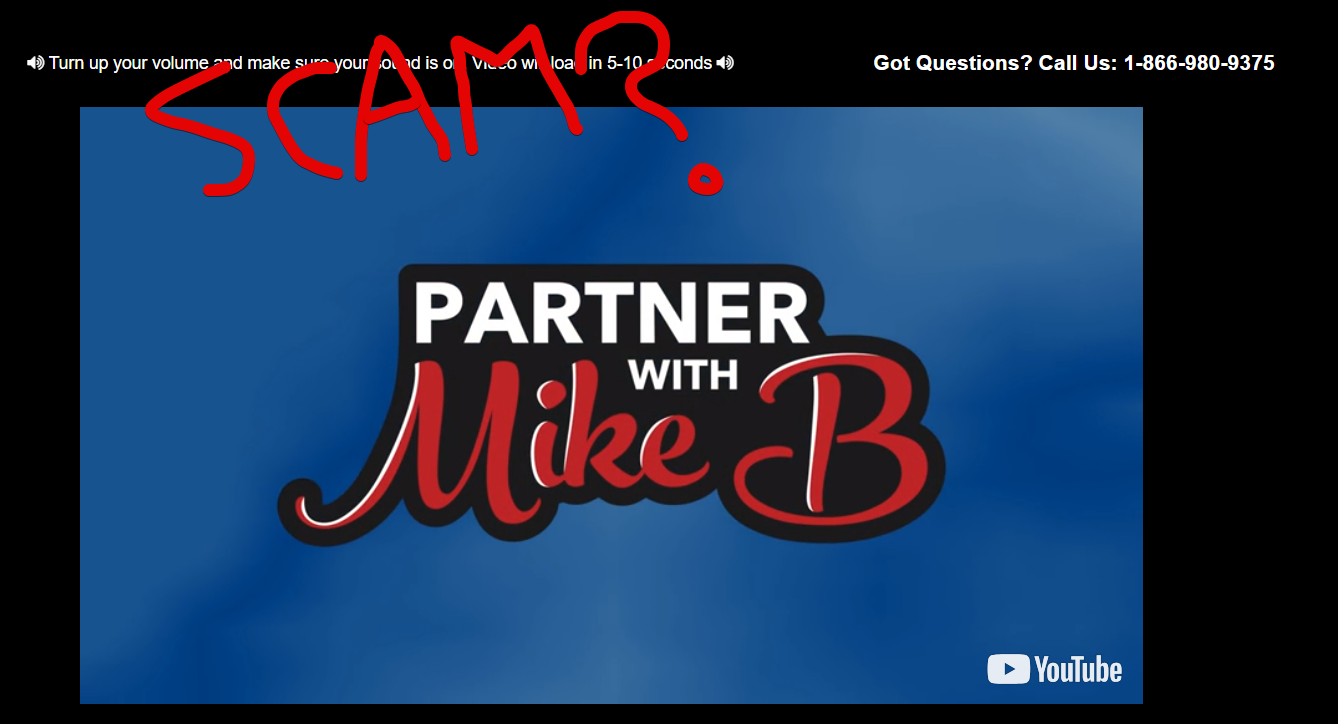 Partner With Mike B Is a system that supposedly has been taking people with no experience to ever $1000 a day and profit online. But is this really all true? Or is Partner With Mike B a scam program that you need to be avoiding?
Unfortunately this program is not what it claims to be. While you can make money with it, I would pretty much classify it as a scam. Why? Well because it is very misleading and suckers people in through deception, as you will see in this review.
Partner With Mike B Review
There are probably multiple video presentations out there for this program but the one I watched was ridiculously misleading (at partnerwithmikeb.com).
It started out with Mike B talking about how he had already set up your commissions account in talking about how people are making over $1000 a day with the system while only putting in 45 to 60 minutes of work per day.
Okay… So you can make tons of money with the system with very little work?? This sounds great! How do I sign up for this and by in right away?
Wait a minute… Just about every scam out that tells you this type of thing. It is what everyone wants to hear. Everyone wants easy money nowadays.
And something else that is strange is that Mike tells you he is only looking for 15 people to sign up for his system today… Yet this video is been running on replay since 2016. How do I know this? Well because I found the video on YouTube that is the same one on his website and it dates back to 2016. Strange isn't it? So he has been wanting only 15 more people per day for a couple years now?? Hmmmm…
How It Works (what he tells you)
What he tells you is that this Partner With Mike B system creates the system that gives the ability to manipulate and flow all the online traffic to your website which then produces transactions that you make money from. But what the heck does this mean? This is probably one of the most confusing ways could possibly explain it.
But hey, it "requires zero skill and is completely automated" so it must be super easy and could be as magical as it seems to be.
How It Really Works
After watching the video presentation you pretty much have no idea what you are getting involved in. You have to actually buy in before finding out what it's all about.
What you will find is that this is a high ticket biz op system that suckers people in at a low price and then forces them to buy into more expensive upsells. On top of that the system is all about getting you to go out and promote the same darn system. So you buy in to make money online and then the system gets you to go out and promote it to other people, and the cycle continues.
And by the way this system is not completely automated as he tells you. If it were completely automated then why would you be provided with training? Once you buy in there is training that you will get that will teach you how to promote this system to other people. You will have to take action on this and it is much easier said than done. So yes it does take work and is not just some walk in the park.
Once you buy in for the low introductory price you will then find that you will be forced to pay much more if you actually want to make money with this. In order to earn high ticket commissions you will first have to purchase the high ticket product that is included in the system. And besides this there are also other up-sells for training, email templates, and other things. So just know that what you're buying into will get much more expensive if you do choose to go through with it and buy into this.
Would You Consider This a Scam?
I guess whether this is a scam or not depends on what your definition of a scam is, but in my opinion it is. Just think about it… The system lures people in thinking that they are going to make super easy money online by helping spread this incredible system so that it can help out the world, when in reality they are being suckered into something that is completely different and then being taught to sucker others in.
For some reason in the online marketing world deceptive money making opportunities like this have become accepted by many and some people seriously don't even see them as scams. It's crazy to even think of because when I look at things like this they are obvious scams. They use deception and trickery to get people to buy in and then teach them how to get other people to buy in. Sounds a scam to me.
I see these types of systems all the time. MOBE, Legendary Marketer, Aspire, etc. are all very similar to this. They all get people to buy in with lower-priced products and then push them into their high ticket products where the real money is made in the also push members to promote the system.
Final Thoughts
Feel free to join in if you want to, but I certainly will not be recommending it to anyone. Yes, you can make money with this… But just think about what you will be doing. You just got tricked into buying in and now you're supposed to go out and trick others.
If you are looking for a more legitimate way to make money online then I would highly suggest taking a look at how I do so. You can learn what exactly I do, how it all works, and what I consider to be the best way for beginners to get started is in my "make money online guide".
And of course leave any comments, questions, or concerns below. I will get back to you as soon as I can 🙂