Winning free money is awesome. But do you know what isn't awesome? Getting scammed.
Is WinLoot a scam that you should probably just avoid or is this the real deal? Can you really enter for free into these contests and win money?
There or so many different sweepstakes scams out there that you have to be careful with what you get involved in. Whenever I come across an opportunity like this, I always make sure to do a little research and see if things check out before spending a bunch of time and getting my hopes up.
In this review I'll be going over what exactly this place is, what they offer, how it works, some concerns I have and more.
Read before joining!
What Is WinLoot?
In a nutshell, WinLoot is a free sweepstakes website that claims to be "home of the $1,000,000 sweepstakes", which is a potential prize, yet I don't think anyone has ever won it.
The opportunity to take part in these sweepstakes entries requires you to be a resident of the United States, Canada, Australia, New Zealand or South Africa. This is typical of sweepstakes sites like this and is the same for Sweepszilla.
If you live in any of these areas then you can enter to win a variety of different cash prizes. Some of the highlights of the website include…
Over 30 daily drawings and 96 ways to win total
You can enter to win their $5,000 sweepstakes drawing up to 65 times a day
Have a $10k per month for life contest and a $1,000,000 jackpot
They pick a $250 winner every day
They also have $500 and $100 instant winner sweepstakes contests
Around 50,000 people have won prizes to date
100% free to play
One of their biggest drawings is the $250 daily winner. As you know they also have much higher drawings, yet it seems that people barely ever win these. I don't think anyone has ever won the $10k a month drawing of the $1 million drawing.
How It Works
So obviously the first thing you're going to have to do is register. I was reading the roles of the website and has stated that I would have to enter my name, email address, ZIP Code and birthdate, yet whenever actually went to do it, all I had to do was enter my email address.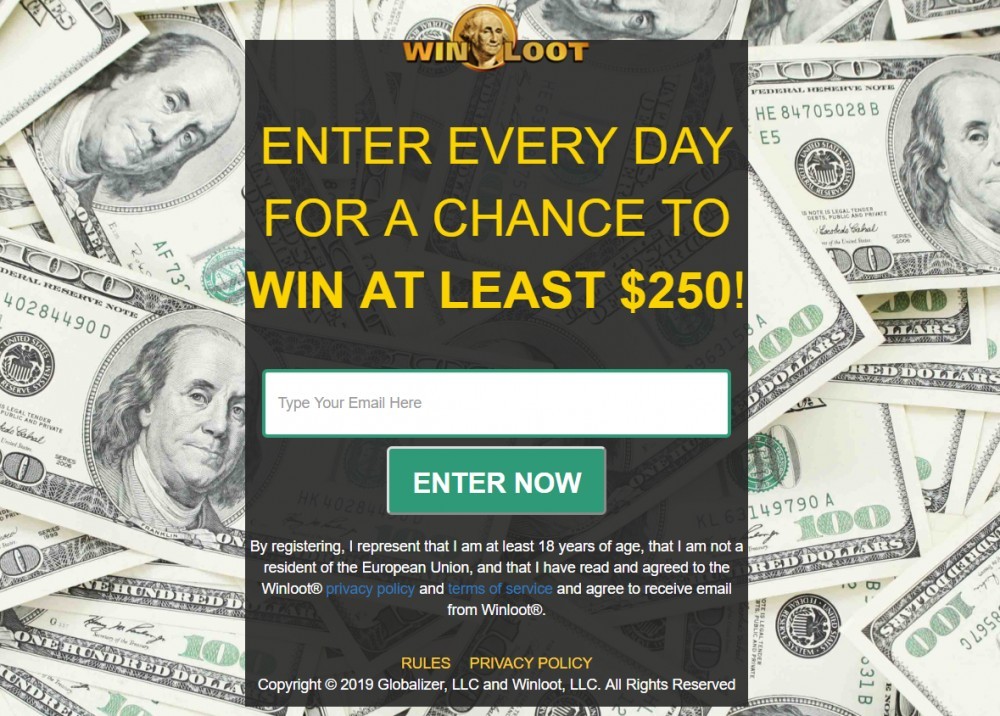 After entering my email I was then sent a confirmation link to that email which I had to click to confirm my account.
When I clicked on the link I was taken to a page to  "win $10,000″ a month" which was weird because I thought I was entering to win $250 contest based on the page that I entered my email shown above.
But whatever…. I mean winning $10,000 a month is a lot better than $250 one time… So I played the game anyhow.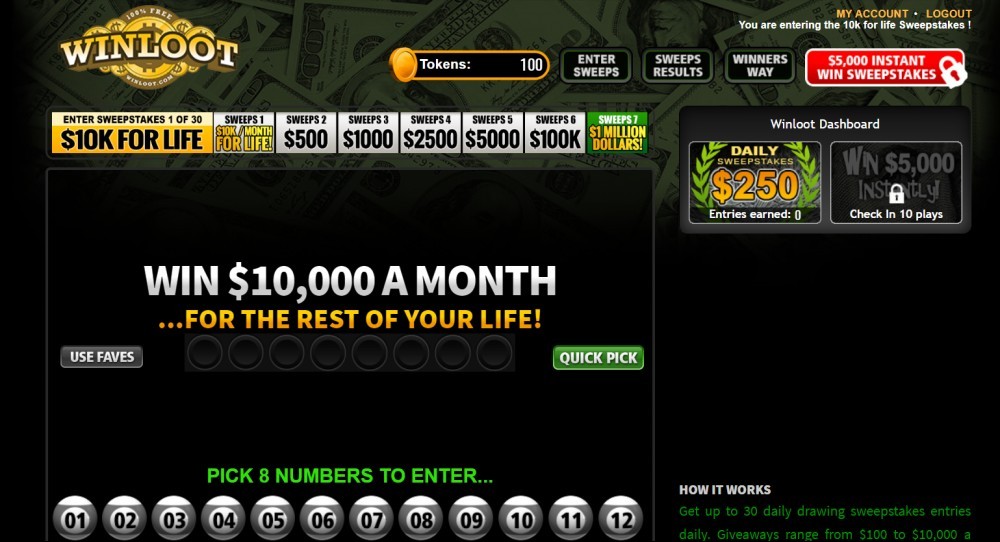 This was a typical lottery style game. What I had to do was pick 8 numbers from the 99 numbers that were listed there and after doing so it is said that "your $10,000 for life entry is now complete", however below that it talked about the $250 entry as if that was what I just entered to win.
Huh? Okay this is confusing.
At first I thought I was entering the $250 contest, then it made it seem that I was entering the $10,000 for life contest, then it told me that my entry for the $10,000 for life contest was complete, and now it seems like it's talking about the $250 entry again… What the heck is going on?
But anywho… Free money is free money, so either contest is still good… As long as I have a chance to win some money.
After entering for the first drawing, there was a button for me to "continue to our $100 instant win sweeps", which I then did and it took me to a scratch-off style lottery game.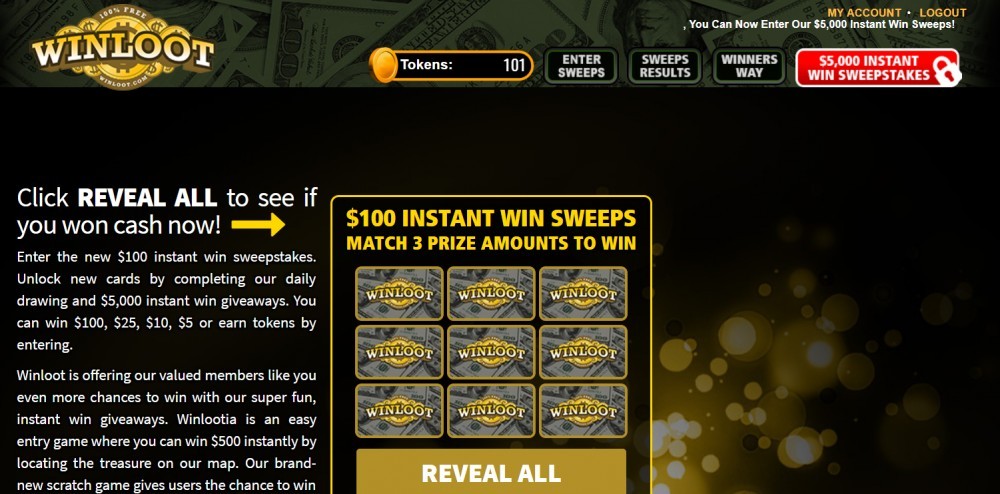 It doesn't seem like there is any way to navigate to a particular sweepstakes contest. You enter the first one it provides you with and then it will take you to the next, and then the next, and so on.
Potential Scam?
Sweepstakes scams are no joke. According to the FTC, sweepstakes and lottery scams are "one of the most common consumer frauds operating today."
So as I mentioned are other, I looked into this opportunity a little more.
I did find that they aren't accredited by the BBB and have several complaints, however that definitely doesn't mean they are a scam and isn't anything too unusual, although it would definitely be comforting to see them accredited by the Better Business Bureau.
I found that they are owned by ShareStakes LLC which also owns UWinIt, RewardIt, and PrizeLoot, three other sweepstakes websites. But when looking into the company I wasn't able to really find much of any information. It was also pretty confusing because it seems that there is another company called Globalizer LLC associated with this site as well.
A lot of sweepstakes scams pop up on the Internet for a quick amount of time and then disappear forever. In order to see if this was the case, I looked into how old the website actually is, and found that it has been around since 2003. That is a very good sign.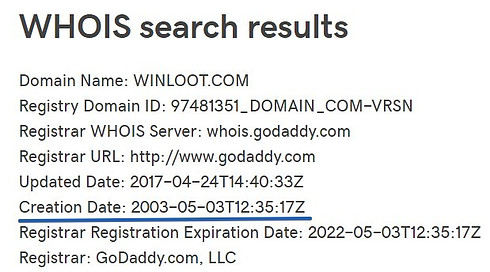 However they state on their website that WinLook was founded in 2013. So I guess the website was already around but they didn't own it and operate the company yet??? I don't know…
I was also able to see that they have a very active Facebook page with an okay amount of interaction with members. This is another good sign. Scam sweepstakes websites might have a Facebook page as well but usually you won't find much activity and if there is activity you can usually tell that it is fake.
But I Still Definitely Have Some Concerns…
One thing that you should always consider when you come across a site like this is where exactly the money is coming from.
Where are they getting the money from to be able to reward their members if it is a free to join?
They have to be getting money from somewhere, right?
Well… Traditionally sweepstakes contests are held for advertising reasons. Usually a company/brand holds one of these contests to spread brand awareness and get their name out there, which can be effective for marketing.
However, this website isn't really doing that. So how are they making all the money?
Well… They do make some money from online advertising and such, but other than that your guess is as good as mine. I don't know.
What Real Members Are Saying
Something I always make sure to do when looking into these types of opportunities is to see what real members are saying.
Sure… they show you pictures of people like the person shown below on their website winning $5000 and such, which is incredible and I'm sure these people would have great things to say, but I want to hear all the negative reviews as well.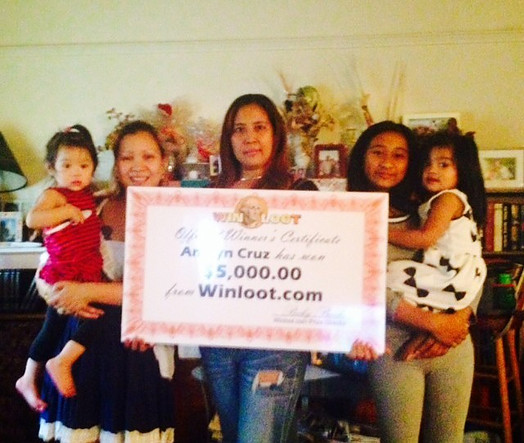 SiteJabber is a good place to find independent reviews. This site often gets a lot of complaints, so you can hear all of the bad things that companies don't want you to know about them.
As you can see below, this person is calling it a scam, claiming that they send fake emails and such. This is a complaint I have come across numerous times. The problem however is that the place actually sending out these fake emails might not actually be WinLoot. I have seen it happen before where a scammer will pose as the real company and try to scam people out of money.

Then there are quite a few complaints complaining about not winning anything although participating on a daily basis…

And there were also more than one complaint I came across from people who claim they have one big money but can't get ahold of the company to claim their money…

Conclusion – Scam or Not?
While I definitely do still have concerns about WinLoot, I definitely do NOT have any proof that this place is a scam.
Now whether or not you consider a scam is completely up to you, but I'm not going to call it one.
And I know you may be wondering, well how could it possibly be a scam if it is free to join these sweepstakes contests? This is a good question and the answer is that… Places like this can sell your personal information for money, like your email address for example. This may sound a bit odd, but I have seen websites that participate in this sort of activity.
But I'm not saying that this place does.
Anyhow… I hope you enjoyed this review and found it somewhat helpful.
If you do join WinLoot and participate in their sweepstakes contests, definitely don't expect to win money. It seems that, while there is a $250 winner every day chosen, pretty much everyone else is only winning around one dollar and very few people are winning the higher prizes. But I guess this is what you should expect.
Comments or questions? Leave them below and I'll get back to you soon…