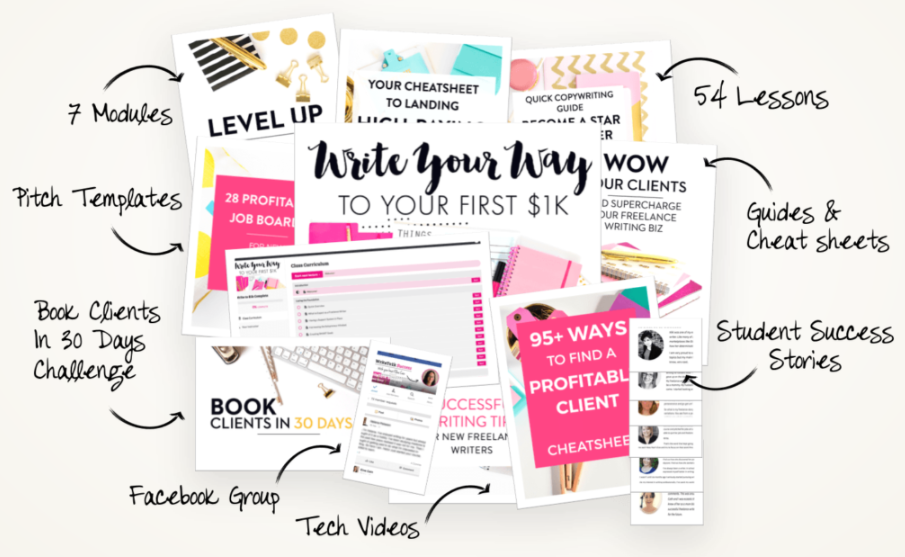 Looking to take the Write Your Way To 1K course? I have been getting questions on the legitimacy of this course and whether or not its any good so I decided to take a look into it more.
Overall I like what I see from the outside. This course isn't overly hyped. Its not telling you that its going to make you rich with little to no effort or anything like that. Everything seems realistic and legit but things aren't always as they appear. In this Write To 1K review I'll be going over what this course is all about, what it provides, and whether or not I think it is worth paying for.
Write Your Way To 1K Overview
The Write Your Way To 1K course (Website Here) was created by Elna Cain to help other aspiring freelance writers follow their dreams and be able to write for a living.
Overall this course is pretty good and much better than some of the alternatives like Barefoot Writer Club.
Elna was in the same place that much other people are that are looking to become writers. She was working a job she hated and looking for a way to make it out. Eventually she got to the point where she could quit her job and work as a writer for a living. Along the way she learned a lot and this knowledge has been put into teachings in this course.
Should You Trust Elna?
If you are wondering if you should trust Elna the answer is yes. I was a little suspicious of her claims as well so I looked more into her. She is actually an writer for the Huffington Post, OptinMonster, Blogging Wizard, Pagewiz and other places. I looked into this and you can find her author profile on these sites and read some of the things shes written.
So she is legit and this is a big deal. Knowing the person (or people) behind the programs and courses you take is a big deal.
What You Get
When you buy this course you get access to a lot. You get a total of 54 lessons that are broken down into 7 modules. You will also get pitch templates, tech training videos, and one thing that I really see as important is the fact that you get access to the private Facebook group where you can interact with other members that have the same mindset and goal as you.
In this course you are provided with a "blueprint" if you want to call it that. Elna goes through each step that you should take, based on her experience, to eventually get you to land those high paying freelance writing gigs.
There is plenty of opportunity out there for freelance writers and this course does a good job at showing you how you can find these opportunities. In addition to finding them, you are also provided with "pitch templates" that you can use in order to get these clients.
Overall I like what I see here. This course is what I would call "complete" and does a good job at getting you from point A (no writing job) to point B (having a writing job). It has a lot of in-depth info and is pretty good.
Is It Worth Taking?
If you really desire to go the route of freelance writing then this is one of the better courses out there for sure. The price might change over time but as I write this it is listed at $165 if you pay a one-time charge or you can choose to pay 3 charges of $65.
With the training you get, the Facebook group access, and the templates I would say it is worth the price. Its not an outrageous cost by any means and I think the value you are getting here is a lot.
Conclusion On Write Your Way To 1K
Overall I like what I see with this program and this is something I would recommend that you consider if you are looking to become a freelance writer. It is definitely a good and legit course that has worked for others. Now of course whether you succeed with it or not is largely dependent on the action that you take, but that is a whole other story.
Sign Up for Write Your Way To 1K Here
Something else that I would recommend is taking a look at how I make a living online. I make small blog-type websites like this and 99% of what I do consists of writing. It would be right up your alley and I think you might like it.
I've been doing this since 2015 and really enjoy it. If you are interested in learning more you can read a post I wrote Here where I go over what exactly I do, how it all works, and how people with no experience can get started doing the same.