The Cash For Steps is a free app available for iOS devices where you can get paid to take steps, aka walk. It sounds pretty awesome and all, but is it really?
Or… Is this just going to be a waste of time scam that is going to leave you disappointed at the end of the day?
The purpose of my quick review here is to explain what exactly this app is, how you can make money, and how much you can realistically make so that you have a better idea of what you're getting into if you do decide to download it.
While you definitely can make money with this app, for a lot of people it probably is not going to be worth the time and you will see why.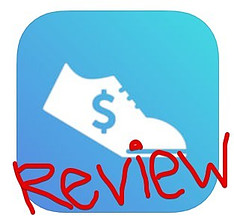 Cash for Steps App Review
Name: Cash for Steps
Availability: Only for iOS devices at the App Store
Cost: Free
Legit?: Yes
Income Potential: Low
As mentioned, this app is only available for iOS devices, but maybe this will change in the future.
In a nutshell, this app pays people to walk. Basically what you do is… Well… Walk as normal. This is similar to the popular app called Sweatcoin. You can sync the app with a Fitbit or Apple watch and then all you have to do is open up the app one time a day for your steps to be synced in order for you to get credit for them.
There is no need to have the app open all the time. Open it up once a day and allow it to sync. This is good because you don't have to worry about your phone's battery getting drained from having the app running all the time, which is a problem with a lot of other similar apps out there.
How You Make Money
Well, obviously you make money by walking, but how exactly do you get paid?
Do you have to take a certain number of steps? Is it only the top people they get paid? Can you take just one step per day and make money?
There are a variety of ways to earn, the main way being the top 100 that I'll go over now…
*Each step is worth one point.
Top 100
So how it works is they have a big leaderboard inside of the app where you compete with other users. The goal is to stay in the top 100, which gives you a chance of earning one dollar per day. What they do is select 10 people out of the top 100 and reward them with one dollar. It used to be only out of the top 50 that they selected winners, but the have since expanded this and it will likely expand further in the future as this app becomes more popular.
It doesn't matter if you are ranked number 100 or number one, you all have the same chances of winning if you are ranked in the top 100.

Achievements
There are also different achievements you can get and earn money for. These include things like…
Check-in – If you check in every day you will be able to earn $1 every 3 weeks, or 21 days.
Loyalty – Here you can earn $1 every 50 days just for having the app installed on your phone.
Max Steps – If you take over 30,000 steps in a day you will earn $1
Cashing Out
The cash out options are a bit disappointing. They only offer you the ability to cash out your money via Amazon gift card or iTunes gift card.
The Amazon gift cards start at $10, so you will need at least $10 in your account before cashing out. For an iTunes gift card you will need at least $15.
How long will this take? Well.. That all depends. However, you definitely shouldn't expect to be getting paid within the next month or so. This is a very slow earner.
Who This App Is Best Suited For

This app is definitely best suited for people who walk a lot, such as people who have jobs where they are constantly in motion.
The reason for this is because your best chance of earning is to get and stay in the top 100, and in order to do this it looks like you will probably need over 15,000 steps a day. Of course there is no set number that you need to achieve, because it is based on competition from other users, but generally speaking you're going to need to walk a lot.
This isn't like the Sweatcoin app where your steps add up day after day.
And you also have to keep in mind that this has a very limited income potential. You certainly are not going to make much even if you do walk a heck of a lot, so with this in mind it is also best suited for someone who is looking for a little extra pocket change.
Complaints
Steps Don't Roll-over
As mentioned, you have the potential to earn money based on your steps for a given day. The steps do not rollover and accumulate day after day, and so this means that if you want the most potential to make money with this app you are going to have to walk a lot per day.
Little Income Potential
Obviously there is very little income potential here. But then again, what can you really expect from a free app like this. You're getting paid for doing what you already do, and that is pretty darn good even if it is just getting paid a dollar here and there.
PayPal Isn't an Option
It's a bit disappointing that PayPal is not a payment option. This is an easy way to get paid and to have money you can do whatever you want with. They do offer Amazon gift cards, which is another good option, but I would like to see PayPal added in the future.
Conclusion – Worth Downloading or Not?
This all depends on what you are looking for. The app is definitely legitimate and you can make money with it, just by walking, but it is probably only going to be worth it for those who walk a lot on a daily basis and you are just looking for a way to earn some extra pocket change every once in a while.
While there are some downsides, there definitely are some pros to it as well, such as that it is not going to drain your phone's battery and you don't have to change or do anything differently out of your day, other than open the app one time which is only going to take a few seconds.
Getting Amazon and iTunes gift cards just by walking…?? Even if it does take a while to be able to actually get these gift cards it still might be worth it.
As I said, it all depends on what you are looking for.
This definitely is not a big earner but feel free to check out my top picks for making money online if you are looking for something more lucrative.
Comments or questions? Leave them below and I'll get back to you soon 🙂