Clicks Dealer (at clicksdealer.com) is supposedly the "most effective platform for flipping ads". But is what they tell you really true? Can you really make money with ad flipping on this platform? Or is this all just a big smokescreen for some sort of scam?
Of course the first thing you need to know before investing money into something like this is whether or not they are legit. Is this something you can really make money with and is it worth your time? In this review I'll be answering the sorts of questions and giving my own opinion of the site.
Spoiler alert: there are some serious concerns I have and this seems like a very well could be a scam.
Clicks Dealer Review
Okay, so first off what the heck is Clicks Dealer?
Well in a nutshell it is a ad flipping platform that allows you to buy and sell banner ads, similar to Banner Bit. They have ads for all sorts of different things such as Fisher-Price, Nike, different sporting events, Porsche, and a bunch more. The goal is to purchase banner ads, earn revenue from the clicks that they are able to generate, and hopefully sell them or "flip" them if they go up in price.
These banner ads are placed on websites all over the place and supposedly work like normal ads you see.
Right off the bat I am very suspicious of what I see here. Why? Well because there have been tons of these "ad flipping" scams popping up all over the Internet lately and it seems to be a growing trend. Some such scams that I have reviewed include Daily Banner Profits, Free Ad Cash System, Bitcoin Advertising, and others. But anyway, you can't always judge a book by its cover so I to do a little more investigating to find out if this place really is a scam or not.
When I first created my account and logged in the first thing that came up was an introduction video. I recognize the lady in the video right away because she is a paid actress on Fiverr, a digital marketplace where people can pay actors to create promotional videos and all sorts of other things. Now of course this definitely does not mean that this is a scam but it does raise my suspicion a bit more because of how often I see scams use paid actors/actresses in their videos. It would have been nice to see someone that is actually from the ClicksDealer company behind the video instead of them just paying someone.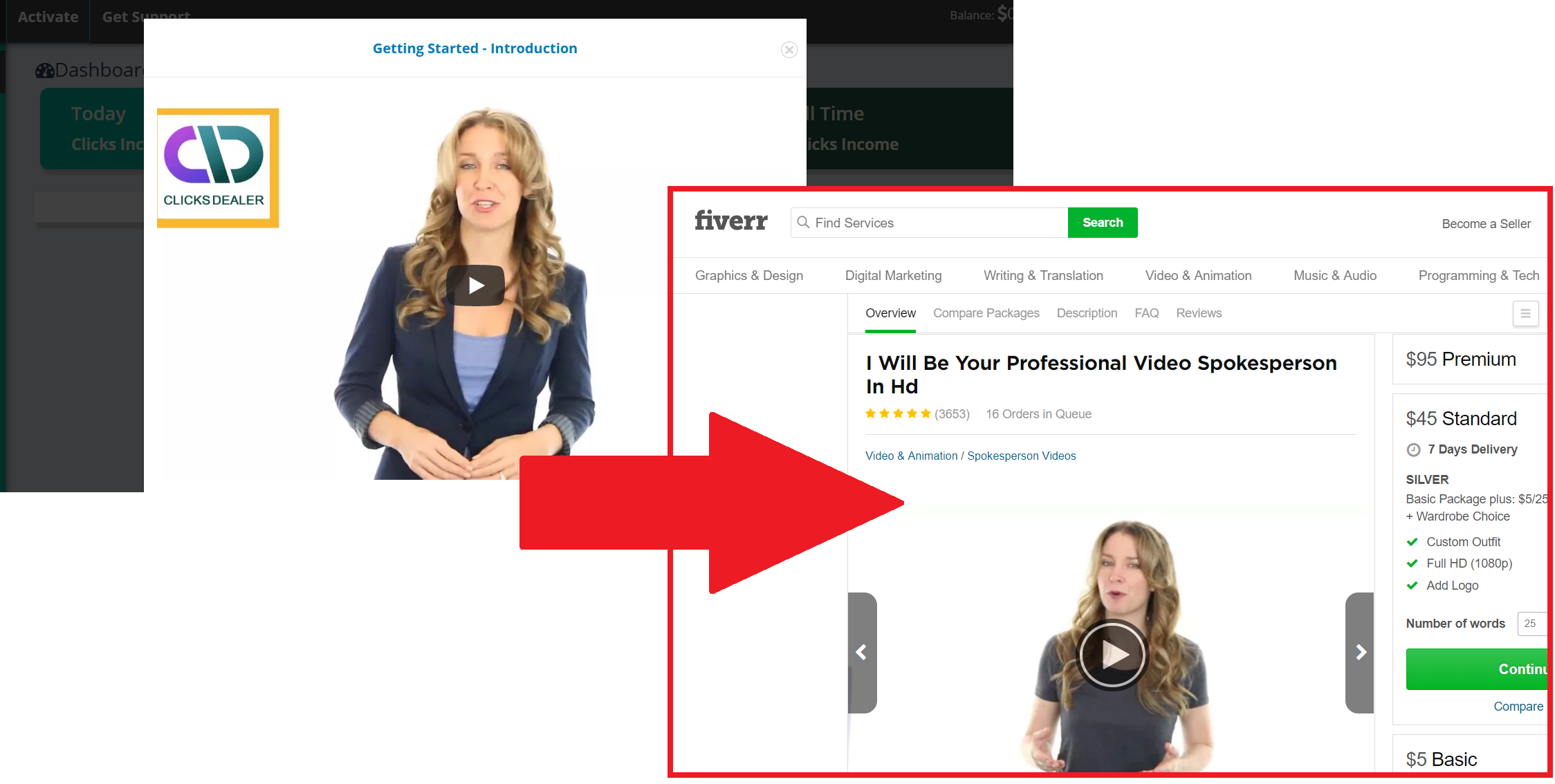 A Look at The Platform
When you go inside the platform you will be able to look at the various ads they have available. You will be able to search for specific types of ads or just view all of them as I am in the screenshot below. It will tell you what type of attitude is and the current price.
Then over on the left menu of the dashboard you will be able to see your account, your bids, transactions, portfolio, etc.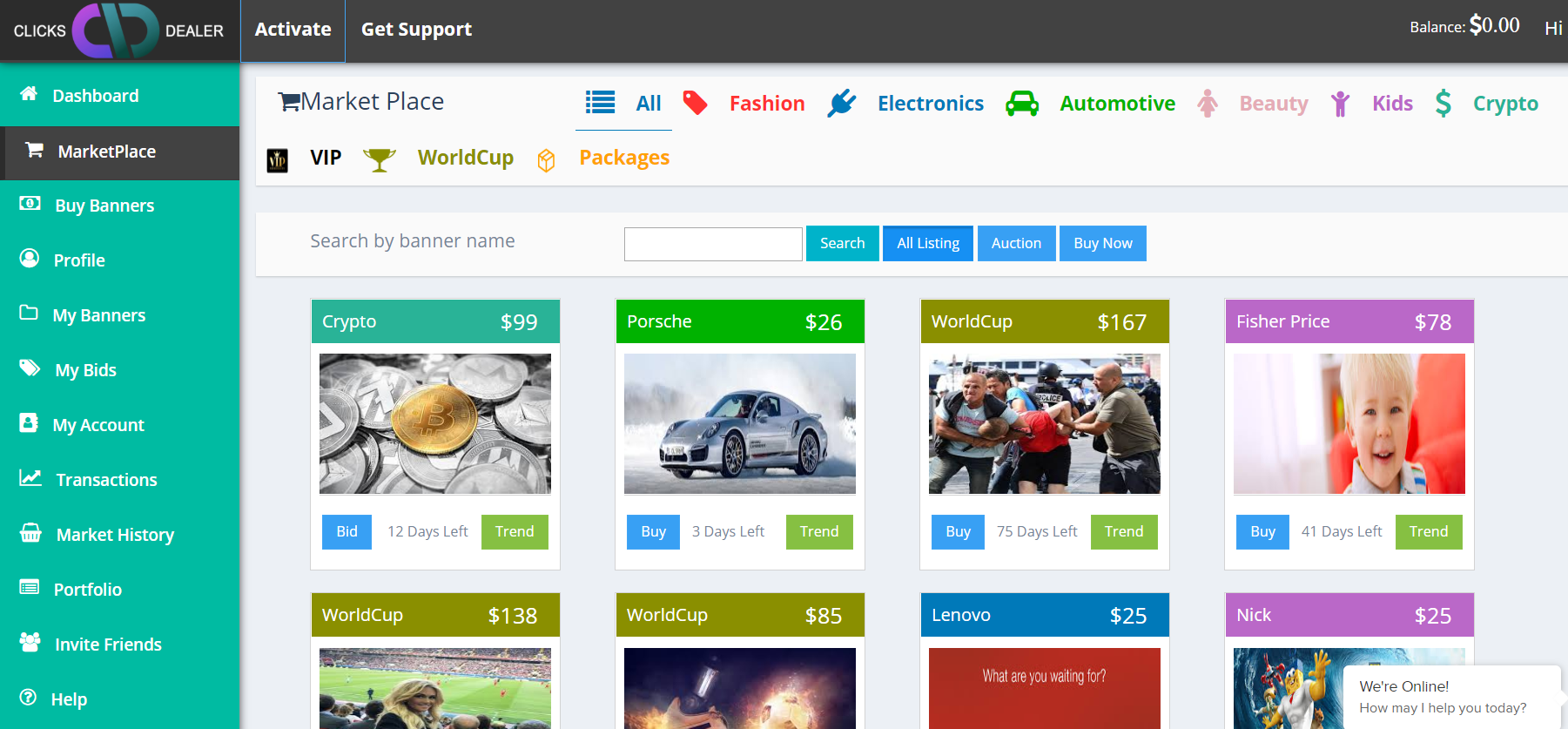 Red Flags – Looks Like a Scam
#1
A major problem that I have is that there is no information about these ads. If you click on one of the ads it does not tell you anything about it really. It just tells you the price and how many days are left available for you to be able to purchase it.
For example I clicked on the World Cup ad and you can see in the screenshot below what comes up. There is absolutely no information. You have no idea what this ad looks like, which websites is going to be on, what company the ad is for, etc. You know absolutely nothing except for the price and how many days are left to buy it.
You can also see below that I wrote "fake timer". This is because there is this countdown from around 10 seconds when I clicked on the ad and when the timer ran out it said that I was too late and that someone had just purchased it. However this was obviously fake because I don't see how it would be possible to perfectly predict when someone is going to purchase an ad in the future. And besides that after the timer ran out I just clicked on the ad again and there was all of the sudden a new timer that did the same stupid thing. This is just a little trick to try to get people to buy and as soon as possible.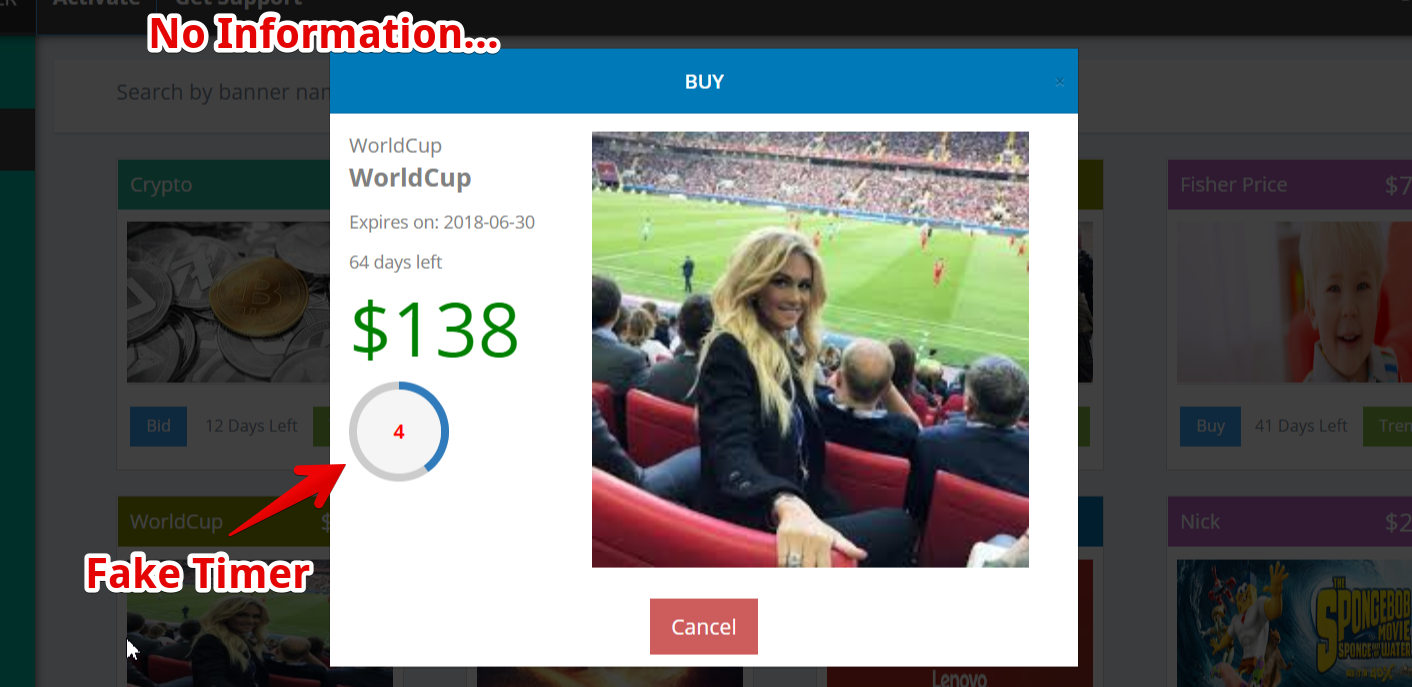 #2
Before you can purchase any of these ads of course you first have to deposit money into your account. There is a minimum deposit of $199.
The problem I have isn't with the deposit amount it is with the different packages available for purchase. When you make your deposit you can choose to purchase the Bronze, Silver, Gold, Platinum, or Diamond Package. These packages will supposedly give you matching bonuses ranging from 20% to 200%. This means that when you deposit money they will match the amount of your deposit to whatever percentage the package is that you bought into.
So if you invest in the diamond package you will get a 200% matching bonus. This means if you invest $200 you will end up getting $400 in your account.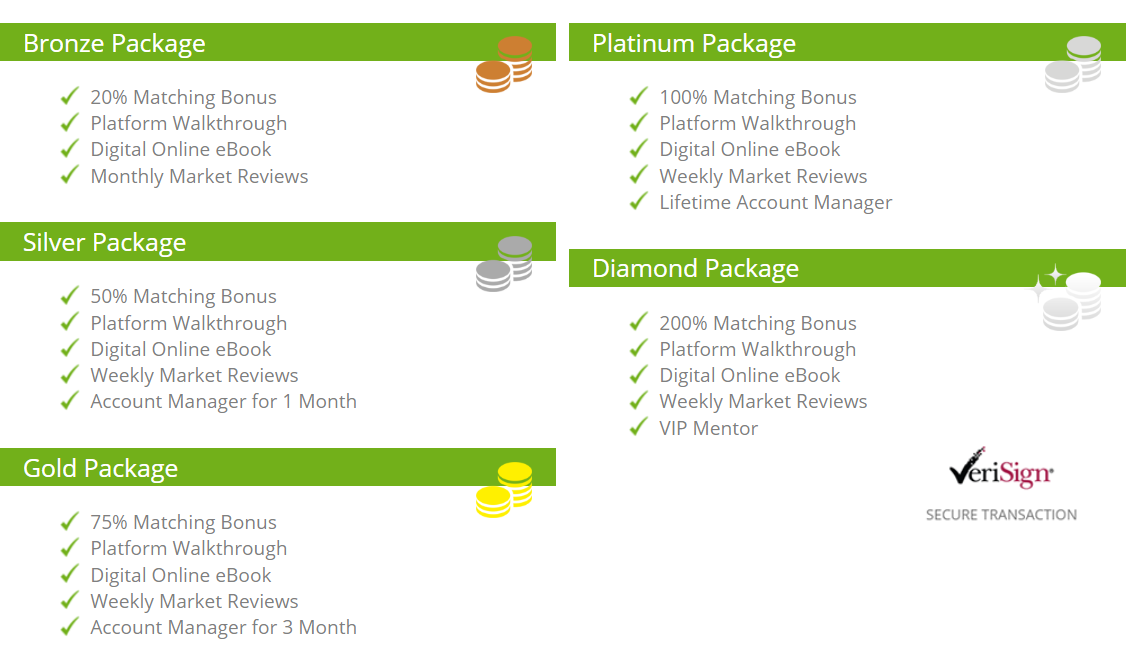 This would be awesome if it were actually true but I am having a very hard time believing that it is. How can this possibly be true? How can this possibly be a sustainable business model? The answer is it can't. I do not see how this is even close to being possible. A 200% matching bonus… Are you kidding me.
#3
And of course they have a referral program where you can get paid up to $1000 for each referral. In addition the people that you refer well get a 25% bonus on their first purchase. Sounds awesome and everything but once again… How the heck can this possibly be sustainable?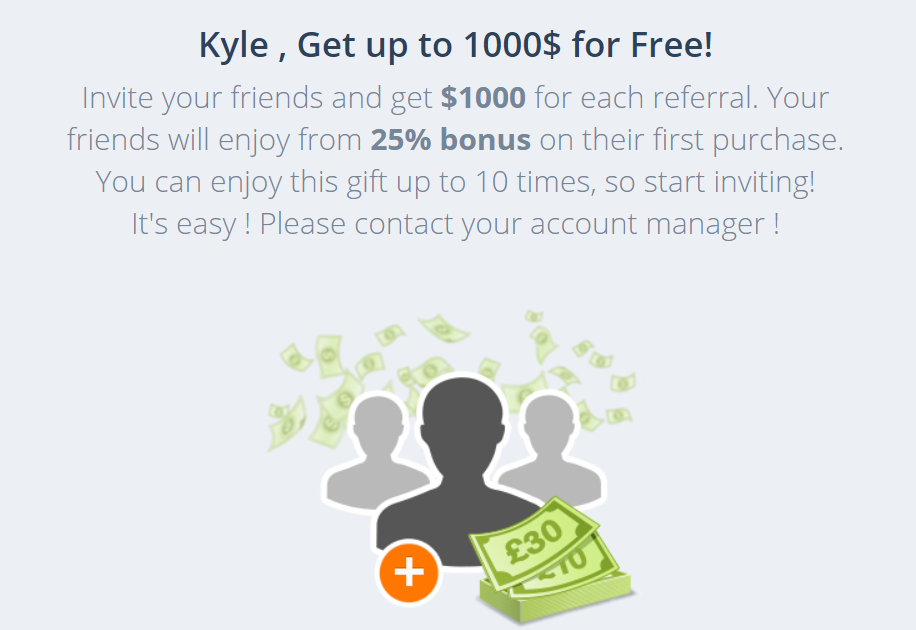 Not only is there no way that this is sustainable, but they also don't even provide a referral link. So how are you going to refer people and get credit for it if they do not provide a referral link that you will be able to share online and get people to sign up through? This makes absolutely no sense at all and I actually use the live chat support feature on the website to ask them about this. You can see my conversation with one of their support representatives below…
As you can see this site is an absolute mess. They don't even provide a referral link and then when I ask support about this they have no idea how to answer and tell me that an "account manager" is going to call me to discuss and explain this.
The problem here is that I never received the call because when I signed up I put a fake phone number in because I was suspicious that it was a scam. But anyways… They are probably going to tell me some BS story anyhow which would make absolutely no sense because I don't see any good explanation for this.
Conclusion on Clicks Dealer – Scam?
So is Clicks Dealer a scam or not? Well I didn't actually deposit money and tested out so I cannot tell you with 100% certainty but I can tell you that I am pretty darn sure it's a scam. There is nothing about the site that seems legitimate. When reviewing sites that I am very suspicious of such as this one I look for any reason that it is legitimate and with this site I I have found nothing. Throughout my investigation I only found more reasons that this is more than likely a scam.
Like I said there are a lot of "ad flipping" scams going around's you have to be careful.
They provide no information on the ads your purchasing and no proof that they do what they say. There is no proof that this platform actually allows you to buy and sell ads. For all I know they might just be a Ponzi scheme that uses the cover-up of and ad flipping platform. Who knows…
But anyway… I definitely do not recommend anyone buy into this. It is way too shady.